Officer Cares For Children While Mother Files Police Report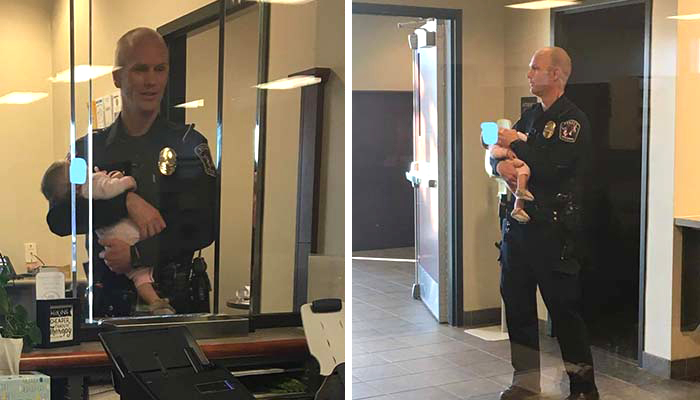 Finding someone to watch your kids is one of the constant pressures of parenting. Sometimes you need to go to the doctor, or a job interview, or work, and a babysitter falls through, or school has an unexpected snow day, or your kid is sick, and suddenly something you need to do falls secondary to caring for your children.
And sometimes you don't have the luxury or making that choice and you simply must take the kids along. Like when you have to go to the police station to file a domestic violence report.
One woman was in that harrowing situation recently, and she brought her children to the police station in West Jordan, Utah, so she could press charges. While there, an officer volunteered to watch her kids so she could file the necessary paperwork.
Some of the clerks in the department were so moved by Officer Robert Lofgran's gesture that they took a few photos of him holding the young mother's baby and posted them to the police department's Facebook page, where he is being praised for his compassion.
The caption on the post states that the officer "spent hours" with the kids.
"Our records clerks caught Officer Lofgran during a call detail the other day. A young mother came in with her small children to file a domestic violence report. Officer a Lofgran helped watch over the children while this mother got the help she needed for that day. He spent hours on this call. Thank you for your service! #westjordanpolice #wecare #backtheblue"
The Facebook post has received 3700 likes and been shared nearly 600 times as users marvel at Officer Lofgran's dedication to his job and his community. Sgt. Alex Earelli, who knows Officer Lofgran, told CTVNews.ca that the West Jordan police department is "happy" because "those are the type of values we're trying to represent."
Judging by the outpouring of support on the department's Facebook page, the West Jordan community is happy too.