Ohio Dad Picks Perfect First Two Rounds of March Madness [WATCH]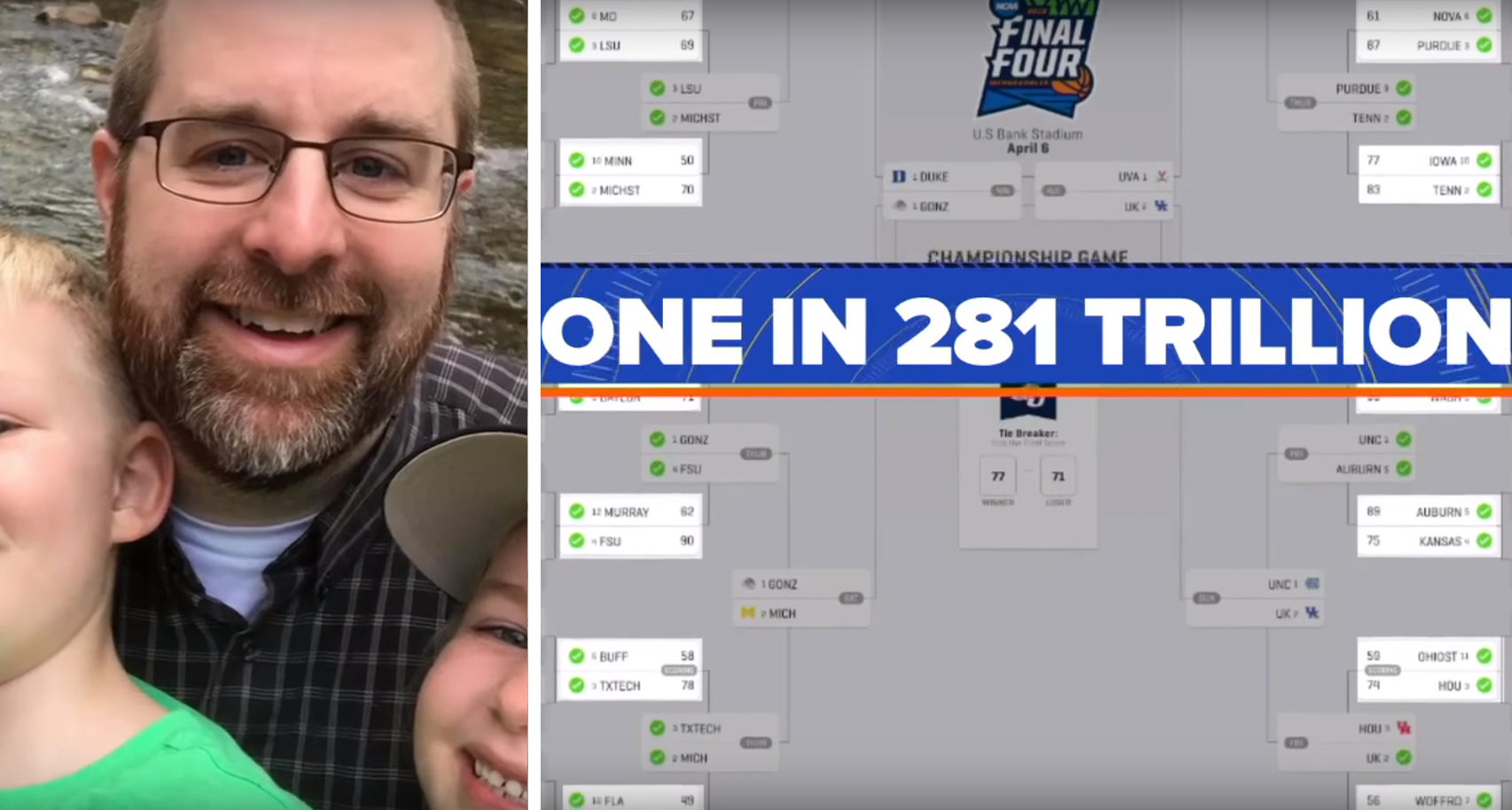 March Madness is among the most unpredictable events in sports. This is why it's so fun to try to predict it, which millions of people do every spring, filling out brackets based on seeding, loyalty, uniform preferences, etc. There is no real science to it, and the most fun tournaments tend to feature teams no one saw coming.
Upsets, buzzer beaters, Cinderella stories, Steph Curry; these are a few of our favorite tings to happen during the NCAA's signature event. Sometimes an unheralded player or an underrated team gets hot and rampages through their region, setting fire to countless brackets in the process. Getting one exactly right through an entire tournament is pretty much out of the question. Getting even a round or two exactly right is exceedingly rare.
Which is what makes Columbus, Ohio dad Gregg Nigl's bracket so extraordinary. He NAILED the first two rounds of the tournament, exactly! The odds of someone making it to the sweet sixteen without botching a single pick? ONE IN 281 TRILLION.
Seems unlikely, doesn't it? Well, you're not a neuropsychologist like Gregg, which obviously had everything to do with his mighty prognostication powers, and by "everything" I mean probably actually nothing. Even in a somewhat chalky tourney, not even Nostradamus could be counted on to get the first 48 games right!
It's the longest anyone has ever had a perfect bracket. Gregg nailed 13 seed UC Irvine seed taking out Kansas State, and 12 seed Liberty over 5 seed Mississippi State.In an interview with Good Morning America, Gregg said he filled out the bracket for fun. "I wasn't even checking, I didn't know until today."
Unfortunately for Greg, he had Tennessee over Purdue, which went to overtime last night but resulted in a win from the Boilermakers. His champion, Gonzaga, is still alive, so he may not be perfect, but he still has a chance to win it all!