Parents Looking for Strangers Who Gave Daughter a Gold Ring at Disney World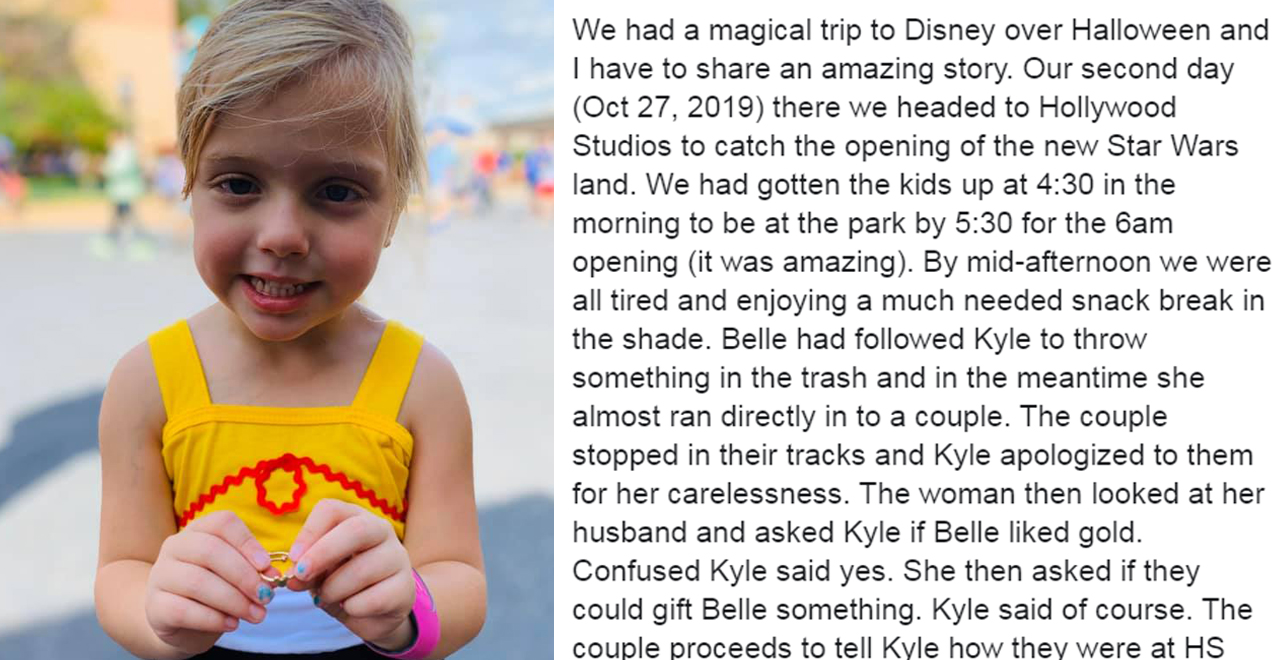 Disney World can be a magical place and has been host to an endless parade of special family moments. And one of those moments was so magical for one family that they are now trying to track down the people involved to say thank you.
One Massachusetts couple was enjoying the park with their five-year-old daughter, Belle, when another couple stopped in their tracks at the sight of the young girl. The woman asked Belle's dad if she liked gold, and when he gave her a confused "yes," she delved into her story.
They were there on the one-year anniversary of their daughter's Make-A-Wish trip. When they were there the year prior, they had purchased two gold Mickey Mouse rings. One for was their daughter, and the second was meant for a child who was "adorable like their little girl."
Belle's dad was moved the couple chose his daughter to help remember their own, and he was at a loss for words, according to a viral Facebook post by his wife.
"He wished he could've said that he was sorry for their insurmountable loss and about our own little warrior but in the moment only thank you came out," she wrote. "The fact that they choose Belle without knowing her struggles in life brings tears to my eyes."
She wrote that it was an especially poignant gesture, as the family has had their own share of health problems to overcome. Their trip to Disney World was the first young Belle had been able to take since needing a feeding tube as an infant. And now they are trying to track the parents down so they can say thank you properly.
And while the family knows the couple may not want to be contacted, they're hoping they'll hear how much their gesture meant.
"This little gold Mickey Mouse ring will forever be kept as a priceless gift and always cherished."