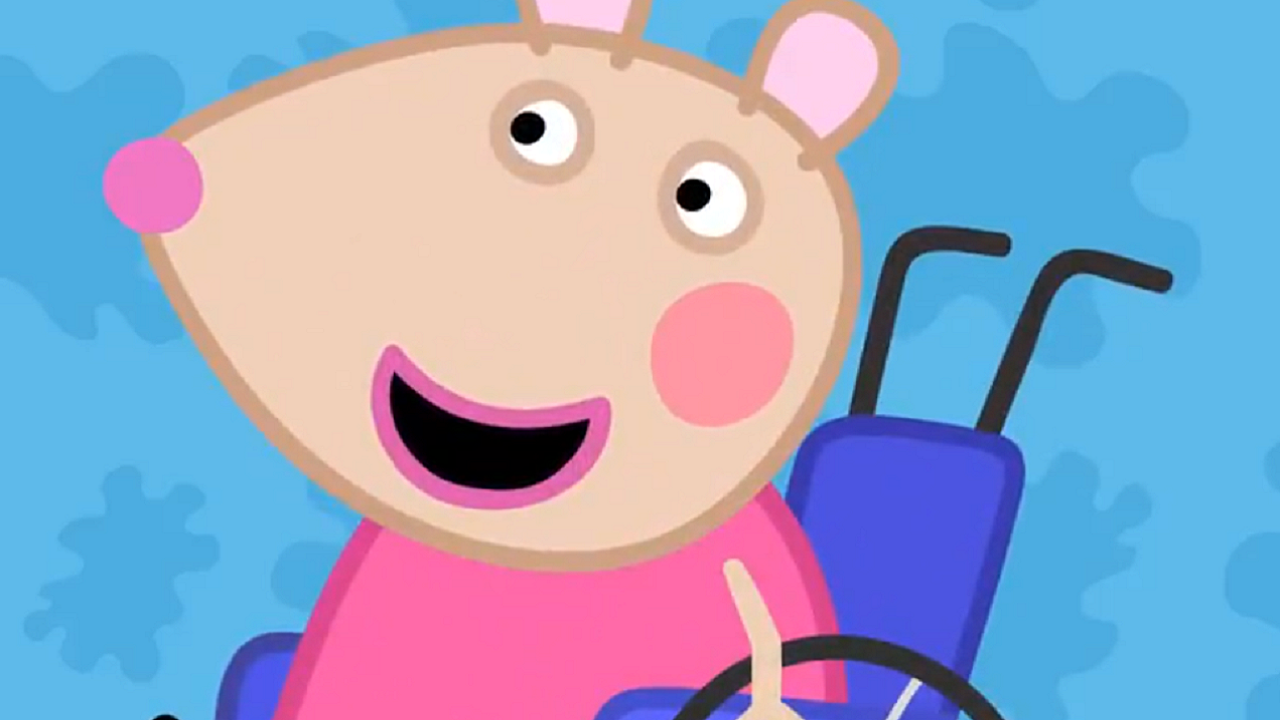 Credit: Twitter/peppapig
Kids are the most accepting people in the world. They are the definition of innocent, and they come into life with zero preconceived notions about anything. We all start off as blank slates, as impressionable as it gets, and are easily impacted and influenced by both the things adults tell them and the world they see around them.
Which is why it's so important for them to see as much diversity as possible, diversity of all kinds. When someone says "representation matters," there's no one it matters more to than our children. Because what they see now will inform their sensibilities for the rest of their lives.
RELATED: Best Peppa Pig Games and Toys – Fatherly
So kudos to Peppa Pig, the popular children's TV show, for adding a disabled character to their cartoon cast.
In early April, the Peppa Pig Official Twitter account teased the arrival of Mandy Mouse on their feed. They posted a little video featuring Mandy, a (duh) mouse who happens to use a wheelchair.
Squeak! Introducing the newest member of the playgroup, Mandy Mouse! ???? pic.twitter.com/cwMy8vFuVS

— Peppa Pig Official (@peppapig) April 3, 2019
Mandy joined the show as a member of Peppa Pig's playgroup, where she shows off her basketball skills and explains to the other kids that her legs don't work the same way theirs do. But the program is careful to make sure Mandy's disability is not the whole character, it's just a small part of it. Because being disabled does not define a person's life, it's merely one of many characteristics that make them unique.
The show has received praise from viewers happy to see representation for disabled people, from those who use wheelchairs themselves:
Oh this is so good. Well done! With love from a 29 year old wheelchair user who will now be watching Peppa Pig avidly.

— Hollie-Anne Brooks ♿️ (@HollieAnneB) April 3, 2019
To the parents of little Peppa Pig fans who are excited for a new character who gets around like they do:
My little girl has a wheelchair and she spotted this character in the "Peppa goes to London" book yesterday! Great that she's going to be a regular character

— Nic (@Shendlegirl) April 3, 2019
I could cry! My daughter loves peppa and has a neuromuscular disorder. This is a game changer. Thank you!!!!!!

— Amanda Julia (@lavieenrose1488) April 3, 2019
And Twitter user @KimmyChan1995 explains exactly why it's important for shows like Peppa Pig to incorporate characters like Mandy Mouse.
This is amazing ???? Thank you for being inclusive. It's so awesome to see a wheelchair user in any show, but it's definitely important for children to see disability so it becomes the norm. Also her chair looks like mine ????

— Kimberley ????♿ (@KimmieChan1995) April 7, 2019
Personally, I'm just glad these kids aren't watching Caillou.