Photo of Dad Using Lap to Change Son's Diaper Goes Viral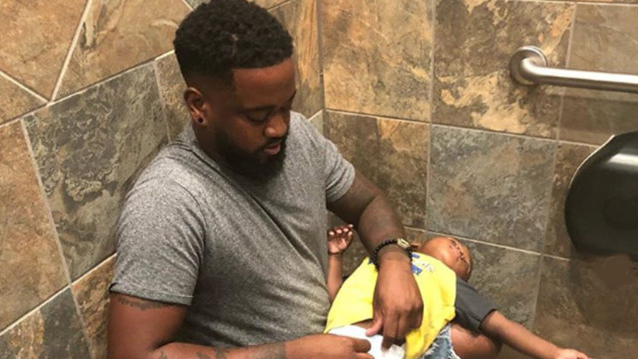 Almost every dad knows the frustration of being considered the back-up parent, or Mr. Mom, a babysitter to his own kids. As more and more men step up to the parenting plate and the world slowly catches up, it's increasingly frustrating to run into situations in which it's clear dads are something of an afterthought.
One involved father took to his Instagram account to decry one such situation.
Donte Palmer is a 31-year-old father of three who runs the @3boys_1goal Instagram account. The other day, he was out with one of his sons and the boy needed a diaper change. So Donte ducked into a public restroom – only to be thwarted by a lack of a changing table.
He was forced to improvise, crouching down and laying his child over his lap to prevent putting him on the floor, and he shared a picture of the maneuver online, along with a rant about the treatment of fathers.
View this post on Instagram


"What's the deal with not having changing tables in men's bathroom as if we don't exist!!" the Jacksonville, Florida high school teacher captioned his photo. "Clearly, we do this often because look how comfortable my son is. It's routine to him!!!! Let's fix this problem!"
There probably isn't a dad reading this who hasn't been forced to find a way to change a kid in a public restroom that doesn't have a changing table. In fact, there's been several dads online who've been attempting to remedy this situation for years.
Put a change table in men's washrooms already!