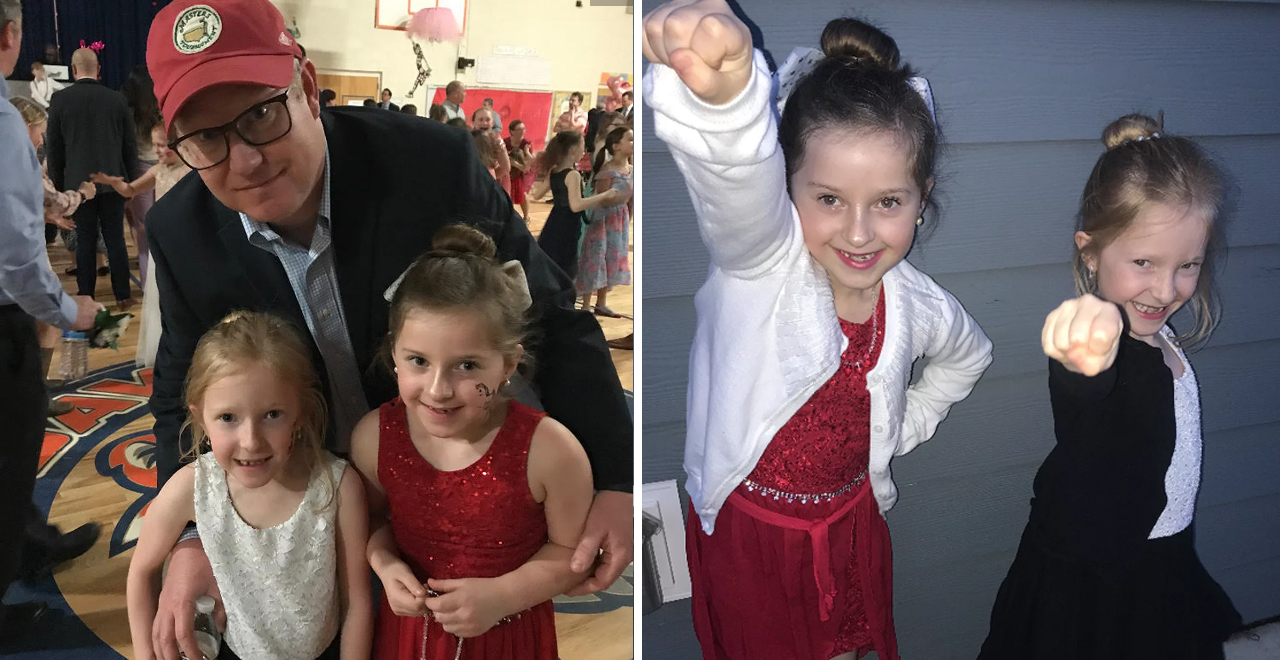 Credit: COURTESY MIKE GOOD/PEOPLE
Flight attendants are saints. They routinely endure the anguish of cramped quarters, stale farts, and cabin pressure-induced earaches, just to keep your thirst quenched and pretzel cravings satiated. Some even go the extra mile to add some pizazz to safety briefings with jokes, songs or even dance routines.
But no one, especially Mike Good, frequent flyer and father to seven-year-old fraternal twins, foresaw such a demonstration of goodwill from the attendant and passengers on his flight home to Charlotte.
Mike was returning from a business trip in Nashville when a nasty thunderstorm delayed his flight. Back home, his twin daughters Lucy and Emily anticipated their dad's arrival for that evening's father-daughter school dance.
Mike did everything he could to ensure his punctuality, even convincing American Airlines to put him on an earlier flight. In doing so, he forfeited his assigned seating and was relocated to… [shudders]… the back row.
"I was still able to board early, so I got to talking to the flight attendant in the back and I told her I was going to be in the doghouse because I was going to miss my kids' dance," Mike said.
Scheduled arrival? 7pm. Time of dance? 7pm.
Mike's wife was fully prepared to tag in as the plane began its descent into rainy Charlotte. The plane was even forced to circle the airport before landing.
"I was sure there was no way I was going to make it," Good recalls. "I knew it would take me thirty minutes to get off the plane and then I had about a thirty minute drive from the airport."
It seemed all hope was lost until the angelic voice of a flight attendant took to the intercom.
"She told everyone there was a dad in the last row trying to make his twins' father-daughter dance and we'd really appreciate it if you'd let him off the plane so he can get there."
And let him off the plane they did. After the plane taxied and the seatbelt sign faded, everyone on the plane remained seated, allowing Mike to quickly grab his belongings and make a mad dash for the exit, wishing fellow passengers a Happy Valentine's Day along the way.
They even cheered him on, according to Twitter user Jenny Hale.
I'm on a plane and the entire flight sat still so that a man in the last seat at the back of the plane could get off and run to his next flight to try to make it to his twin daughters' first father daughter-dance. Everyone rooted him on and clapped as he rushed down the aisle. 🥰

— Jenny Hale (@jhaleauthor) February 14, 2020
Mike made it to the dance at 7:50, to the surprise of his wife and daughters, and regaled the other dads in attendance with the story of his race against the clock. We applaud Mike for making good on his commitments, as well as the benevolent passengers who helped save the day.