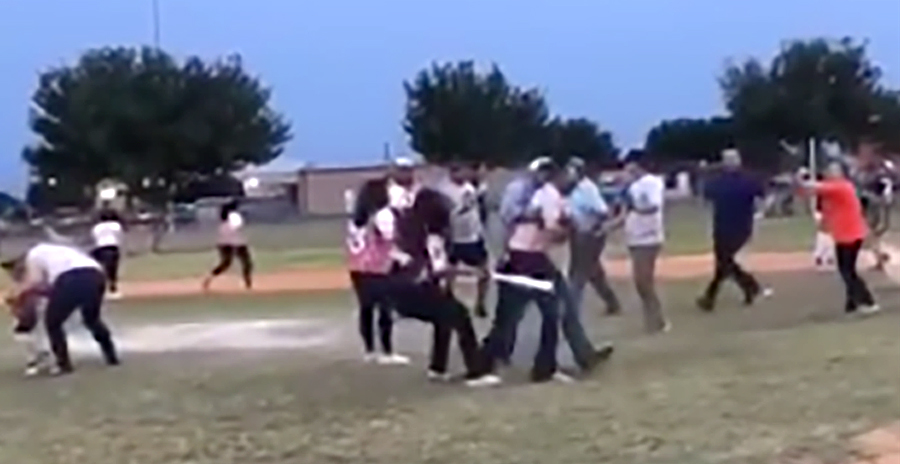 Credit: Instagram/gototheloop
It's easy to be a bad sports dad. For starters, you could be the type that never shows up. Almost as bad, you could be the type of dad who gets too into it, spending the games heckling the other team, screaming instructions to your kid, then breaking down the everything they did wrong on the ride home. Or you could be one of those aggressive parents who signs their kid up for everything, charting Brayden around various fields and pools with the certainty that he's going to get a college scholarship (he's not). But it's hard to be worse than fight club dad.
In a perfect world, youth sports parents wouldn't scream at refs and kids, but is it really too much to ask for parents to refrain from fisticuffs? I can't imagine what it does to a child when you have to commandeer his postgame Capri Sun to ice the welt on your face from a fourth-inning scrap. The latest of what feels like a regular stream of little league parent brawls happened earlier this month in Texas (big shock!).

As far as parent brawls go, I guess we should give credit to the mom who comes running out of nowhere with a bat. That had a real WWE feel to it and was almost enough to get me to completely 180 my feelings on youth sports brawls.
Steph v. Seth gets settled by a coin flip. The Western Conference Finals feature a pair of competing brothers for the first time in NBA history as Steph Curry and the Warriors take on Portland and Seth Curry. Their parents decide which gets to root for which team via coin flip, despite the fact that they both know Steph is way better and that the Warriors are going to cruise.
Dell and Sonya Curry really did flip a coin to decide who'd wear Steph's jersey and who'd wear Seth's jersey at Game 1 ????

(via @SydelCurryLee) pic.twitter.com/fzZbrYFnWf

— SportsCenter (@SportsCenter) May 14, 2019
While Steph said it was jarring to see his mom decked out in Portland gear in game, we do have to give the Curry household credit for at least picking sides. Far too often, when this happens in college, a mom will go full Pinterest and wear some abhorrently crafted combo jersey.
That being said, don't give Dell Curry too much credit, as he once tried to get State to pass on drafting Steph. He wanted his son to be taken one pick later by the New York Knicks, the laughingstock of major sports franchises.
Speaking of the NBA, May is when LeBron shines. Sure, James has been watching the playoffs from home, but he's still taking over games. He went to see his son's team play recently and security cleared out two rows for LeBron and his crew to watch the game in peace. However, it didn't take long for the sports dad in LeBron to come out, as he took over the coaching duties.
Generally, I would strongly advocate against parents telling coaches what to do on the sidelines. But when that parent is one of the greatest basketball players of all time, it may wise to defer.
It was a big week for kids of famous sports dads, as Vlad Guerrero Jr. hit his first two career home runs.
You'll never forget where you were for this one!#LetsGoBlueJays pic.twitter.com/ZeuDRgHXi2

— Toronto Blue Jays (@BlueJays) May 15, 2019
Baseball's most exciting rookie said he would give both balls and his bat to his dad.
Mo Salah's daughter scoring a goal is the only way to end this. Salah is one of the greatest players in the world, and watching the crowd reacting to his daughter scoring is worth 30 seconds of your time. It's nice to see she has some of her dad's soccer instincts.
Mo Salah's daughter scoring a goal is the most adorable thing you'll see all day ❤️pic.twitter.com/Ay4jxLxXvY

— Yahoo Sports (@YahooSports) May 12, 2019