Pope Accidentally Bestows Blessing Upon NFL's Saints, Saints Win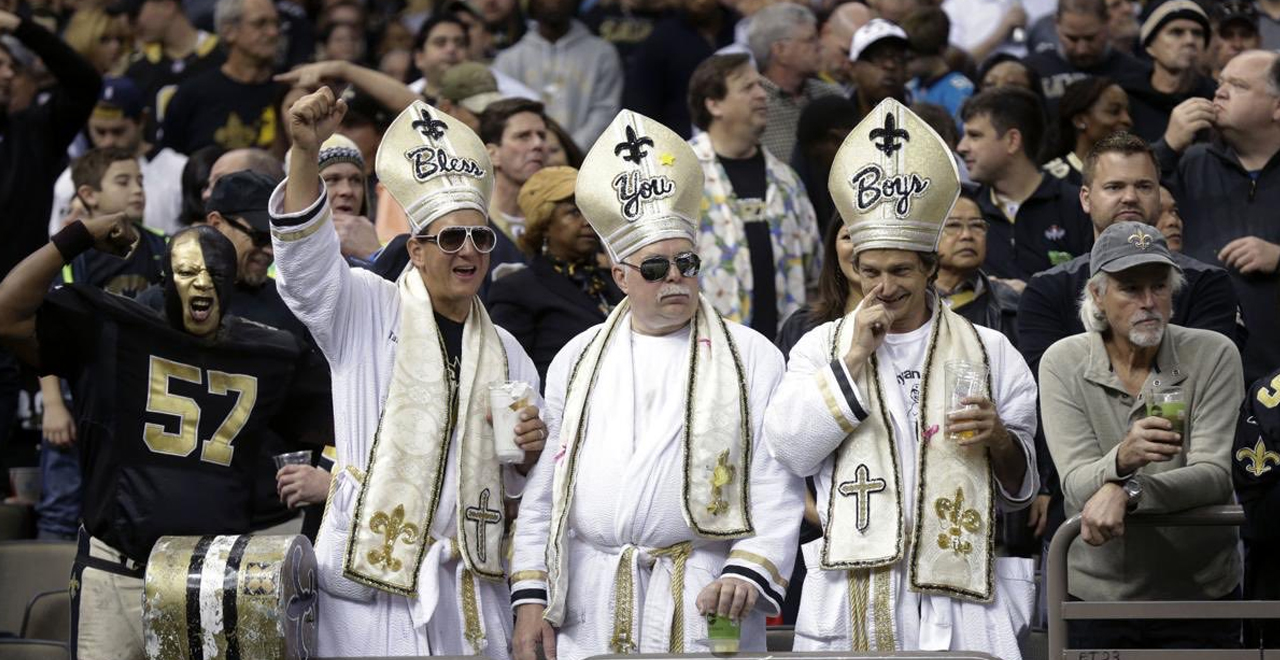 Regardless of where you stand religiously, we can probably all agree that God doesn't have a favorite sports team. (Besides the Patriots.) Despite countless athletes praising His name and bestowing all glory for their victories upon Him, the odds that the big man upstairs is spending his Sundays watching football and rooting for, let alone manipulating outcomes in favor of, particular teams seem pretty low.
That said, God's emissaries on earth are only human, and many of them – some who may or may not have actual sway with Yahweh – have rooting interests. Whether they mean to or not.
Sitting at the Vatican in Rome, I highly doubt Pope Francis watches American football. But he's fairly progressive, relative to previous popes, and he – or one of his underlings – is active on social media. What better way to reach the youth than to tweet?
Unfortunately, @pontifex is prone to some of the same gaffes to which even the most veteran tweeters occasionally fall prey, such as typos, or tagging the wrong person, or using an irrelevant hashtag.
It was via the latter mistake that the Pope accidentally found himself attempting to bestow a blessing upon the Catholic Church's newly designated saints," but in adding the hashtag symbol to the word, he accidentally gave it to the New Orleans Saints instead! Just ahead of their game against the Jacksonville Jaguars.
Today we give thanks to the Lord for our new #Saints. They walked by faith and now we invoke their intercession.

— Pope Francis (@Pontifex) October 13, 2019
And wouldn't you know it? The Big Man delivered, shepherding the Saints to a victory! Clearly, the Pope meant to bless "saints" in general, not the gridiron gang in Louisiana, but them Who Dat boys will take it.
Couldn't lose after this.#Blessed and highly favored 🙌⚜️ https://t.co/2BoE2oYGqF

— New Orleans Saints (@Saints) October 13, 2019
And so will their fans, who had a blast responding to the Pope's tweet, with some using it for less than holy purposes:
Is this a betting tip? Saints to cover

— Jason Miller (@Jasonmiller321) October 13, 2019
Putting all my money on the Saints today.

— Matt Miller (@nfldraftscout) October 13, 2019
Many welcoming @pontifex into Who Dat Nation:
Pope Francis told 18 million followers that he was #WhoDatNation I love it.

— Black Homelander (@mrajcustard) October 13, 2019
Most understood it wasn't intentional but then again, it doesn't matter that it was a mistake, because the Pope doesn't make those:
The Pope is infallible #Saints #whodat

— Stacie de NOLA (@StaciedeNOLA) October 13, 2019
Just imagine if they'd lost!