Popeyes Offers an Emotional Support Chicken for Customers Boarding Planes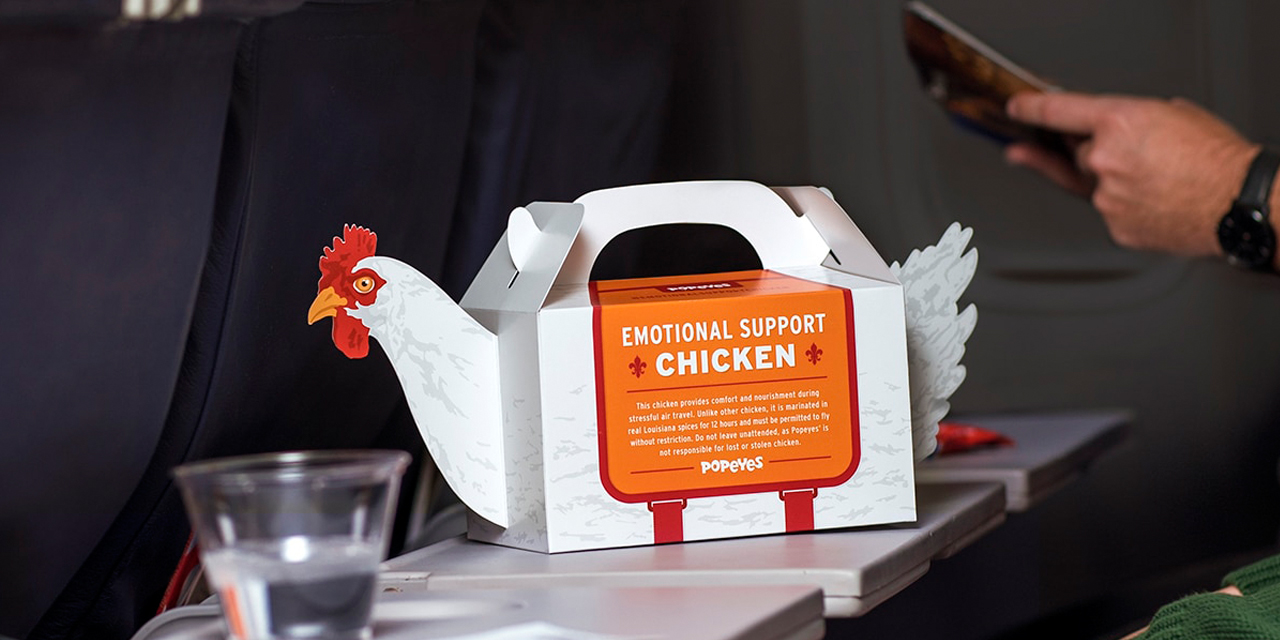 Emotional support animals are all the rage these days, for better or worse. Many people even bring them on airplanes with them, since air travel can be such a source of anxiety, and having your trusty dog, or duck, or peacock along for the ride can be very soothing.
The holidays are a particularly stressful time for many of us, and traveling during the one of the most hectic times of the year only adds to it. The need for a furry friend to lean on is rarely greater!
Of course, not everyone has the benefit of a support animal, and if you're flying Delta, hardly anyone does. The airline has banned emotional support dogs and cats if they're less than two months old, and they don't allow animals of any kind on flights of 8 hours or longer.
So if you're feeling bereft without an animal to keep ypu company the next time you fly the friendly skies, you'd better hope your airport has a Popeye's Chicken. Because the fried chicken chain has found something of a loophole.
The friend chicken chain has released carry-on boxes in the shape of chickens, with the words "Emotional Support Chicken" emblazoned on the side.
"We appreciate how comforting emotional support animals are and wanted to create our own version," Hope Diaz, chief marketing officer of Popeyes Louisiana Kitchen said in a statement. "The good news is that our emotional support chicken is permitted to fly without any restrictions — one less worry for busy travelers."
The box includes the following description:
"This chicken provides comfort and nourishment during stressful air travel. Unlike other chickens, it is marinated in real Louisiana spices for 12 hours and must be permitted to fly without restrictions. Do no leave unattended, as Popeyes is not responsible for lost or stolen chicken."
The chain is poking a little bit of fun at the increasingly controversial trend of emotional support animals, and also providing passengers with a delicious alternative. Of course, not everyone is thrilled with the funny marketing campaign. PETA is already objecting.
Personally, I'm all for it. At least it's quiet.