Porch Thieves Return WWE Belt Meant for Sick Boy and Apologize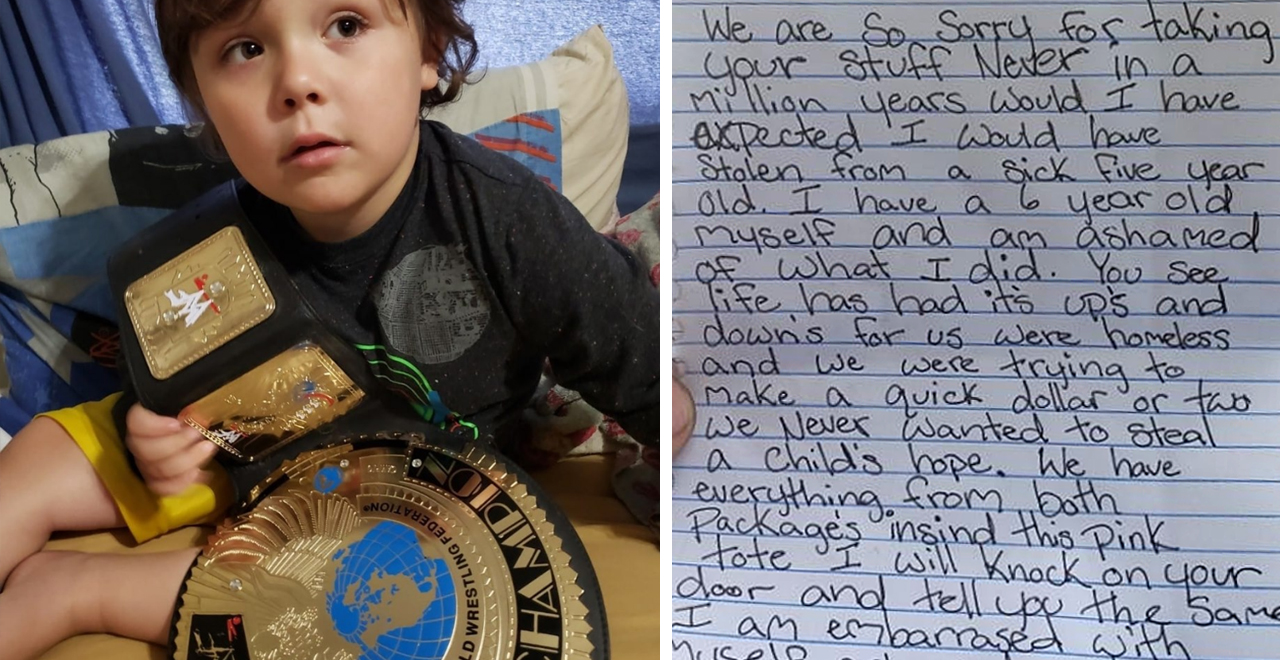 You often hear characters on TV and in movies talk about having a code. Usually, it's criminals who are professing their adherence to certain rules, rules that one might not think a criminal would have. Rules against snitching, or against starting trouble on a Sunday, or against targeting civilians.
But that's just the movies, right? Maybe not.
The Vick family learned how real those codes are, at least when it comes to sick kids.
Timothy Vick Sr. and his wife Angel live in Seaford, Delaware with their 5-year-old son Timmy. Timmy is on the autism spectrum, has a sensory processing disorder, and, it was discovered last fall, has a tumor on his brain. It's benign but still requires surgery to remove, a surgery that will be terrifying and expensive.
Huge wrestling fans – as a hobby, Dad trades replica WWE championship belts online – Tim ad Angel wanted to do something special for their son to reassure him about his upcoming operation. So they contacted belt designer Sergio Moreira, all the way in Washington state, and asked him to design a WWE belt for little Timmy.
Sergio obliged, for free. "When [Timmy's father] sent me a message and asked me for help, he just was hoping for a discount," Moreira told Yahoo Lifestyle. "I told him to just pay shipping and I would take care of the rest. I felt like it was the right thing to do for Timmy and his family. They have been through so much."
Unfortunately, before the Vicks could get the belt, some thieves stole the packages from Moreira's doorstep. He saw it all on his Ring security camera, and immediately went to the local TV station to out the thieves.
"I want them to know they took hope from a 5-year-old boy who is looking forward to that item coming back to him," Moreira told KIRO7. "You stole that from him. You broke a child's heart."
And then something miraculous happened. The thieves learned of Timmy's plight, and learned how meaningful the package was, and returned them, with a long note apologizing for their theft.
"We are so sorry for taking your stuff. Never in a million years would I have expected I would have stolen from a sick five year old," reads the apology letter obtained by Yahoo Lifestyle. "I have a 6 year old myself and am ashamed of what I did."
The two women, homeless and addicted to drugs, wrote that they were desperate for money, but knew they had gone too far.
"We never wanted to steal a child's hope," reads the letter. "After seeing ourselves looking like low lives on the news, we have both decided to get clean and sober."
Sergio declined to press charges. "I don't see any other way to do it because everybody has something in their lives they're dealing with," he said.
Timmy got his belt and those two women may have just found redemption. Here's hoping their efforts to reclaim their lives are successful; they certainly seem to be headed in the right direction.