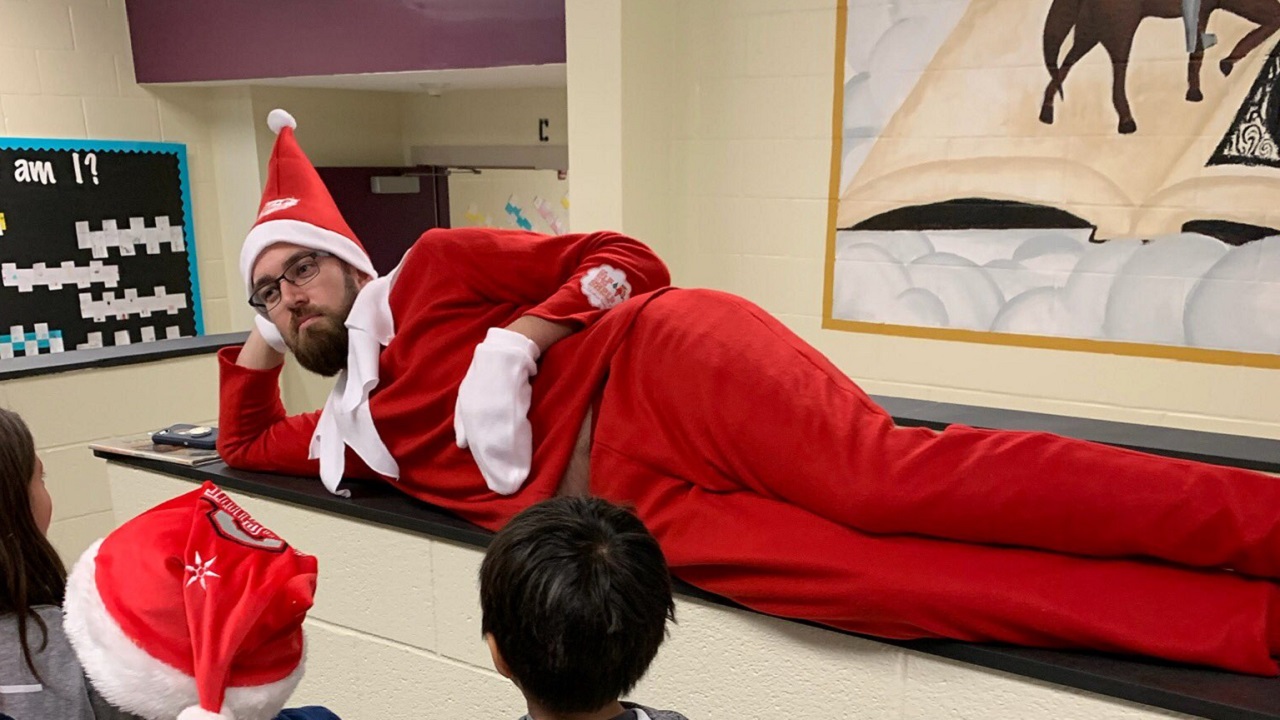 Credit: Twitter/UCPS_MonroeNC
If you're a parent who celebrates Christmas, you are probably beyond thrilled that the holidays are over and you can finally put that infernal Elf on the Shelf back into storage.
If you're a kid who still believes in Santa, you're probably just as thrilled. Because there is nothing scarier than a spy from the North Pole reporting on your bad deeds and jeopardizing your Christmas bounty.
Well, there's one thing scarier, as students at Kensington Elementary in Waxhaw, North Carolina learned before they left for Winter break.
Kensington's principal, Terry Vaughn, dressed up as the Elf on the Shelf for the school's Character Day. And what's worse, throughout the day he hid around the school, much like the Elf does when he's surveilling children.
This is how you spread holiday cheer! Great job Principal Terry Vaughn @KensingtonES_NC 😂😂@AGHoulihan #elfontheshelf pic.twitter.com/LH0mqbtG2o

— Union County Schools (@UCPS_MonroeNC) December 18, 2019
All joking aside, Principal Vaughn really went for it, dressing up from head to toe in a convincing (and ridiculous) elf costume, and generally seeming to have a ball, going above and beyond to make great memories for his students.
Twitter was totally here for the dedicated educator's holiday shenanigans.
What a wonderful thing for him to do! Those kids are going to tell everyone on Christmas Day about this and will remember it their whole life!

— Rebecca Adams (@RebeccaA130) December 22, 2019
This is the kind of Principal I would like to work with…I can see the leadership, heart, and charisma from here.

— Charlie Moon (@CharlieMoonOz) December 23, 2019
Wow— I love it! This man is totally doing the work he's supposed to do. <3

— Katie Bell (@KachiGal) December 24, 2019