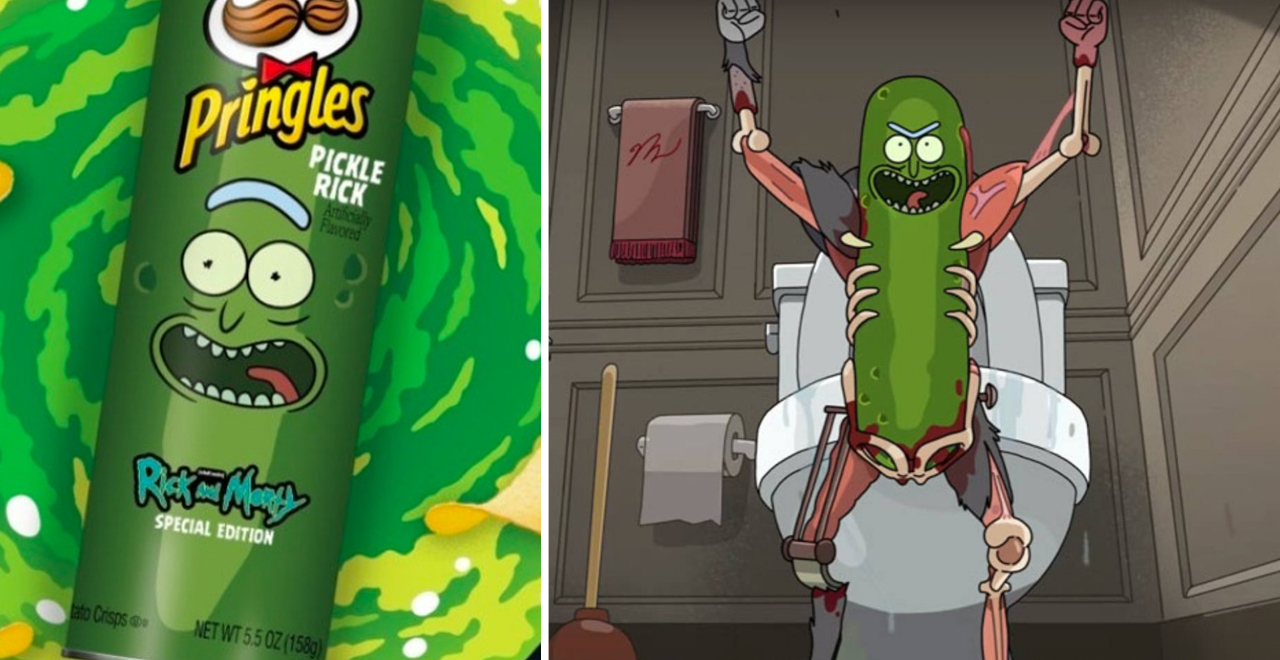 Credit: Kellogg's/Adult Swim
Adult Swim's "Rick and Morty" cartoon is sort of like a bizarro Back to the Future based around a degenerate scientist and his idiot grandson as they have existential science-fiction adventures. It's absurd and brilliant and intensely loved by its fans, so much so that an episode that referenced McDonald's long-discontinued Szechuan dipping sauce provoked people into doing strange things to try and revive the item.
Now Pringles is releasing a new flavor based on the popular Rick and Morty episode Pickle Rick, in which Rick, the aforementioned degenerate scientist, accidentally transforms himself into a pickle. The episode features the often-drunk, extremely callous grandpa using all of his wits and resourcefulness to escape pickle bondage (in the most violent and grotesque manner possible).
The new flavor will only be available for a limited time, early next year, in a promotional tie in with the Super Bowl.
"We want to do something completely new for the brand for the 2020 Big Game and are thrilled to be partnering with Adult Swim and Rick and Morty, a show which continues to grow in popularity year after year and enjoys a cult fan following," said Pringles senior director of marketing Gareth Maguire. "We hope the new special edition Pickle Rick flavour will be a hit with the show's fans."
I'm sure it will be. Hopefully, it won't cause riots! Adult Swim seems confident in the partnership.
"We're very thoughtful about who we partner with around Rick and Morty and we couldn't be more pleased with our new relationship with Pringles," said Adult Swim senior vice president for marketing and partnerships Jill King.
"Not only are the Rick and Morty show creators making a hilarious spot for the Big Game, we're extending this partnership in really exciting ways, all year long. Rick and Morty fans are going to be given amazing new opportunities to illustrate their love for this iconic show, thanks to Pringles."
It's a very smart, and very unhinged show, and the actions of some of its more intense fans shouldn't be held against it.
Nor should the taste of these potato chips, unless Pringles goes all out to make them taste anything like actual Pickle Rick would. Because that's just nasty.