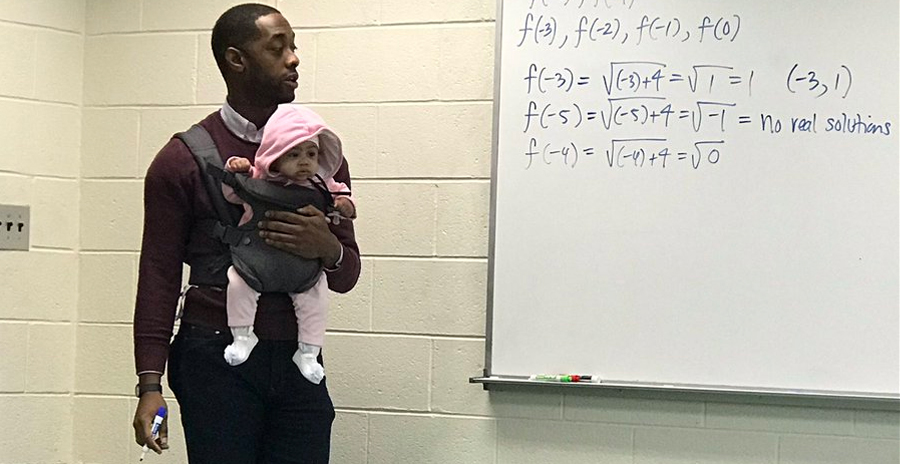 Credit: Twitter/Original_Vaughn
Childcare is a pain.
I don't mean caring for your child is a pain, though that's certainly true. But I'm referring specifically to finding someone to care for your kid so you can go to work, or to school, or other real-life stuff that gets much more complicated, and necessary, once you become a parent.
Some things are too important to sacrifice, especially when you have a little person you need to provide for, so you do what you have to do.
Wayne Hayes is a student at Morehouse College in Atlanta, and last week he was having trouble finding childcare for his 5-month-old daughter. But he couldn't miss his algebra class, midterms are coming up. So he took her along. Thankfully, his professor understood.
And then some.
When he arrived to class with baby Assata in tow, he explained the situation to his professor, Nathan Hayes. Rather than shrug Wayne off or penalize him, Hayes offered to hold Assata during class so Wayne could take notes.
LEGEND.
Student came to class today with his child due to no babysitter or anybody to watch her while he was in class.
My professor NATHAN ALEXANDER said "I'll hold her so you can take good notes!" #HBCU #morehouse #Respect pic.twitter.com/oogIqetseS

— TheOriginal™ (@Original_Vaughn) March 1, 2019
One of Wayne's classmates posted photos of Professor Hayes straight-up wearing Wayne's baby on his chest, and people are here for it. The tweet has over 325,000 retweets and nearly 80,000 likes, both because the photos are adorable and because Professor Hayes' act of kindness is so appreciated.
Another student post about the situation on Facebook, sharing his appreciation for the Professor, who clearly understands the challenges many parents, and students, and black students, have today.
"It was this encounter that truly showed me the power and impact HBCU's [Historically Black Colleges and Universities] can have for the black community, for this professor to understand that life happens and sometimes there are just no ways around it."
It helps if you have a baby carrier.