Proud Dad Dismayed When His Kid Throws Back Home Run Ball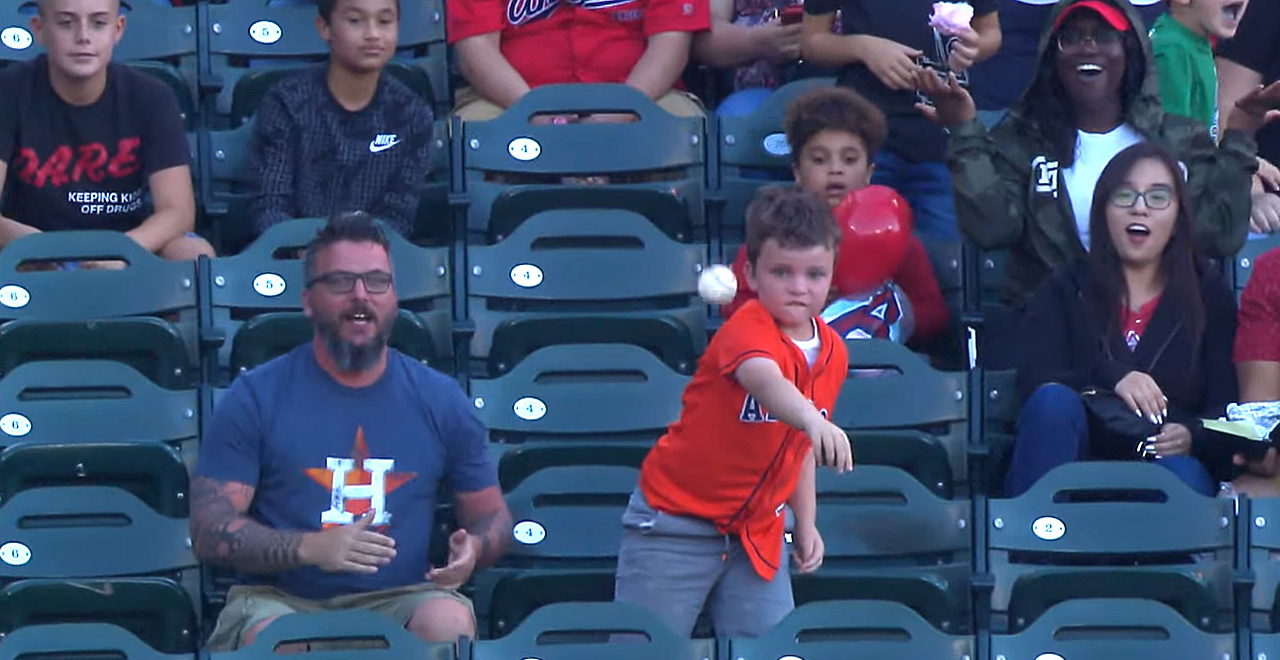 The joy in the eyes of a kid who snags a foul ball is pretty special, which is why it blows my mind when adults will stick their gloves over the head of a pack of kids to snag one for themselves. You see the same thing at any sporting event when they throw out t-shirts. People sitting in $200 seats will act like animals, fighting over a $2 shirt they will never wear.
So it's always heartwarming when a kid does end up with a ball. Like this dad, who managed to get a home run ball and handed it over to his kid. He was a little dismayed though when the kid immediately threw the ball back (acting with the fandom of someone who has been sitting in the bleachers for 20 years). This is not the type of throwback dads appreciate.
At least this one was better, as one boy snagged a foul ball and gave it to another kid, and then they shared a heartwarming hug. Much better for the soul than seeing some grown-up spill a beer on a kid while hustling to snatch away the foul ball.
This is the cutest thing we've ???????????????? seen. pic.twitter.com/8x0h3v2j6f

— Cut4 (@Cut4) July 18, 2019
The Chiefs had a big week, as they announced their star receiver Tyreek Hill would not be suspended. This news has huge ramifications for fantasy drafts starting in a few weeks and is even bigger for Chiefs quarterback Patrick Mahomes. Does it feel a little sketchy still? Yeah, kinda, but there's certainly no shortage of that in the NFL. Earlier in the week, Mahomes had social media stirring for throwing a football out of the stadium.
That's some serious arm strength right there????????. @Chiefs @PatrickMahomes #OurQuarterback #ChiefsKingdom #Chiefs pic.twitter.com/YN7CUNSFCS

— 41 Action News (@41actionnews) July 12, 2019
Devin Hester was one of the most electric kick returners in the NFL during his playing days. He moved like he was controlled by a joystick, leaving helpless defenders in his wake. And his skills seem to run in the family after he posted a video of his kid at a skills camp juking and burning other kids allll day long.
LeBron also got into dad-promo mode this week, responding to a MaxPreps story about what to expect from his son's upcoming high school season. He's pretty good about not reacting to press about himself, but it's a different game when sportswriters are talking about your kid.
Expect a kid that will play for his teammates. Will work hard, pay his dues and when his number is called he'll make mistakes like any kid but will be ready and coached very well. Someone who doesn't care about rankings cause the only thing that matters is his team success. ???????????? https://t.co/qfUeZN0pzO

— LeBron James (@KingJames) July 18, 2019
Most of the NFL spent the week mad, as the ratings for Madden were released. Cowboys defensive end DeMarcus Lawrence recently signed a 5-year, $105 million contract, but that's not enough to keep him happy after he got an 89 rating from Madden. He called for all of Cowboys Nation to boycott the game. Keenan Allen and Mike Evans also said they aren't playing the game because of their ratings, and plenty of other NFL players had strong opinions about the video game.
Meanwhile, Tom Brady is loving his vacation, as he's been posting videos all week on social media. He's been cliff-diving with his daughter and…riding horses with a machete? OK, riding horses with a machete.
That may be an even more terrifying version of Tom Brady than the two-minute drill down six version. But, if you're Tom Brady, you should be fully enjoying the offseason, you deserved it.
My manager: Don't do it man, that song is dead, we can do better.

Me: pic.twitter.com/v5EKPLlJSS

— Tom Brady (@TomBrady) July 18, 2019