April's 15 Funniest Tweets About Being Quarantined With Family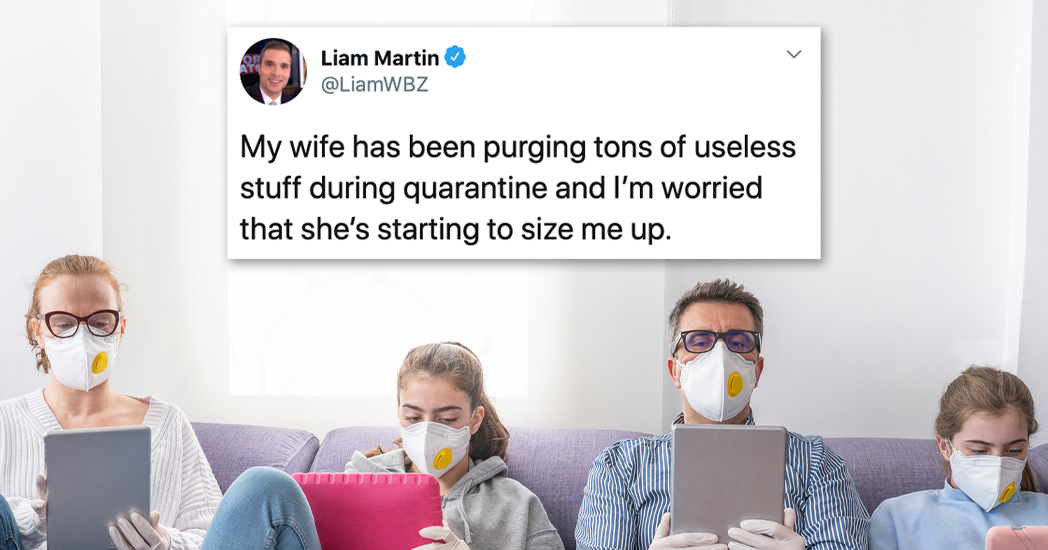 It's easier than ever these days to feel bummed out or overwhelmed with the dire circumstances dealt us. As such, it's more vital than ever to keep stay grounded and in good spirits. What better way to do that with some relatable humor! Here are 15 of this month's realest, funniest tweets about living in quarantine with our family.
It's easy to feel trapped.
Might sleep in the living room tonight just to get away for the weekend.

— mark (@TheCatWhisprer) April 10, 2020
And bored.
i have to pee but im gonna wait a little bit so i have something to do later

— Alyssa Limperis (@alyssalimp) April 6, 2020
Like, really bored.
Me before quarantine, watching Castaway: Really? He's best friends with a ball???

Me during quarantine: Look at you go Roomba, you crazy son of a bitch

— Author Abby Jimenez (@AuthorAbbyJim) April 28, 2020
So we're hoping you're getting what sunlight you can…
[walking through the valley of the shadow of death] it's nice just to get outside 🙂

— soul nate (@MNateShyamalan) April 28, 2020
And finding little hobbies with which to occupy yourself.
Apparently when you take sports away from men you get sourdough bread and I'll be honest I did not see that coming.

— Lloyd Rang (@lloydrang) April 25, 2020
We'll get back to life soon enough.
I miss that Saturday morning panic of looking for your kid's sports uniform.

— Simon Holland (@simoncholland) April 4, 2020
But boy do we miss it!
I miss going to a restaurant and paying 5.99 for kraft macaroni and cheese for my kid to take two bites of it.

— Professional Worrier (@pro_worrier_) April 7, 2020
Granted, it is nice to spend quality time with the spouse.
[quarantine, day 13]

I'm no longer allowed to chew or swallow in her presence.

— John Lyon (@JohnLyonTweets) April 2, 2020
Hopefully the feeling is mutual!
My wife has been purging tons of useless stuff during quarantine and I'm worried that she's starting to size me up.

— Liam Martin (@LiamWBZ) April 21, 2020
Close quarters make for all sorts of romantic spark!
I guess one silver lining of this quarantine is that my wife and I are communicating better than ever. For instance, today, I asked her if she would like me to do the laundry, and she told me to go fuck myself.

— bob saget (@bobsaget) April 22, 2020
Then there's those kids you had.
We've been in quarantine for 18 days and my 9yo has been talking nonstop for 20 of them.

— Jessie (@mommajessiec) April 5, 2020
Hopefully they're finding their groove in all this as well.
I'm not saying our healthy lifestyle has deteriorated under quarantine, but I just asked our 5yo what his favorite fruit is and he answered "sausage."

— Dad on my Feet (@dad_on_my_feet) April 15, 2020
And making this as easy on you as they can.
My son just asked me if I when I was little I had to stay inside for COVIDs 1 through 18

— Kerry Howley (@KerryHowley) April 1, 2020
After all, you are their homeroom teacher now.
If you see my kid on zoom in the same clothes he's been wearing the past five days mind your business our homeschool has a uniform.

— Marriage And Martinis (@MarriageMartini) April 23, 2020
And by God, someone's gotta teach 'em.
I'm not saying I'm going to suck at homeschooling my kids but my daughter just asked
"Dad, what's a synonym?"
And I replied
"It's a spice"
Have a top week, everybody

— joe heenan (@joeheenan) March 30, 2020