Returning Sergeant Surprises Daughter by Dressing as School Mascot [WATCH]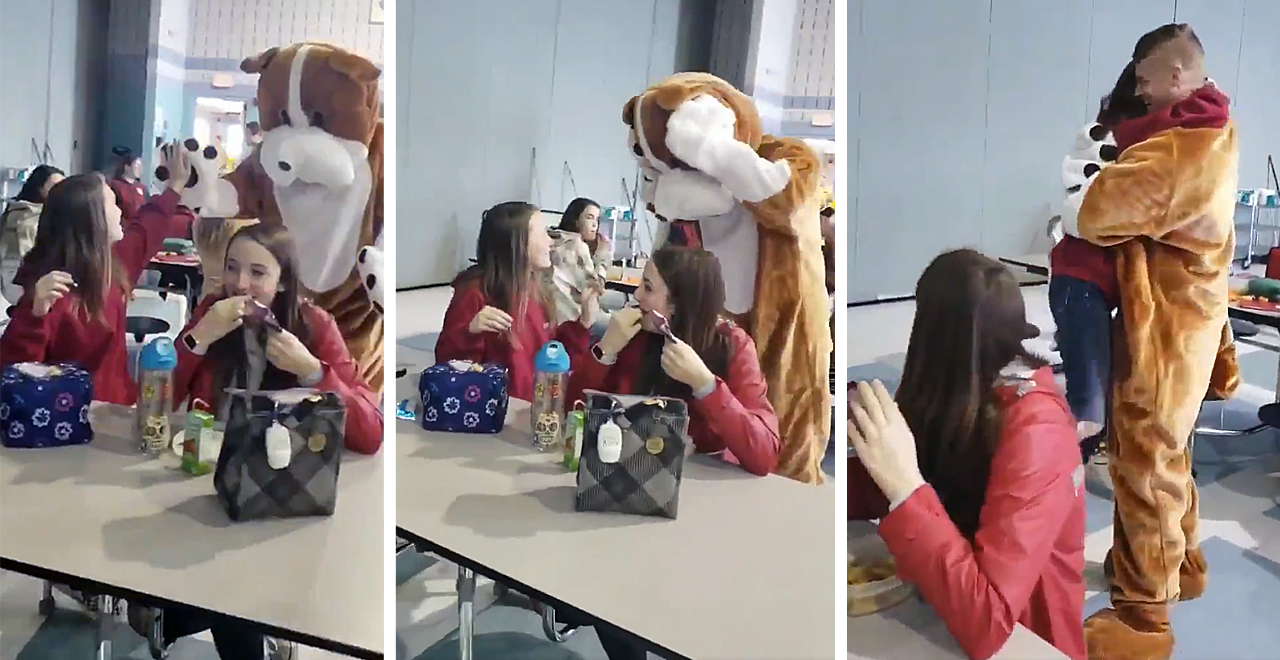 There aren't many guarantees in life. Death, taxes, the Patriots winning the AFC East, and your kid needing his diaper changed moments after you've just changed it makes up most of the list. Another thing on that list, probably near the top of it, is the feel-good effectiveness of a video of a military parent surprising their family with an unexpected return from overseas.
Thanks to this young century's frequent, perpetual need for military personnel to be stationed in various locales all over the world, and the explosion of social media over the past ten years, videos of Army soldiers and Navy sailors and Marines returning home and surprising their none-the-wiser spouses and children are more plentiful than ever. And unless you're heart is dead and black, they never, ever get old.
But it's definitely nice when they have a bit of a twist – like when this Coast Guard dad surprised his son at a Cleveland game.
The latest reunion video to go viral online has just that, in the form or a large, furry bulldog. That's where Coast Guard sergeant was hiding to surprise his daughter in her middle school cafeteria, after returning home from seven months of active duty.
The dad was on his way home and he decided to call his daughter's Maryland school and let them know. When he got there, the school's vice principal, Marcus Shipley, suggested the sergeant don the school's mascot costume. Seeing a great opportunity, Dad obliged and entered the cafeteria dressed as Stephen Decatur Middle School's bulldog mascot. He makes his way around the cafeteria, interacting with many of the students he passes. He eventually reaches the table where his daughter, Madi, is eating lunch, and she reaches out to give him a high-five.
Suddenly, he whips off his mask and she squeals in delight and surprise at the sight of her father, to cheers from the rest of the school.
Surprise! Madi's dad made a surprise visit to lunch today. He has just returned from serving 7 months of active duty overseas. ???? pic.twitter.com/B7oYrMdc4t

— DecaturMiddle_Berlin (@SDMS_Berlin) January 23, 2019
There isn't a dry eye in the house, except maybe the fairly disinterested young lady seated next to Madi. Lynn Barton, the school's principal, told ABC News that it "was definitely a feel-good moment for all of us…There was lots of applause and tears."
Except….from that one girl.