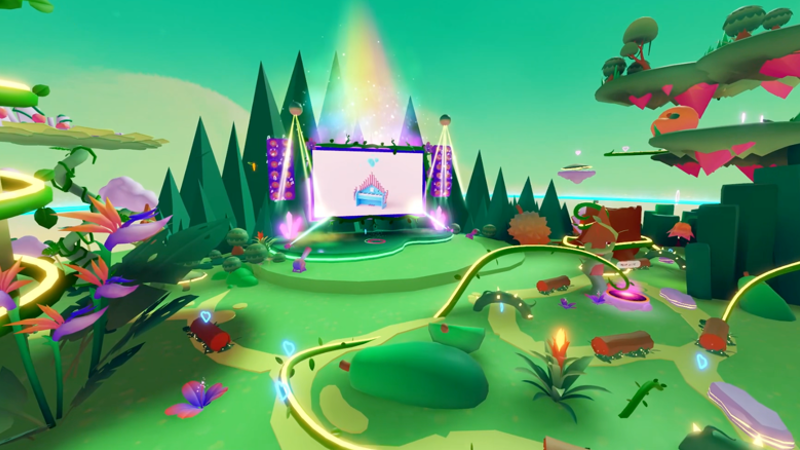 Credit: Spotify
Gaming and music go hand-in-hand, and Spotify hosts over two million gaming-related playlists. This makes their jump into the so-called metaverse a no-brainer, since it's apparently real, and we will, in fact, have to deal with it. But when Spotify invited The Dad to take a first-hand look at their partnership with Roblox, I was excited to ask the hard-hitting questions dads need to know. Questions like "What is Roblox?" and "No, really, is it like…like what is it?"
Okay, most of us have at least heard of Roblox and perhaps even used it as a motivating tool for chores or good grades or being left alone for an hour. Despite the surging popularity of feel-good, low lift video games like Animal Crossing and Stardew Valley, however, I've never actually played the game. But Spotify recognizes the fantastic potential of video games to connect people and has created a space within the game world for users to connect through a love of music. I was given a chance to explore "Spotify Island," a unique little sanctuary within Roblox, and play around with the features. While it's not exactly Elden Ring in terms of gameplay nuance, it's an early look at the merging of all our digital spheres, and certainly a first step toward how entertainment will start to feel in the coming years.
Sidenote: I have to say, the Spotify office is pretty rad. When I arrived, there was a full coffee bar in the lobby, complete with a barista who was very unimpressed by my order of regular black coffee. Look, Spotify, you know me, you know how many times a week I listen to Bruce Springsteen's Darkness on the Edge of Town; what kind of coffee did you expect me to order?
Anyway, the Roblox thing. The game allows players to engage with user-generated content, mainly in the form of mini-games players can create and share. The basic gameplay of Spotify Island is to parkour your way around a digital island paradise, collecting heart-shaped tokens, finding hidden easter eggs, and interacting with other players at beat-making stations. The tokens you collect can be exchanged for in-game content, such as emotes and cosmetic changes to your avatar. That's all pretty familiar territory to online gamers, but the hook is how Spotify will use this space to host unique moments between artists and fans.
In-game, Spotify will host mini-quests, virtual meet-and-greets, and other interactive experiences with artists, including, obviously, selling MERCH! Yes, what kid hasn't begged for some extra virtual dollars to spend on a virtual t-shirt for their virtual person. As someone who spent money on multiple skins for the various Avengers in a game I don't even like, I have no commentary on this. But while it's Dad Law to roll your eyes and act like your wallet is welded shut in these scenarios, Spotify made clear that in-game merch proceeds go directly to the artist. The artists are also as involved with the creative process as they'd like to be. Collectables and achievements are nothing new in video games – or, as we've seen with NFTs in the last year, real life for that matter. Considering the game's been around since 2006, many artists will have grown up on Roblox themselves. I'm sure some young popstars will be thrilled to design in-game swag to share with fans. And I'm doubly sure preteens will lose their mind for it.
Spotfiy Island is a video game, but it's more like a virtual lounge. I'm told there will be multiple islands added to the game world, with different themes and genres for each.This allows players to find their own little place in the metaverse based on their taste and creativity. Notably, the island features a large stage central to the action. While it's not mentioned as part of an official release, it's easy to see virtual events down the line, like how Fortnite has been used as a digital venue for concerts, movie trailers, and other #trending #things.
They announced they were starting partnerships with K-Pop icons Sunmi and Stray Kids, and I politely pretended to know who they were. I'm sure the kids will be excited.