Sam's Club Has "Hero Hours" for Healthcare Workers and First Responders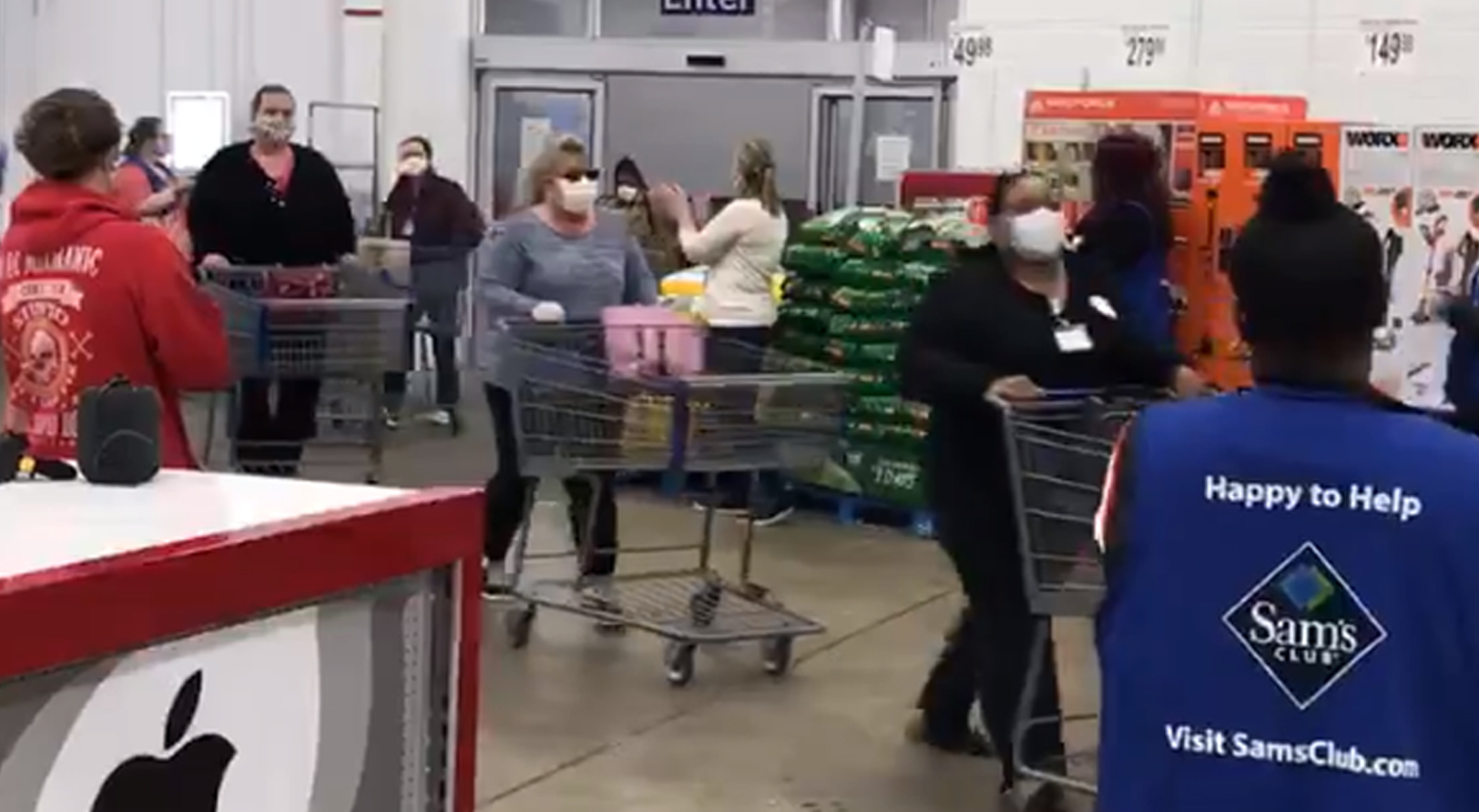 COVID-19 has changed our daily lives in dramatic ways, down to even the way we get our groceries. And with everything on lockdown in most states, grocery stores are one of the bigger risk areas for contracting the virus. Stores have been trying to make it easier for certain at-risk groups, opening an hour earlier exclusively for seniors or for store employees so they can shop in a much safer setting. And now Sam's Club is taking it a step farther, becoming one of the first major chains to make exclusive shopping times available to healthcare workers and first responders.
Stores like Sam's Clubs have been, typically, pretty crowded most days. With everyone trying to limit their grocery trips and eating at home more than they may be accustomed to, shoppers are flocking towards the big box stores that sell food in outrageous quantities. The smallest box of cereal you can get at Sam's Club wouldn't even fit in a plane's overhead storage.
It makes a lot of sense to have special shopping hours not only for the elderly but a separate block for store employees, who deserve a less stressful shopping experience after handling the surge of shoppers. And opening that up to include healthcare workers, who are on the front lines of fighting the pandemic, makes even more sense. Not only are they sometimes put in tough situations with limited PPE, but healthcare workers make up a disproportionately high percentage of the most severe cases. Letting them have a little less stress elsewhere in life is a good thing (Sam's also provides complimentary masks at the door). So while it's an awesome idea, Sam's Club execs are quick to deflect praise, attributing the new rule to local store managers.
"Previously, a few of our clubs invited healthcare workers and first responders for early shopping hours with our associates," a spokesman said. "It's inspiring to watch the ways our associates serve those around them. We're following the lead of those thoughtful clubs by expanding the audience for this shopping period to include healthcare workers and first responders."
We're proud to help the first responders and healthcare workers who help all of us. Every Sunday from 8-10 a.m. we'll offer special hero hours nationally to help your community's heroes do what they do best – keep you safe. pic.twitter.com/lhTB76PbzY

— Sam's Club (@SamsClub) April 14, 2020

And unlike for us regular, plebeian shoppers, healthcare workers, and first responders do not need a Sam's Club membership to shop there. It's just an extra way to say Thank You to a group of people selflessly taking care of their communities during a tough time.
Hero Hours began because local clubs recognized the front line workers in their communities needed support. We were so inspired by the results that we asked all clubs nationwide to join. Now Hero Hours will take place every Sunday from 8-10a.m. We're in this together! pic.twitter.com/eBsPmTlugn

— Sam's Club (@SamsClub) April 19, 2020
And other local stores continue to step up in their own ways.
To thank the healthcare workers working so tirelessly to care for us all, we handed out more than 20,000 pounds of produce to 1,000 members of the New Orleans medical community @umcno. Thank you to the volunteers who served those who are working on the frontlines. #thankahero pic.twitter.com/JzfEU1cY2h

— Sam's Club (@SamsClub) April 17, 2020
Here at The Dad, we hope you, your families, and communities stay safe and healthy during the COVID-19 pandemic. For the latest information, please utilize online resources from local public health departments, the Centers for Disease Control, and the World Health Organization to remain as informed as possible.