Sarah Conner Is Back In First Terminator: Dark Fate Trailer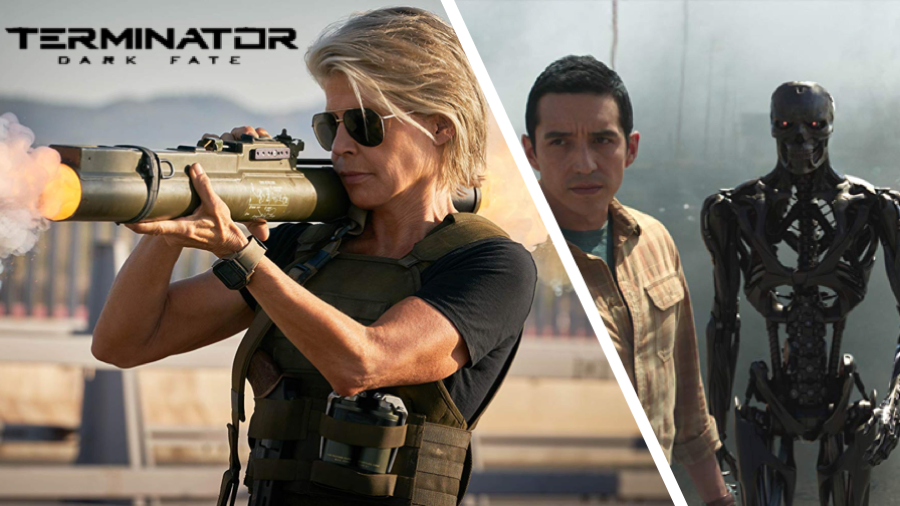 Obligatory "he's back" joke here, for like, what, the fifth time now? Nobody took T2's whole "No fate but what we make for ourselves" theme more to heart than the Terminator franchise itself, simply refusing to die. This morning the trailer dropped for Terminator: Dark Fate, featuring new robots, familiar faces, and a couple classic "Oh-no-my-face-got-ripped-off-but-it's-chill-because-I'm-a-cyborg" moments.
So to recap, we've got Mackenzie Davis and Gabriel Luna as two new Terminator varieties doin' the ole' help/hunt dance with Natalia Reyes, who -per the way these movies work- is somehow the key to saving the future. Along for the ride are Linda Hamilton and Arnold Schwarzenegger returning with producer James Cameron to the franchise they started together 35 years ago.
The film takes place "the day after Judgement Day" but LA doesn't look like the sea of human skulls we're used to, so it's a good bet the evil Skynet has been lying in wait. Or maybe Skynet is out of the picture, but a new cyber threat rose to decimate humanity, like BitCoin or Facebook.
Terminator: Dark Fate has wisely chosen to disregard everything since 1991's Terminator 2: Judgement Day, the gold standard of 90s action adventure. Look, not to shit on Jurassic Park or The Matrix, but T2 was the action movie of action movies. Personally, I begged my parents to rent it probably six Friday movie nights in a row, and they didn't even argue until the fourth week.
But since then, the franchise has made some missteps. Terminator 3 was…fine. Terminator: Salvation is remembered more for proving Christian Bale was kind of an asshole (still love you CB, just maybe stick to one body weight for a while; you need to level out). Terminator: GynYsYssY or whatever they called the last one tried to reboot the franchise while also not rebooting it because time travel is weird like that. All of them featured The Arnold, but all of them fell flat. So what makes this latest stab at the franchise more promising? One minor little detail:
The Queen is back, baby.
Linda Hamilton has returned as Sarah Conner, the role she originated in the 1984 sci-fi horror masterpiece that launched this whole thing. Her turn from waitress-in-distress in the first film to supreme badass in the second made Conner one of the most iconic characters of all time. We haven't seen her since 1996's Terminator 2: 3D – Battle Across Time, the Universal Studios attraction that taught 12-year-old me what excessive gunfire smelled like; but while Arnold may be the titular cyborg, the heart of Terminator has always been Hamilton.
Getting these two back together is the hail mary this series needs. Dark Fate may be The Terminator's last chance to cash in on the reboot craze, but with Hamilton's Sarah back in the action, and Deadpool's Tim Miller in the director's chair, odds are in its favor. James Cameron took time away from making 36 Avatar movies to produce this one in order to ensure it was "relevant" to the times. It's got the pedigree. Can it deliver? That's up to fate.
Terminator: Dark Fate opens November 1st.
If you don't want to wait that long, Reader, then permit a humble recommendation. Go pick up the Blue-ray of FOX's Sarah Conner Chronicles. That show was awesome, completely underrated, and Lena Headey (Game of Thrones) was a great Sarah Conner. Hamilton's untouchable, but that show was the best Terminator content since T2. Unless you count the Terminator: Future Shock video game, which I do, but I've been told that I'm a nerd.