School Bus in Alleged Hit-and-Run, 6th Grader Leaves Note on Car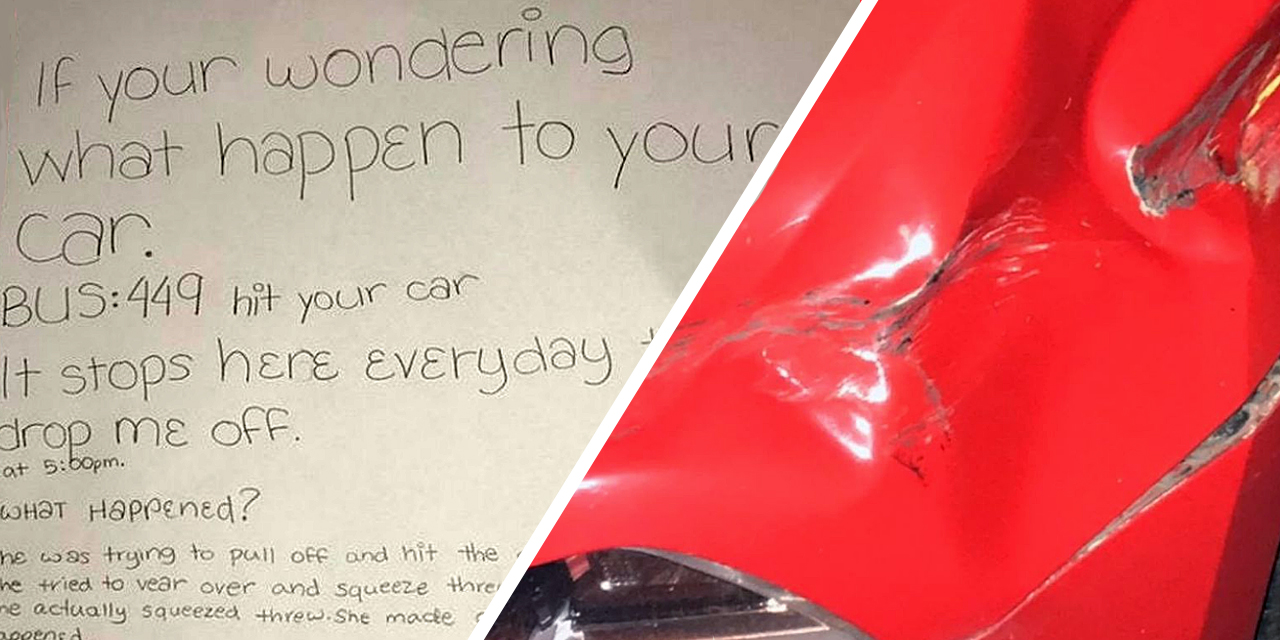 Sometimes, when you've had some bad luck, you could use a little help from your friends. Or, if not your friends, then at least a good Samaritan. It's not often that those selfless do-gooders are embodied by elementary school students, but why look a gift horse in the mouth?
Andrew Sipowicz certainly isn't, not after a sixth-graders potentially saved him a few thousand dollars!
Sipowicz (no relation to Dennis Franz's iconic NYPD Blue character because that's a TV show and that Andy Sipowicz doesn't exist) is a senior at Canisius College. The other day, he wandered out to his Ford Mustang, only to notice that it had been damaged, and that no one was around to take responsibility for it. And then he spotted a note under his windshield wiper.
A sixth grader from Houghton Academy in Buffalo, NY had witnessed what had happened to Andrew's car, because she happened to be on the vehicle responsible for the damage. Her school bus.
The little kid had watched as his school bus driver pulled onto the road and clipped Sipowicz's car and then kept going, a classic hit-and-run. So the student took it upon herself to right that driver's wrong and left the note on the Mustang's windshield, detailing what had happened, even including a sketch of the school bus, complete with its rowdy students. Andrew, relieved and grateful, shared his thanks, along with a picture of the damaged car and the kid's note, on Twitter.
Shoutout to the anonymous 6th grader for saving me a couple thousand (Bus not drawn to scale) pic.twitter.com/7aNK10xSwX

— Andrew Sipowicz (@Andrew_Sipowicz) November 20, 2018
That is a nicely detailed note and a cute drawing, which Andrew noted is "not to scale." It's oddly comforting to see that today's children still have similar penmanship to the sixth-graders of my youth.
The one thing the note was missing? The hero student's name. But when Andrew shared the anonymous note, the good deed traveled far and wide, catching fire on Twitter to the tune of over 1 millions likes and nearly 300,000 retweets.
Eventually, Andrew followed up with a tweet starting that the good Samaritan and budding artist was found.
Update: The student who wrote the letter has been found and we're in the process of finding a way to reward her for her actions. Very grateful for what she did

— Andrew Sipowicz (@Andrew_Sipowicz) November 21, 2018
After saving the man a decent chunk on car repairs, she should be in line for a decent reward!