Screentime: Moana's Dad Sucks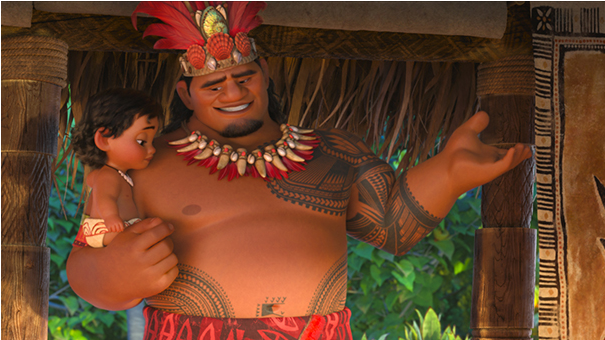 Where You Are.
"Daddy, this you."
My daughter loves to identify the characters she sees, in books, TV, movies, with counterparts from her real life. She'll point to a random woman in a picture book and loudly declare, "It's Grandma". There's an illustration snail she will reliably identify as "Mommy" for no discernible reason. In The Cat In The Hat, there's a crudely sketched portrait of a dude with a huge nose
Every time we read the book she points at the damn painting and says "PICTURE OF DADDY" over and over again until I say "Yes, that's a picture of daddy can we please move on?"
So it came as no surprise when she held up a figurine of Chief Tui, Moana's father, and told me "Daddy, this you". In fact, it made more sense than many of the characters that are "me". My daughter obviously identifies with Moana and Tui is Moana's dad. Simple.
Initially, the comparison seemed favorable. For a start, Tui is a pretty impressive-looking guy. If this is what my kid sees when she looks at me, I'm doing something right. He's also the Chief of a whole dang island, which looks pretty good on your CV.
The Perfect Daughter
But the more I thought about the movie, the more uncomfortable I was about being linked with Tui in my daughter's mind. Obviously, there is the fact of his being the main obstacle to Moana exploring the ocean, saving the world and finding herself in the process. But that's just the start of it!
Moana is rightly praised for being a female-led film in which the heroine's victory is her own. No man swoops in to save the day, or to offer a ring. Instead, the men of the film represent the status quo, the facts of the world that Moana must navigate around. It is no accident, therefore, that the two most significant male presences in the film are both authority figures. Tui and Maui are both powerful men, and each can be seen as representing different types of dad. (Stay with me here)
You're Welcome
Maui's is less so, but still valid. Maui is the figurative father of humanity. The litany of feats he lists in "You're Welcome" demonstrate that without him, human lives would be unrecognizable. Tides, Wind, Land, Fire, Coconuts. All the things Moana and her people treat as givens, he handed to them. In the same sense that Prometheus is the father of humanity in Greek mythology, Maui is father to us all.
Maybe this is the dude I want to be compared to. Magic, heroic, legendary. Sounds pretty good!
But what kind of a father is he? As his song proclaims, he is a heroic one. He has performed incredible, dangerous feats to improve the lives of his children. He is brave and strong, fun and adventurous. But he also solves all his problems in the same way: Brute force.
He is also an absent father. His version of fatherhood consists of providing, but not sustaining. As soon as a complication approaches, he runs away.
His self-image is so dependent on his heroic victories & his strength that he cannot face the possibility of failure. I don't want that.
Consider The Coconut
So I guess it's back to Moana's actual father, Tui. He has a more grounded, less spectacular, approach. He emphasizes tradition, tries to teach responsibility. I can get behind this, I suppose. I mean, kind of boring, but commendable.
Apart from two things. Firstly, he uses the twin swords of Tradition and Responsibility to hem his daughter in, stopping her not only from following her heart, but from coming up with genuine solutions to real problems they both face.
Secondly, it becomes clear he's doing this not in order to help his daughter develop or grow, or even because he genuinely thinks its what's best. He's just projecting his own fear of the ocean onto her. His talk of tradition is just a cover for his own hang-ups. He doesn't run away, he just hides behind his value-system!
I don't wanna be either of these dudes!
A Girl Who Loves Her Island, A Girl Who Loves The Sea
In the end, though, Moana herself doesn't outright reject either of these flawed father figures. She embraces the Tui's responsibilities and traditions while rejecting the fears that guided him. She embraces Maui's bravery and sense of adventure but rejects his fear of failure and his violence. She takes the best of each of them, rejecting their shortcomings, and becomes her own, stronger, person, finding solutions neither of them could ever see. (Obviously, this is also in large part due to the supportive maternal figures in her life, but you knew that.)
So I suppose I don't mind whether my kid sees me as Tui, or Maui, or Heihei. I just hope that she can take the best of me, and use it to forge her own, better, way.