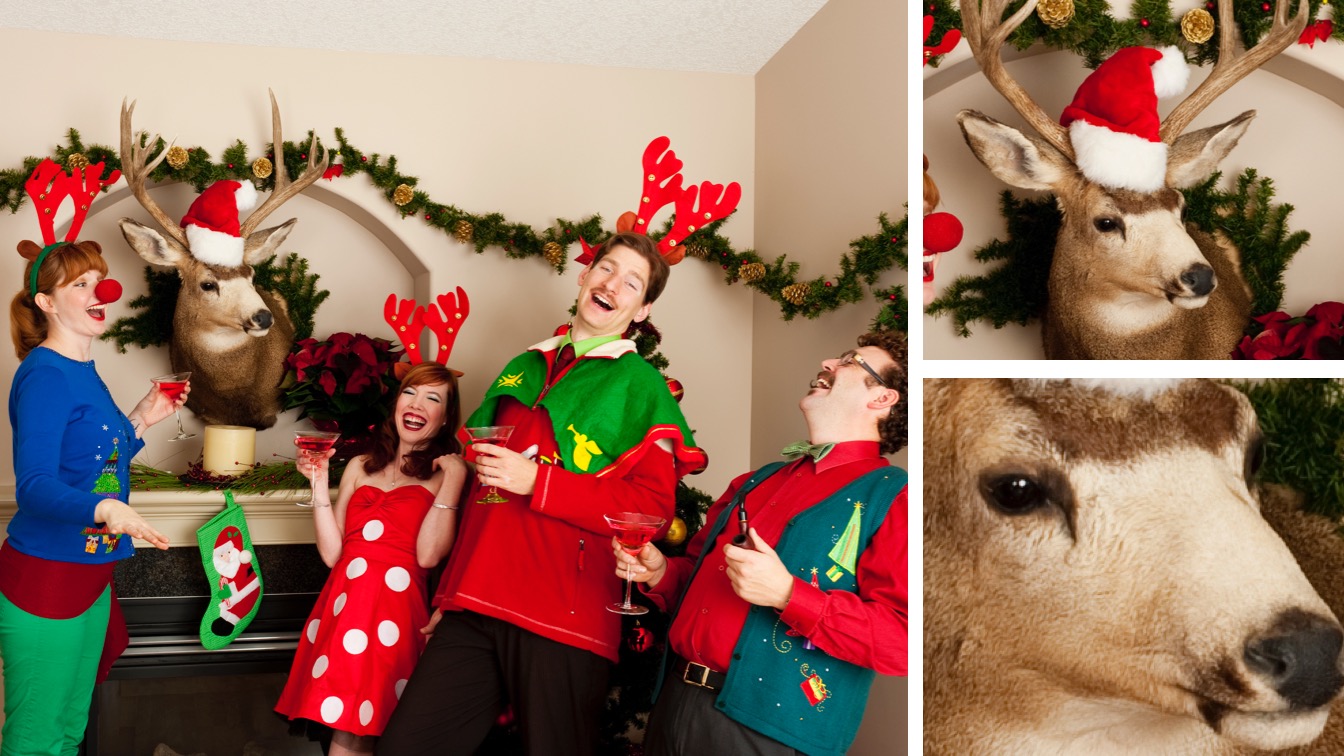 Credit: Getty/Jason_V
For most families, Christmas is over. Not so in our house. Rudolph's dread hold still grasps us, and will continue to grasp well into February. The plaintive wail of "WANNA WATCH RUDOWW!" is heard night and day, ceaselessly calling us back to that winter wonderland.
To give myself and my family some respite during these trying times, I have resorted to playing any Rudolph-adjacent movie I can find. All the Rankin-Bass specials? Check. The Grinch? Check. Finally, running out of ideas, I opted for the 2003 Christmas classic, Elf.
My daughter was indifferent until Leon the snowman appeared on screen. At this, she clapped her hands with glee and shouted, "RUDOWW!!"
And she was right. Leon looks and sounds EXACTLY like Sam, the narrator of Rudolph The Red-Nosed Reindeer.
Leon claims to have no father, that he was, "just rolled up one day," and we have no idea how old either character is, nor how aging or reproduction works for sentient snow creatures. But at the very least these two are related by species, and seem to hold a similar office in Christmastown. This, and a few other references peppered throughout, prove that Elf & Rudolph take place in the same world. Buddy & Rudolph come from the same North Pole.
It was a few minutes later that my daughter asked the fateful question: "Where Rudoww?"
She had noticed something I had not picked up on. A stark difference between Buddy's North Pole and Rudolph's. Something terrible has happened in the time between the two stories.
The reindeer have been silenced.
Gone are the sentient, talking reindeer like Rudolph and his friends and family. In their place are the dumb beasts of our world.
What did Santa do to the reindeer population? Where, indeed, Rudoww?
No clear answers are given by either movie, but the clues are there, if we care to follow them.
Let's start by looking at the two biggest changes that occurred during our absence from the North Pole:
First, the toys have become MASSIVELY more complicated and more diverse. In 1966 the elves were building Jack In The Boxes (Jacks in the Box?) and dolls. By 2003 they're building graphics processors, Etch-A-Sketches… oh, and also still building Jack In The Boxes for some reason. Santa's operation has gotten much more technically difficult and much harder to manage. Hell, he's even shipping branded gifts (the "real Huff board" for example), which would require corporate partnerships, factory inspections, licensing deals, etc. etc.
Second, Santa's reserve of Christmas Spirit, his most important fuel source, is running low.
I put these points to my kid, and together we came up with a theory: A massive increase in the complexity of Santa's operation plus a catastrophic depletion of resources has caused a full-on Kris Kringle Economic Crisis.
Santa has had to cut costs. Drastically. But Santa also has an image to maintain. He can't just outsource all his manufacturing to China. So what does he do?
First of all, break the Elf union. As we watch the Elves make toys in Rudolph, a whistle blows and the floor manager declares, "10 Minute Break!" There's no way this isn't union mandated. At the time of Rudolph, Santa is the ONLY elf employer, he has unparalleled demand, limited supply, and an extremely tight deadline. No matter how "jolly" he is, there's just no way the self-styled King Of Jingling is giving these Elves hot chocolate breaks of his own accord.
Contrast this with the incredibly high-paced, quota-focused workshop that Buddy the Elf is working in. No union with any real power would allow such high pressure conditions. The Elves' collective bargaining power has clearly been significantly reduced. We should assume this strategy was taken with all groups under Santa's employ.
Step two: Restructuring and layoffs. In Rudolph, the North Pole' s position is extremely clear: Elves Make Toys. Heck, a large section the plot is concerned with the one elf, EVER, who didn't find this line of work appealing.
Contrast this with 2003's policies. Shoe Making, Engine Maintenance, Teaching, presumably Dentistry. All these are now considered acceptable employment for elves. We must assume that Elves were forced into these other lines of work by not only massive layoffs at Christmas Incorporated, but also by other creatures being placed in toymaking roles (this is also further evidence that the Elf union has been broken).
By Buddy's own admission, the only reason that these other, presumably low-wage, creatures didn't replace elves entirely was their lack of ability in their roles. What if Santa found he could replace his entire workforce with not only cheap labor, but effectively free labor. Labor that came without the burdensome costs of benefits, paid holiday, pensions. Wouldn't he, in such dire straits, leap at such an opportunity?
I surmise this is what must have happened to Rudolph and his family. Upon discovering that (with the help of modern technology) he could entirely do away with sentient reindeer in his workforce, Santa replaced them with their dumb cousins. A cost-saving measure, a necessary evil to keep up with fast-paced 21st Century life.
I explained all this to my daughter, who took it in with an impressed but serious face. Then she paused, considered for a second and repeated that fateful question.
"Where Rudoww?"
And the best I could tell her was that he had moved on. And together we hoped he had gone to greener pastures. Some magical land with strong social security initiatives and workers' rights protections.