Early on, we learned that the elderly population was one of the most at risk for contracting COVID. Activities that were often difficult for seniors in pre-COVID times like going grocery shopping became increasingly complicated, and seniors living alone had to find safe ways of coping with loneliness and boredom. For seniors living in retirement communities, strict lockdowns often meant that residents couldn't see their families, adding a whole new layer of stress to an already difficult situation. Last week, a man named Rene Blais decided to give his local senior community a much-needed distraction by buying out an entire flower truck so the elderly residents could build their own bouquets.
When Rene first contacted Joline Willsey, owner of Gypsy Blooms Flower Truck, she found his generous proposal hard to believe. "I initially didn't take him too seriously and I even had forgotten to pass along my business card," Joline told The Dad. "It wasn't until the next day or so that I reached out to him to confirm and set a plan in place."
Joline's doubt quickly turned to excitement when she realized Rene was very serious about his offer – for no other reason than his desire to do something kind, Rene gave the residents of a senior citizens complex a day that they wouldn't forget.
Joline posted a photo of the incredible act of kindness on her flower truck's Facebook page, showing several seniors with their bouquets in hand while the rest lined up awaiting their turn.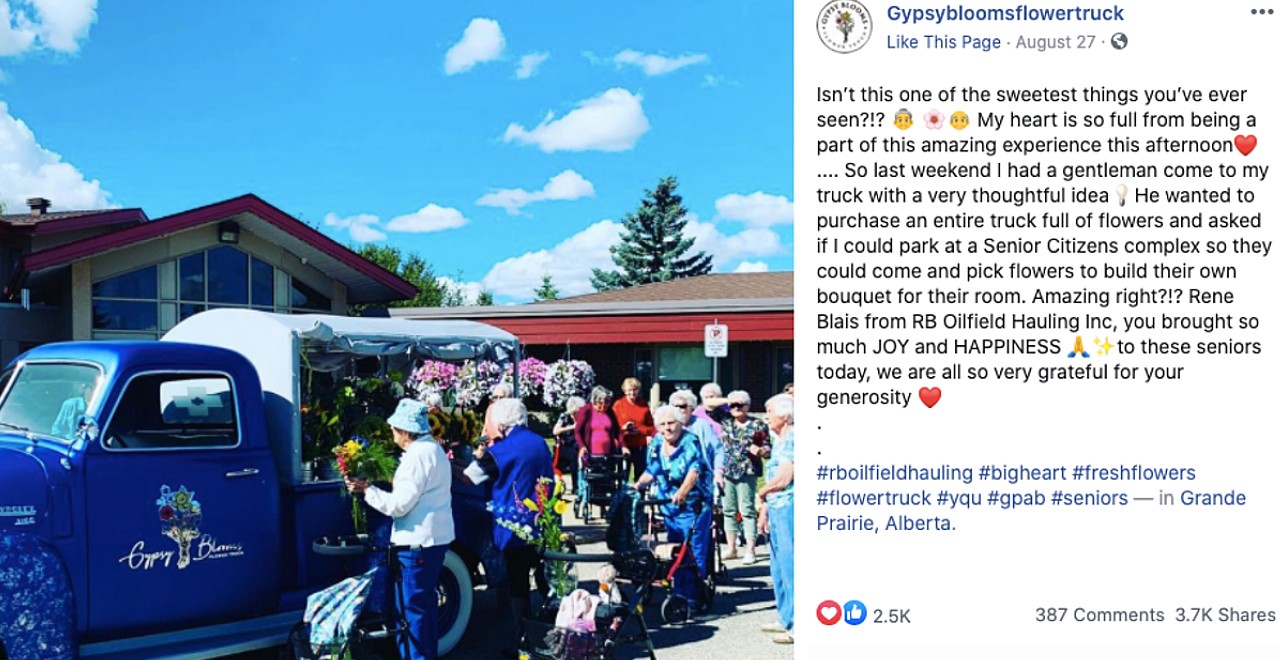 "Isn't this one of the sweetest things you've ever seen?!?" The caption read. "My heart is so full from being a part of this amazing experience this afternoon…. So last weekend I had a gentleman come to my truck with a very thoughtful idea. He wanted to purchase an entire truck full of flowers and asked if I could park at a Senior Citizens complex so they could come and pick flowers to build their own bouquet for their room. Amazing right?!? Rene Blais from RB Oilfield Hauling Inc, you brought so much JOY and HAPPINESS to these seniors today, we are all so very grateful for your generosity."
As the smiling seniors carefully picked out beautiful flowers to fill their bouquets, many told Joline of the flowers they used to grow in their own gardens. Rene Blais's generous act not only brought the community of senior citizens an enormous amount of joy, but it allowed them to revisit fond memories, reminiscing with someone who was more than happy to listen.
This good deed provided some much-needed excitement to seniors in the community, and in all likelihood, there's more to come. "Rene and I have spoken a few times and he wants to do it again soon," Joline told The Dad. "I've also had requests from other local businesses who want to do the same thing which is so amazing!"
"It was truly an experience I will never forget," Joline continued. "So heartwarming to see their smiles and eyes light up when choosing flowers for their room. My hope is that our story inspires others to follow suit."