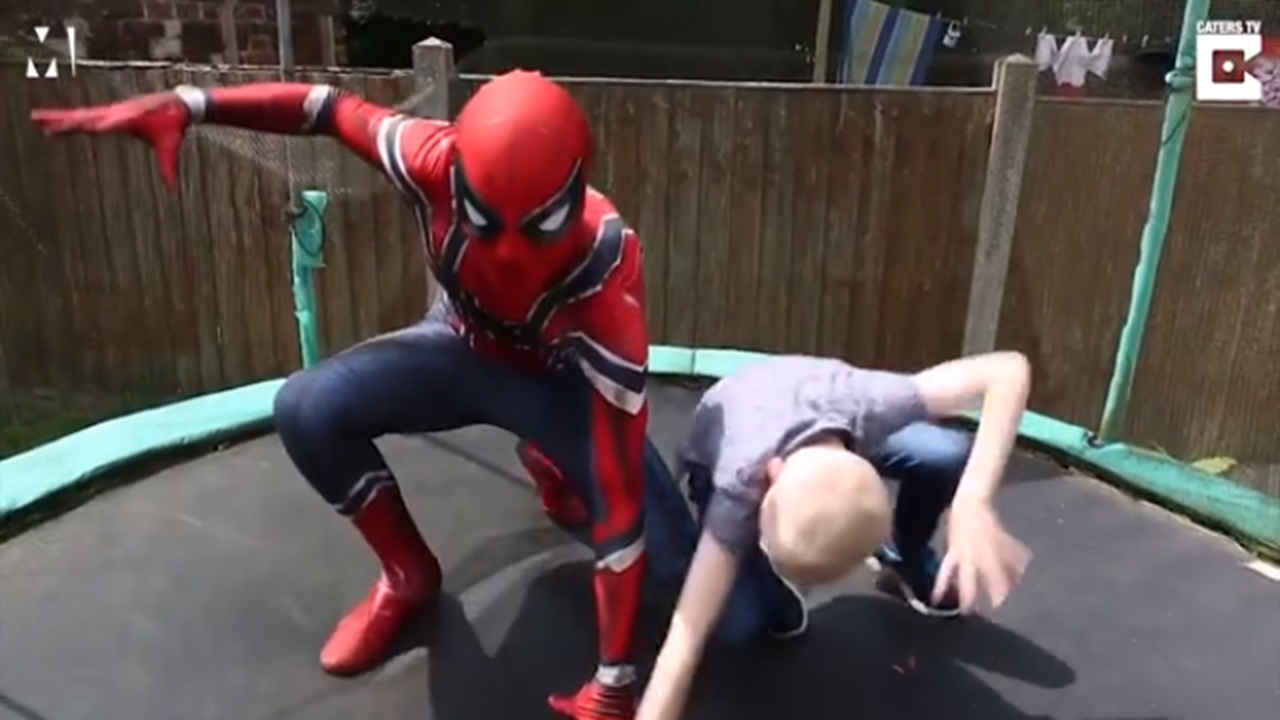 Credit: Caters TV
Some dads will do anything to help their kids, especially if their kid has special needs. And sometimes connecting with or calming that child requires donning an elaborate costume.
Enter Dale Grounds, a single dad from Nottingham, England who is raising his autistic son all by himself. Reece was diagnosed with autism in 2015, and Dale found himself struggling to help his son through his outbursts and stormy moods.
"There was a time when Reece came home from school and was really upset, he was crying a lot and took himself upstairs to bed and wouldn't let me talk to him. When he's in meltdown mode it can be really hard to get through to him; he enters his own world and you have to say and do all the right things to help or it just gets worse," Dale told Metro UK
And then he thought of something.
"He would have really bad meltdowns which resulted in non-stop crying. I'd tried everything to help him but nothing seemed to work. Then one day I walked into the living room and he was watching Spiderman and he was so engrossed."
He decided to dress up as Spider-Man to try and calm his son down and prevent or cut short any meltdowns. Now, when Reece needs a hand with homework, or just needs to let off some steam with a soccer ball in the backyard, Dale gets into his Spidey get up and saves the day.
"For a while he didn't really grasp the fact that I was his dad and Spiderman as well, but now he does and he thinks what I do is amazing. It's really helped with his moods too, so it's great that I've been able to help him in this way."
Needless to say Reece's favorite superhero is Spider-Man. But his father was already his biggest hero. Dale had Reece when he was just 19-years old and has been raising him on his own since Reece was an infant. But now he's a hero to countless other kids as well.
After seeing the positive reaction he got when he wore the suit to pick Reece up from school, Dale's spider senses starting tingling. So he began visiting a local hospital dressed as Spidey.
"Some weeks I'm on the cancer ward, other times I'm visiting children in the burns unit; it varies all the time."
Who needs real superheroes when there are dads like Dale around?