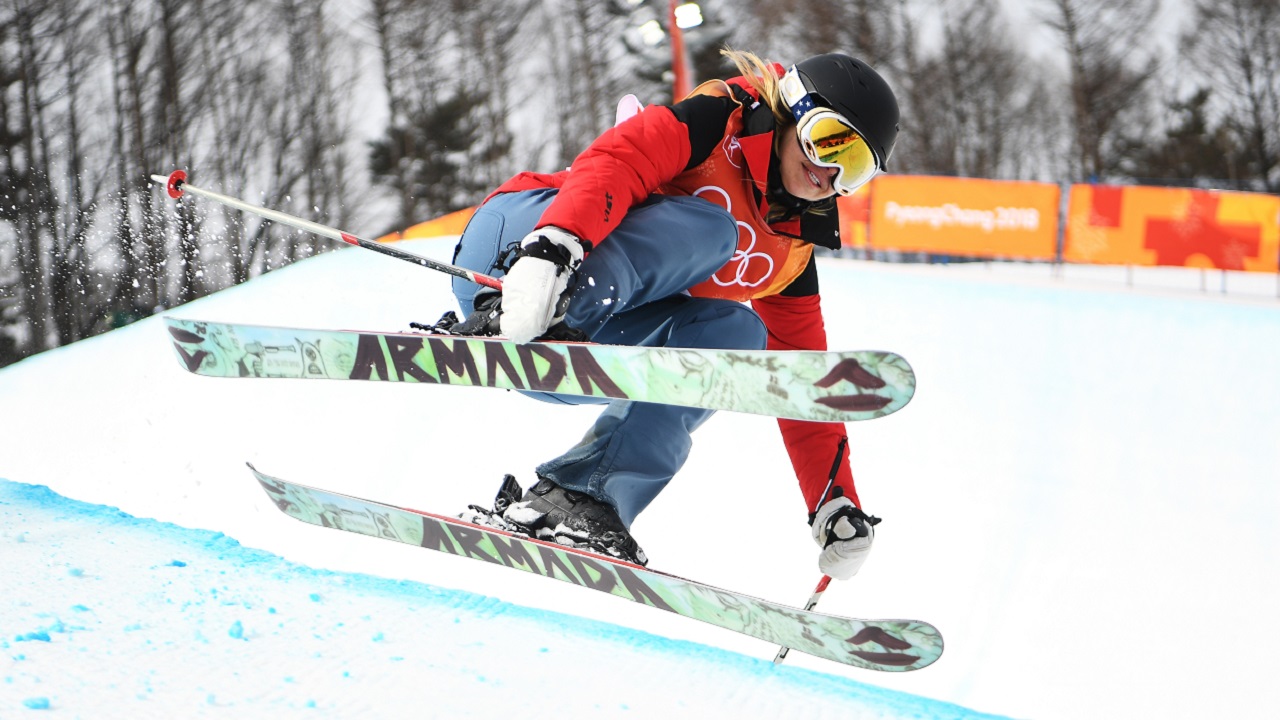 Credit: Getty Images/David Ramos
She found a loophole
Making the Olympics is no easy feat. It takes years of practice and dedication, not to mention talent and skill and perseverance. People spend their lives attempting to qualify for the opportunity to represent their country at the storied athletic competition.
Elizabeth Swaney was no different, in that respect. She too was desperate for the chance to compete at the 2018 Winter Olympics. Unfortunately for the skier, she's just not that good! But she is crafty. So despite being average on skis, at best, she found a way to make it to the slopes in Pyeonyang, South Korea.
Swaney was born in California but competed for Team Hungary at the games thanks to her maternal grandmother's heritage (and she used to compete for Team Venezuela at World Cup events!), though "competed" may be putting it a bit strongly. According to NBC, out of 24 skiers in the women's half-pipe competition, she finished dead last, her 31.20 a full 40 points behind the the woman in 23rd place.
Her runs on the half-pipe are about as vanilla as it gets, leaving the announcers borderline speechless as she didn't so much as attempt one trick, content merely to coast up and down the course without falling. Which, to be fair, is probably harder than it looks. It's just not hard for any of the other competitors in the event.
https://twitter.com/JRnowaUScitizen/status/96568774546416025
Swaney has spent years gallivanting around the globe in an attempt to fulfill a childhood dream of competing in the Olympics, and winning a medal does not seem to have been part of her plan.
She was able to achieve her dream by racking up points at qualifying events and then sliding into one of the 24 quota spots that are capped at 4 per country. So even though a country like the United States had 6 skiers in the top 20 of the qualification standings, those last two were out of luck. Eventually, as athletes pulled out for various reasons, Swaney slid onto the docket.
Then she slowly slid on the half-pipe, to the delight and disdain of those watching.
"That's right kids, you too can get into the Olympics just like Elizabeth Swaney.

1. Have enough money to travel the world competing in skiing events for 2 years.

2. Make sure the events have less than 30 competitors.

3. Place in the Top 30."

— The GOP's always been the white supremacist party (@KsKM3) February 19, 2018
There was even a little Hungarian shade:
Hungarian Ski Federation on Elizabeth Swaney:"The situation was mainly caused by the qualification system and few participants. It is a fact that we have not seen Elizabeth in action the last year, we realised her level at the Olympics. She self-funded her preparation&qualifying"

— Gergely Marosi (@emgergo) February 19, 2018
Swaney seems to be a bit of a free-spirit (of a different type than Red Gerard), having run for governor of California at 19, and trying out to for the Oakland Raiders cheerleading squad before ultimately settling on her Olympic quest.
She may not have won a medal, but she definitely accomplished… something.