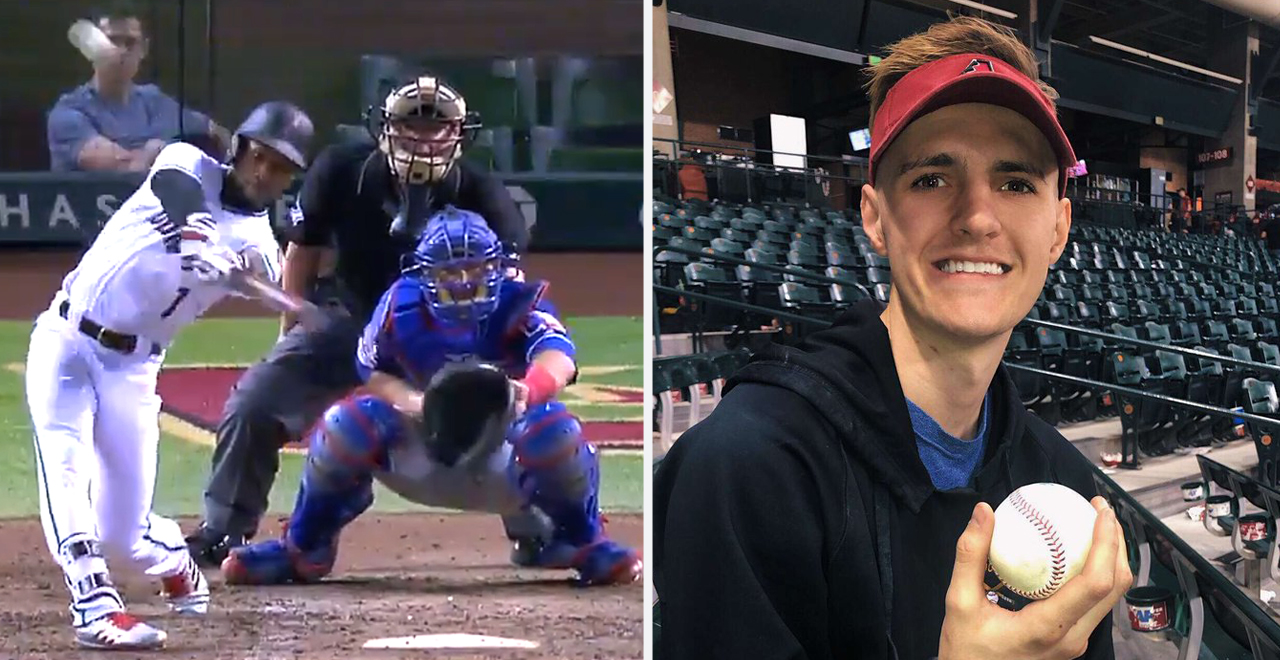 Credit: Twitter/Dbacks/alexrxbertsxn
Alex Robertson celebrated his 21st birthday Tuesday by going to watch the Arizona Diamondbacks take on the Texas Rangers. It was the first time he'd been to the ballpark since his father passed away nearly a month ago from liver failure. Baseball was his dad's favorite sport, so Alex was hoping for a dramatic comeback at the D-backs were down one in the bottom of the ninth. Well, obviously you know how this story ends.
Never doubt the power of the #RallyBaboon. pic.twitter.com/66vojlH2nk

— Arizona Diamondbacks (@Dbacks) April 10, 2019

Obviously, Jarrod Dyson smashed the first pitch out of the ballpark, and straight into Robertson's hands. The game-winning home run was one of those rare feel-good plays in sports, the type that you can convince yourself happened for a reason. Roberston wasn't even supposed to be in those seats, but he moved earlier in the game when he saw other fans sitting in his seats.
"I've been having such a hard time dealing with it," Robertson said to ABC15 in Phoenix. "We became best friends when my mom and him got divorced. We would watch the Diamondbacks and the Cardinals together all the time."
went to a dbacks game because it was my dad's fav sport, he passed away on the 19th of last month & tonight on my 21st birthday I caught the game winning home run. this one's for you pops. pic.twitter.com/4QGO95Hg5E

— alex robertson (@alexrxbertsxn) April 10, 2019
This is such a touching home run that it almost feels like it was scripted by a Disney Channel writer mailing it in before a holiday weekend. We know for sure it's not though is because it happened at an Arizona Diamondbacks game, which wouldn't be Hollywood's first choice.