Son Surprises Ailing Dad With Tickets To College World Series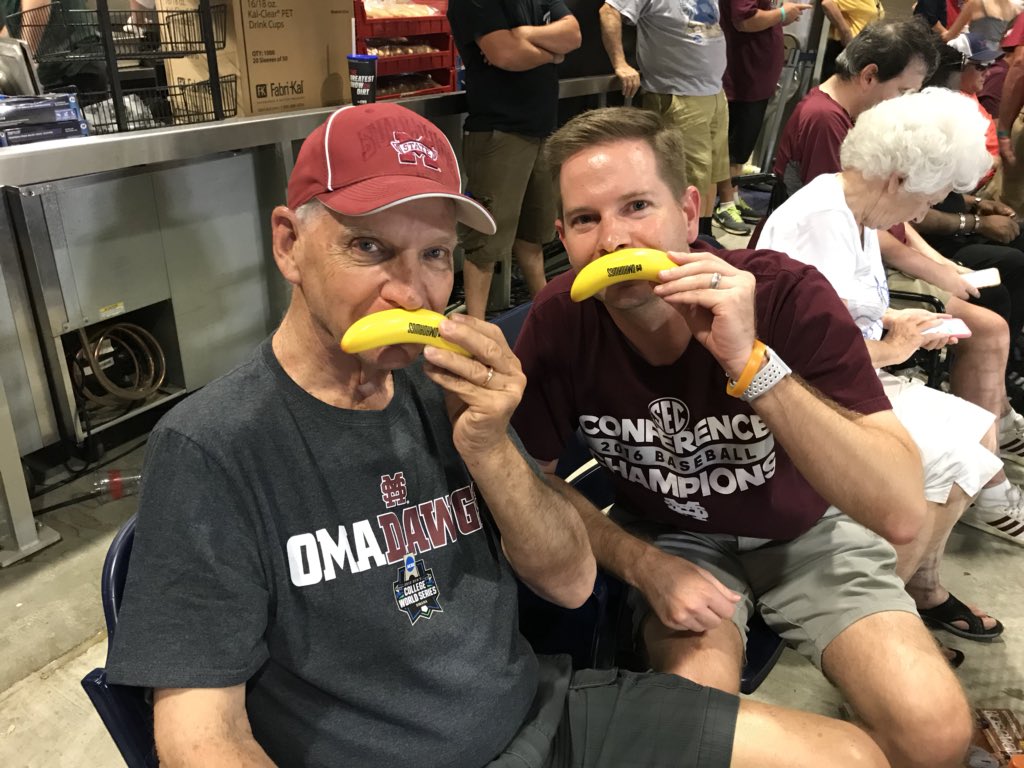 Father's Day is a special time to celebrate your old man, and show him how much you appreciate the role he's played in your life all these years. Especially since, as we get older, our dads do too, and they may not have many Father's Days left.
Matt Lea recognized that this Father's Day, and so went out of his way to make it a memorable one, for both him and his father, both former college baseball players who bonded over the game as Matt was growing up.
Matt's father Billy suffers from Alzheimer's Disease, and the symptoms have been accruing rapidly. But that doesn't mean there isn't time for more memories, and Matt used the latest Father's Day as an opportunity to do just that. The 36-year-old drove 12 hours, from Florida to Mississippi, and surprised his parents at their doorstep on Sunday.
He was bearing gifts as well, bringing his dad the jersey of his favorite baseball team, Mississippi State. But that wasn't all. Matt brought tickets too, to see the College World Series in Omaha in person.
In video of the exchange that Matt posted on Twitter, his dad was clearly taken by surprise.
Surprised my dad today to tell him I'm taking him to Omaha to watch @HailStateBB play. His Alzheimer's is setting in fast but I know he's going to have a blast this weekend. Hail State!!! pic.twitter.com/NTtAxcxxIj

— Matt Lea (@tigr2ndbase) June 14, 2018
"I figured it's probably not good enough just for us to watch the game here," Matt says in the video as he produces the tickets. "How about we go to Omaha? Do you want to go up to Omaha and watch the College World Series together?"
"Golly," an emotional Billy responds. "You're gonna break my heart, here."
Matt's gift for his dad received a rapturous response from Twitter, where it's been liked 46,000 times and retweeted 11,000 times.
Thanks everyone. I live 12 hours away in Florida now so it took him completely by surprise when I showed up. We can't wait to get up there. Hate we'll only be there for opening weekend but it's going to be a great final trip for us.

— Matt Lea (@tigr2ndbase) June 14, 2018
Matt seemed as surprised by the response as his dad was by the gift, as everyone who celebrated Father's Day yesterday knows, there's nothing better than sharing meaningful memories with your dad, which is exactly what Matt did. An article on Omaha.com details Billy's baseball past, the initial diagnosis of his Alzheimer's, the VIP experience Matt treated him too over the weekend.
Matt's Twitter account showcased the rest.
Thanks to everyone that made today something we'll treasure forever. We have a couple things to do tomorrow before have to head home. @HailStateBB keep grinding and believe. You're a team of destiny. pic.twitter.com/GamW2sEJ9i

— Matt Lea (@tigr2ndbase) June 17, 2018
Thank you @HailStateBB for everything. You've given us an incredible time together. Thank you to all that have offered room/tickets for the rest of the games. Dad needs to get home back into his routine and familiar surroundings. Now go get a championship!!!!! pic.twitter.com/5Y0NNORIoo

— Matt Lea (@tigr2ndbase) June 17, 2018
Happy Father's Day!