South Carolina Basketball Coach Tells Sports Parents To Chill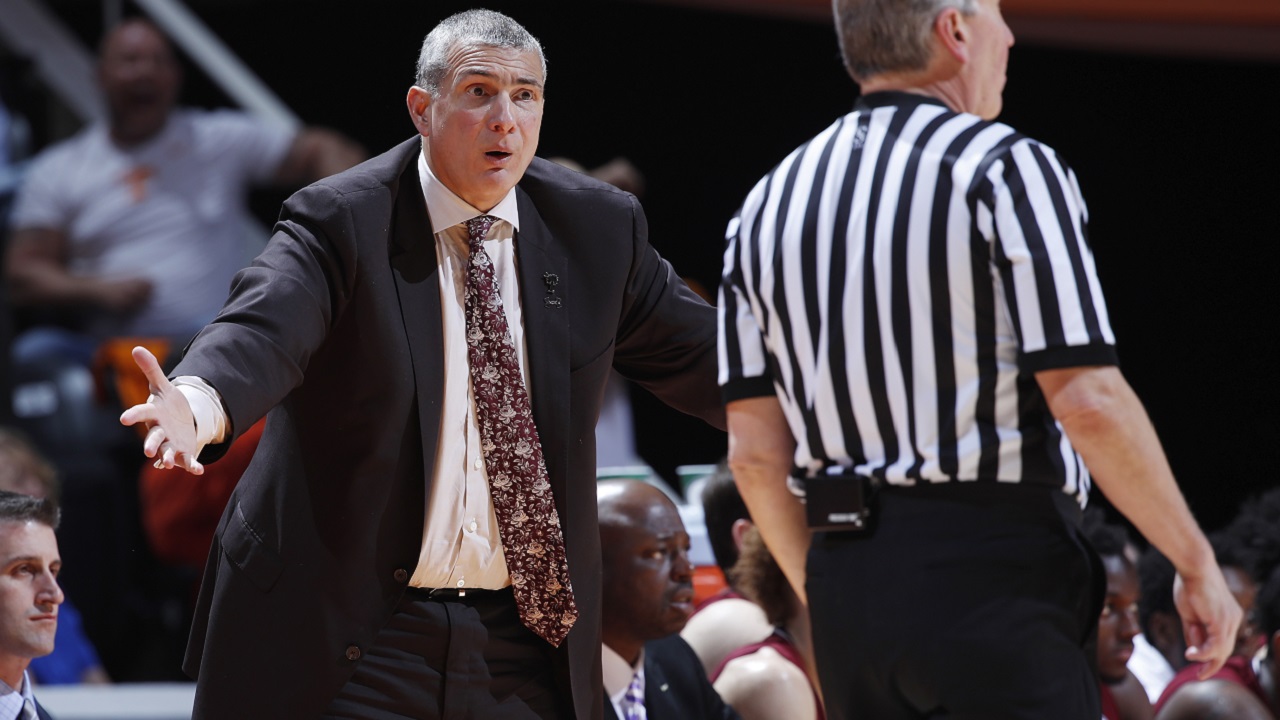 He knows what he's talking about
Parents tend to get caught up in their kids lives, and often we can't help living vicariously through their accomplishments. Nowhere is this more prevalent – and obnoxious – than at youth sporting events. Be it soccer, basketball, little league, wrestling or, I assume, in Canada, maybe even curling, there is always a parent or two who is taking the game too seriously.
Everyone knows those parents need to chill, but sometimes it helps to hear that message from professionals.
The coach of South Carolina's men's basketball team is one such professional, and after tweeting about his experience watching his young son compete, he took to Twitter to tell those overzealous sports parents to take it down a notch.
Frank Martin coaches the South Carolina Gamecocks, but he's no stranger to being a spectator. He has a son in the fifth grade, and while waiting for one of his youngster's games to start, he caught the end of the previous game. And he didn't like what he saw. From the parents.
Doesn't fail, I walk in to a gym to watch my son's 5th grade team play and the game b4 is going on. It's a 4th grade game, a parent ran on the court losing their mind. Then we wonder y young kids don't act right.#pleaseDontBlameKids

— Frank Martin (@FrankMartin_SC) February 18, 2018
The game featured teams of 4th graders, but contrary to what you might expect if you know any 4th graders, their behavior wasn't the issue.
Martin followed up on the comments he made in his tweet during a press conference a few days later, during which he spoke eloquently about the problem. The full video of his comments is available on The State's website.
In his remarks, he puts the lie to the idea that the referees for these youth games have some kind of stake in them or are making calls to benefit one of the teams.
"With all due respect to most parents out there, I probably know more about basketball than most of them, OK. But I sit in the stands and I don't say a word. There's two guys refereeing a fourth-grade game on a Sunday morning. What could they possibly be making? 20 bucks a game? […]
Do you think they really care what fourth-grade team wins? Do you really think that they like sat at home and said, 'Oh I can't wait to officiate that game tomorrow, because that one team, I can't wait to get that 10-year-old kid and embarrass him in front of people.' Do you really think that's what they're doing?"
And then he got into people who go after coaches and kids.
"So there's someone that's giving up their personal time on a Sunday, for free, to help other people's children, yet, we're gonna have the adults in the stands yelling obscenities at the officials? Criticizing every decision the coach makes? Yelling at the kids, like the kids — they're 10 years old, man!"
This guy keeps making good point after good point.
No adults are getting rich referring or coaching youth sports, and no kids are getting better – at sports or at life – by witnessing parents attacking, screaming, and whining during their games.
Parents everywhere need to chill. They're doing more harm than good, and if they're not careful, Coach Martin is going to give them in a much-needed time out.