New Star Wars: The Rise of Skywalker Footage Reveals Dark Rey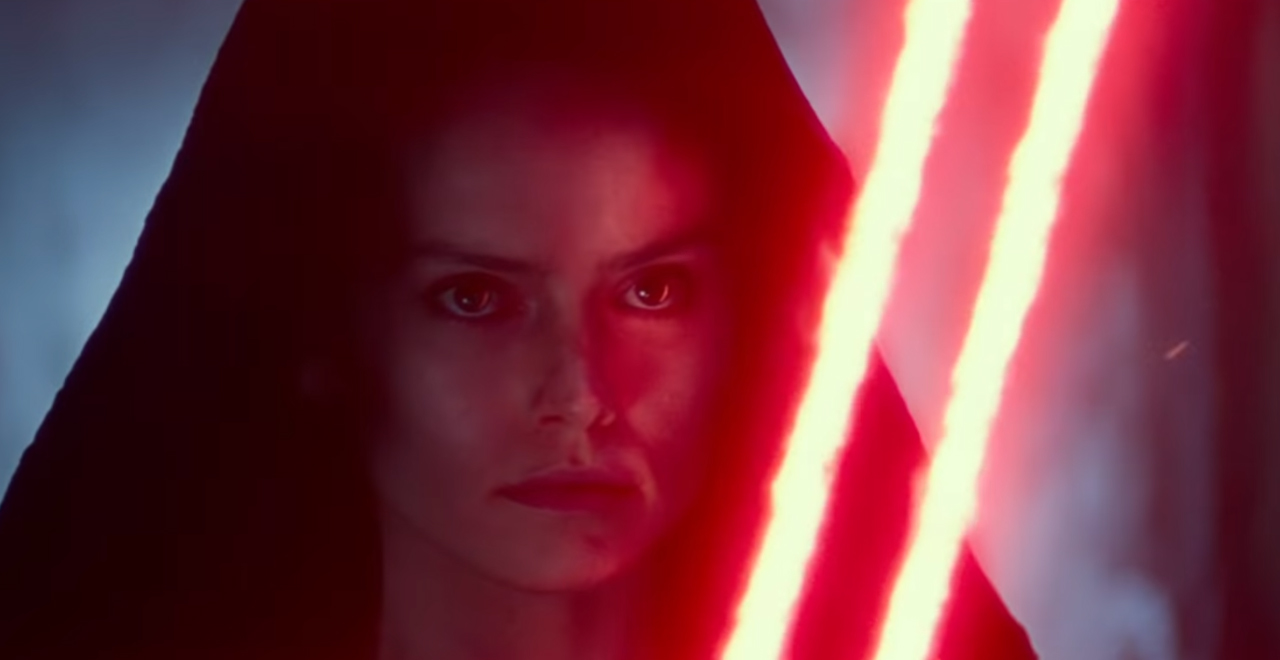 When you're a Jedi, the temptation of the dark side is always there. Every single Star Wars movie (at least in the heretofore 8 films of the Skywalker cycle) deals with the conflict between the darkness and the light, and we've seen several characters both struggle to resist the dark side and fall prey to it.
The new trilogy has been no different, as we've seen Kylo Ren turn to the dark side after feeling betrayed by Luke, and then fully embracing it by killing his own father to cement his loyalty to the Sith. He's the bad guy this time around, that much is clear.
Or is it?
The Last Jedi seemed to flirt with the idea that Rey might succumb to evil, but by the end, with Luke's help, she seemed to dismiss any allegiance to Kylo Ren and the First Order and stick with the Rebellion. But new footage from Disney's D23 fan expo may complicate that idea.
Fans in attendance at D23 got to see the cast take the stage to discuss the new movie (December 20th) and unveil Rise of Skywalker's poster – featuring the Emperor's sinister visage.
Then attendees got to watch a sizzle reel with footage of a thrilling lightsaber battle between Rey and Kylo Ren.
EW described the exclusive footage thusly:
Images include a duel between Rey and Kylo Ren amid a stormy sea (transposed into a space backdrop on the poster). There's a massive fleet of Star Destroyers. There's a new shot of Darth Vader's helmet. There's Finn (John Boyega) and a new character named Jannah (Naomi Ackie) together in a cockpit. C-3PO with red eyes. A new glimpse of Leia (the late Carrie Fisher). A gang of heroes approaching a bustling desert city. But the shot that truly stunned the crowd was a scene with Rey in a hooded black robe revealing an unfolding red double-sided lightsaber (Darth Rey?!).
And then the footage was released to the rest of the universe:
It's that last bit of the trailer that has the internet buzzing. Will Rey turn? Fans are skeptical.
So…Rey having a red lightsaber and wearing Sith robes HAS to be misdirect….RIGHT?! #RiseOfSkywalker

— Brad Hughes (@viewswithhughes) August 25, 2019
Rey's going to see herself in a vision. Hello? Didn't anyone see The Empire Strikes Back? pic.twitter.com/REWSKCkEhZ

— Lauren ✨ Gallaway (@LaurenGallaway) August 24, 2019
But some can see it happening:
i have pivoted from "it's a vision" to "ooh damn rey goin bad" pic.twitter.com/jSRIg9I8fT

— lindsey romain (@lindseyromain) August 25, 2019
It's a testament to @jjabrams and @rianjohnson that they've managed to craft a trilogy that is at once familiar and yet, at every turn, completely surprising.

That I can believe Rey could possibly go dark is due to their stewardship of Star Wars .

— Adam Lance Garcia (@AdamLanceGarcia) August 25, 2019
The actress herself is even teasing the possibility:
Daisy Ridley is definitely selling us on this idea of Dark Rey. Here's what she told me: "I mean, the evidence is on the screen. Take that evidence as you will. But there's no smoke without fire."

???? @ArjunaRamgopal #starwarstheriseofskywalker #D23Expo pic.twitter.com/7fjI1Ykzv2

— Kevin Polowy (@djkevlar) August 25, 2019
Rumor has it the footage from D23 will be online as early as Monday (fingers crossed), so we'll be able to judge and speculate, for ourselves. But regardless of Rey's fate, the cast is hyped for the final film of the Skywalker saga. Just take it from C-3PO himself:
"It's hard for me to understand the story is ending," Anthony Daniels (C-3PO) told the Expo crowd. "But what an ending. You'll love it."