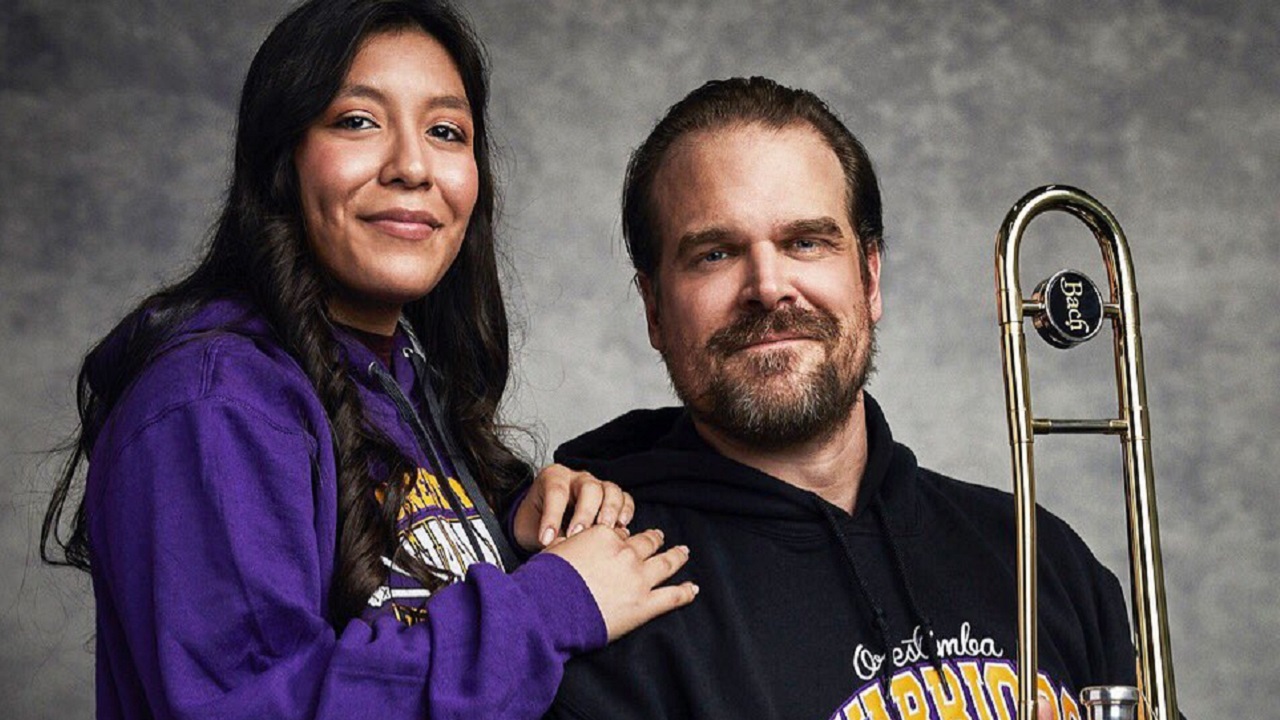 Credit: Twitter/@postydamaris
Is this the Upside Down?
Social media is a crazy thing. It can make celebrities out of your neighbors, friends out of strangers, enemies out of friends, and more. Sometimes it can even make friends out of celebrities. That's what one young girl found out when she took to Twitter to make an odd request, and her dream came true.
For some reason, a high school senior in California decided she wanted one of the stars of Netflix's runaway hit "Stranger Things" to join her for her senior photos. And for some reason, he did.
Her Twitter name is @postydamaris, and she posted a question to sheriff Jim Hopper, aka David Harbour, asking him how many retweets she'd need to get him to sit with her for her photos.
.@DavidKHarbour how many retweets for you take my senior photos with me

— damaris ◟̽◞̽ (@postydamaris) October 29, 2017
Not only did Harbour respond with his number, he had some conditions:
25k. And I get to wear the school sweatshirt and hold a trombone. https://t.co/xPNEE681J4

— David Harbour (@DavidKHarbour) October 29, 2017
The tweet eventually garnered 30,000 retweets, forcing Harbour's hand, thanks in no small part to Noah Schnaap, a fellow "Stranger Things" castmate, who tweeted out a plea to his fans to help the photo shoot happen.
Come on guys, go retweet, I need to this picture pic.twitter.com/1tS2T6gxAw

— Noah Schnapp (@noah_schnapp) October 29, 2017
So we have Schnaap, and Harbour, to thank for some of the most memorable, and hilarious, senior photos ever, that the actor himself later shared on his Instagram page for the world to see.
He enlisted entertainment photographer Tommy Garcia to take the photos, and true to his word, Harbour even brought along a trombone and sported an Orestimba High sweatshirt.
https://www.instagram.com/p/Bd3T4YcnNae
He really wears the sweatshirt well, doesn't he? And apparently he even plays the trombone pretty well too!
oh i forgot to say yesterday david was playing the trombone and i gave that an A, little rough but well played! 😂

— damaris ◟̽◞̽ (@postydamaris) January 11, 2018
Each one is better than the last:
senior photos '18

-bunny ears
-trombone
-pompoms
and
-smiles pic.twitter.com/8Nccv5adK1

— damaris ◟̽◞̽ (@postydamaris) January 13, 2018
She thanked Twitter for helping her strange dream come true.
Once again I wanna thank everyone from the bottom of my heart! I would've never met david if it wasn't for you who rt'ed! It's still hard to believe that I met him, but I thank you, for the continuous love and support on all my social medias! y'all are too sweet! much love xoxo

— damaris ◟̽◞̽ (@postydamaris) January 13, 2018