"Super Dad" Adopts Fifth Child With Disability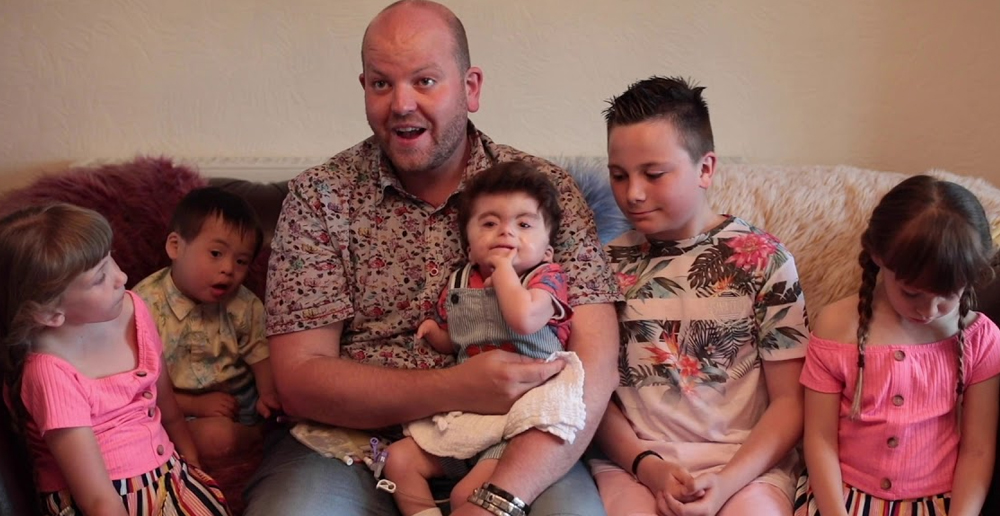 Adopting a child is not an easy decision to make, but it's definitely a profound and life-changing one, both for the parents and the children themselves. Devoting yourself to a child who is not biologically your own is an important thing to do, and adoptive parents deserve a lot of credit.
Especially those who go above and beyond, like Ben Carpenter.
Ben Carpenter is a 35-year-old dad from Huddersfield in the UK, and his friends and family call him "super dad," for good reason. Ben has adopted five children, each with their own unique health conditions and challenges. And he parents them on his own, as a single father.
He adopted his first child when he was 21, and 14 years later, he's just completed the adoption process for his fifth, a one-year-old named Noah, who lives with Cornelia de Lange syndrome, a genetic condition. His other children – Jack, 11, Ruby, 8, Lily, 6, and Joseph, 3 – suffer from a range of issues like autism and Pierre Robin syndrome, but that doesn't faze Ben.
"Even at the age of 21 I knew I wanted to be a father as soon as possible – I may have only been young but I've always had an old head on my shoulders," Ben told the Mirror. "I was convinced with me being single as well that they wouldn't take me seriously – but I was over the moon when they did."
Having previously worked as a social carer for people with special needs, Ben was confident he could handle the responsibilities of parenting, and based on the past 14 years, he was right. My dude is nailing it.
"I knew it was only right for me to adopt a disabled child because I knew I'd be able to care for them properly," he said. "I originally saw an advertisement from local adoption social services looking for adoptive parents; and I thought, well, they're not going to want me as a single guy. But I told them who I was and where I worked and they were really positive and quite enthusiastic about me adopting a child."
They couldn't have trusted these children with a more selfless, caring dad, and Ben might not even be done.
"If in the future a child really needed me and my help, I'm sure I would end up adopting them," he told the Mirror. "I definitely see myself fostering more children though — I just love being a dad."