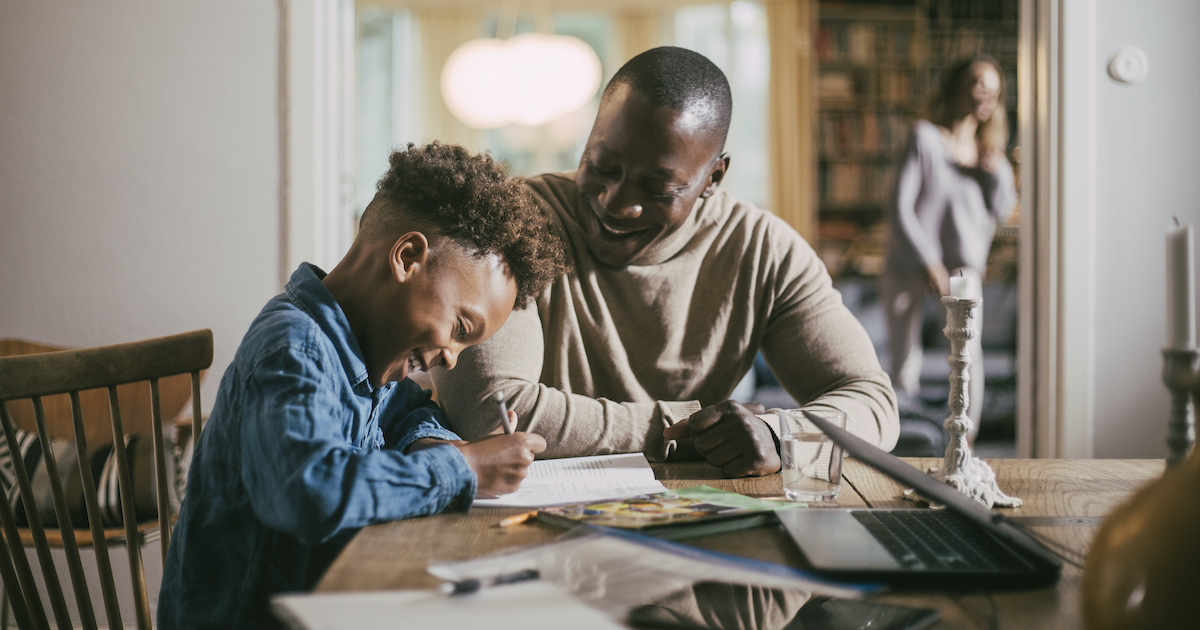 Credit: Getty/Maskot
When I first became a dad, I had two goals: keep them alive and help them become good people. Like many new parents, I had few concrete ideas about how to do the latter, but I tried hard, taught them to be self-sufficient, traveled to give them a worldview, and showed them love in the best ways I could. What I didn't always do though, was discuss money with my kids. After all, when they were little, I was still trying to get my own financial life sorted. Here are four financial missteps I made and how I am now teaching my kids to do better.
I Prioritized Spending Over Savings
I never used to think about saving money. I was concerned only with spending it on stuff like gas for my car, food, movie tickets, and music magazines. If there was any money left over, I'd think about saving, but there never was any left! Today, things are reversed. I start with my savings goal each month and then work with what's left for spending and giving.
This change in prioritization helps me save and spend wisely, and has allowed me to have important conversations with my kids about saving. My goal as their dad is to make saving money a reflex, so that every time they earn some, they instinctively think to save before spending. Greenlight is my favorite tool to help reinforce this proactive thinking — it's a debit card and money app that helps kids set savings goals and spending limits to create good habits. It even rewards saving by giving kids cash back on their savings balances.
No Budget, Mo Problems
Speaking of budgeting, I was terrible at it! Spreadsheets? Not on my watch. Unfortunately, my lack of budgeting acumen meant I had no idea I was living beyond my means. I got into debt, and that debt grew. I talk to my kids now about keeping a budget, how to format it with earnings (part-time jobs, allowances), and how to spend within their means. They don't have grown-up financial concerns yet, but maybe they want their favorite band's new vinyl record or some fresh art supplies.
Talking about money is only half of my plan though. We also use Greenlight so my kids get to see in real-time how exciting it is to watch their money growing in different "buckets," like spending, saving, and investing. It's perfect because this is all happening on a device they already have in their hands anyway, so the lessons are seamlessly woven into their everyday experience.
And because I'm always in control through the app's parent experience, I can set store-specific spending limits so they don't end up spending all their money on their favorite pop star's entire back catalog.
I Was Too Easily Tempted By Big Offers
Have you ever been shopping and the cashier says, "Would you like to save 30% off your order today by signing up for our store credit card?" I used to sign up for every store card for those savings. Sadly, this kind of financial behavior harmed my credit rating, which made it trickier to buy a car and rent an apartment later on. Today, my kids hear me say a polite, "No thank you" as I confidently wave those tempting offers away. At the same time, I talk to them about the value of keeping their credit clean, with higher credit availability and low debt. It's only halfway sinking in right now, but I know these lessons accumulate and start to make sense over time.
I Tried To Be The Big Man on Campus
I used to be the guy everybody wanted to have around. Not because I was funny or interesting, but because I always picked up the tab. I had a job and a credit card and a car, and I was cool. Well, the first three things in that sentence were true, at least. It's painful to admit, but my peers took advantage of my need to be liked. In return, I got myself into debt. These past experiences have me talking openly with my kids about fairly sharing the cost of their adventures with friends, and to make sure they know what a real friend looks like.
One of the best things about the Greenlight debit card and money app is that I can see when, where and how much they're spending. This is huge for me because with real-time notifications, I can address specific issues as they come up and be a more aware and actively engaged dad.
Greenlight is a debit card and money app fostering independence in young people and their families. Check out how Greenlight can give your kids the best start possible when it comes to managing their financial lives.