Teen Allegedly Tweets From Smart Fridge After Devices Get Confiscated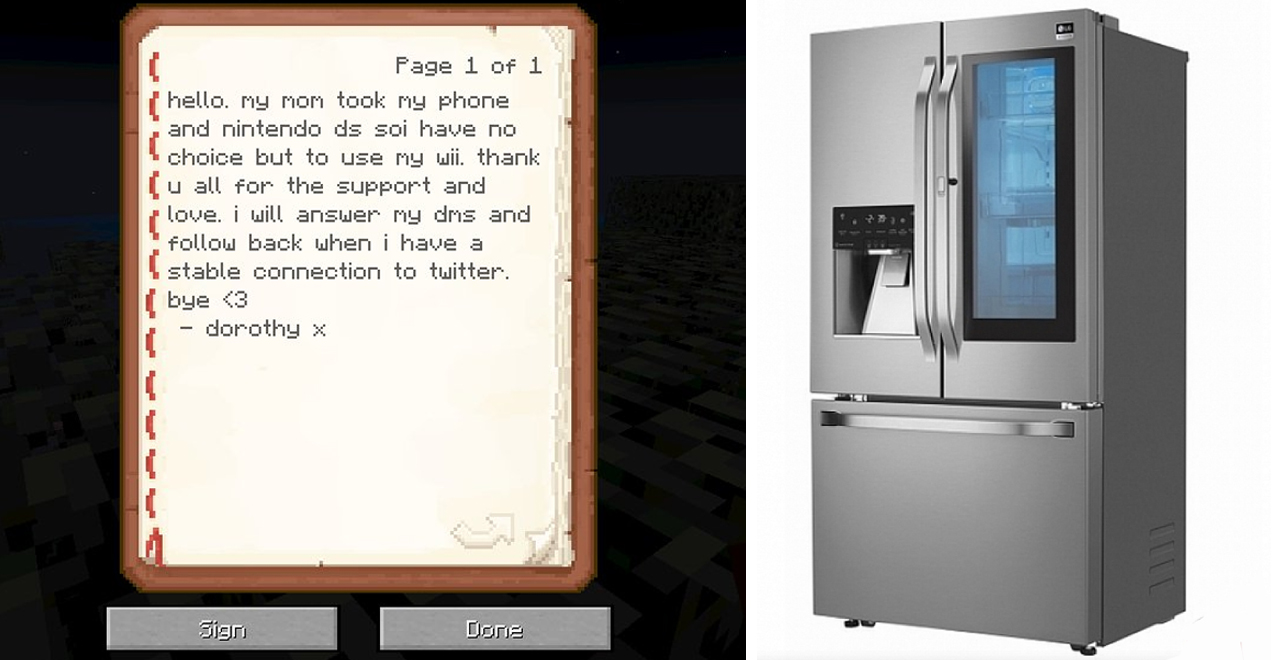 Raising a teenager is universally understood to be the hardest part of parenting, for good reason. Babies change your lives and disrupt your sleep, toddlers are chaos machines, elementary school kids are challenging but at least they're still cute.
Teenagers are independent and rebellious, smart and self-conscious, lazy and sarcastic, and they know everything! (Insert sarcasm font.) Every kid is different, of course, but as your kids get older and more fully-formed, keeping a handle on them gets harder and harder. Especially when they're so damn resourceful!
Never has then been more apparent than in the case of a Twitter account named Dorothy, @thankunext327, an Ariana Grande stan who recently found herself in conflict with her mother. Dorothy is 15 years old, and apparently, like many 15-year-olds these days, is quite reliant on her phone and social media. So much so that when her mother confiscated her phone and other electronics, she couldn't let that stand. She needed to tweet!
First, her mother took her phone.
im leaving forever. my mom took my phone. ill miss u all sm. im crying. goodbye. #ACNL pic.twitter.com/yqDNQylGIR

— dorothy ???? (@thankunext327) August 5, 2019
Then, after realizing her clever teen was also able to tweet from her Nintendo DS, she took that away too.
I seen that Dorothy has been using twitter on her Nintendo. This account will be shut down now. pic.twitter.com/L4JqNYhUHe

— dorothy ???? (@thankunext327) August 5, 2019
Then she used her Wii because this teen can't stop won't stop tweeting.
#WiiU pic.twitter.com/9q09xxW2QR

— dorothy ???? (@thankunext327) August 5, 2019
The teen's saga went viral, with the hashtag #FreeDorothy cementing her status as a legend…
— Twitter (@Twitter) August 6, 2019
…and that was before she found yet one more way to manipulate 2019 technology to get what she wanted after her mom took everything away again. Her smart fridge.
I do not know if this is going to tweet I am talking to my fridge what the heck my Mom confiscated all of my electronics again.

— dorothy ???? (@thankunext327) August 8, 2019
At this point, you almost expect her mom to reply with a gif of Ron Burgundy telling his dog he's not even mad, just disappointed. Except, despite LG – the maker of her fridge – confirming to the Guardian that some of their models have social media capabilities, the teen's story was starting to seem fishy.
The paper consulted Igor Brigadir, a computer researcher at University College Dublin, who combed through metadata and confirmed that while the Nintendo tweets were legit, the fridge tweet was not. "The LG fridge [tweet] was definitely manually created," he said.
Also manually created? The thousands of new followers Dorothy's Twitter account gained over the course of her viral escapade. Whether she actually tweeted from her fridge or not, she definitely got the attention she was looking for!