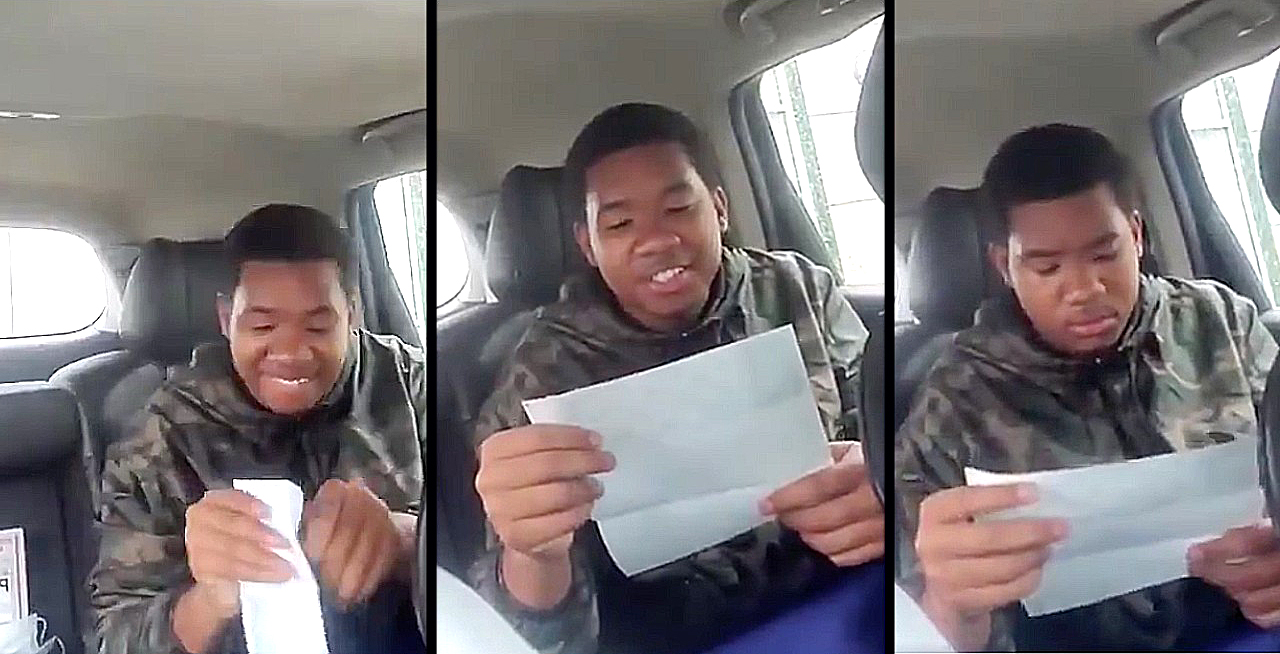 Credit: Twitter/Annakhait
Never in the history of the internet has a video spoken so directly and painfully to my very soul. The video starts out wholesome enough, a dad filming his 18-year-old son Jojo excitedly holding his very first paycheck. It's a great day indeed! The enormous grin on this sweet, innocent teen's face as he holds the envelope up to the camera is heartbreaking, knowing he's about to be smacked in the face by a big fat harsh reality.
Jojo begins to tear open the envelope, doing a little dance as he probably runs through a mental checklist of everything he's going to buy with his hard-earned cash. Jojo's dad stops him in his tracks momentarily. With the suspicious eagerness of a kid who just pulled a prank he asks, "Wait, wait, Jojo – how's it feel opening up that first check, man?" This man knows exactly what's about to happen.
Jojo returns to tearing open his long-awaited paycheck, confidently tossing the envelope aside in what can only be construed as the working man's mic drop. Jojo begins to read, eyes wide, scanning the page line by line. As the information starts to register, his hopeful grin turns slowly to a perplexed frown, the light drains from his eyes.
"Why your face like that, Jojo? Were you expecting more?" His dad asks from the front seat, barely containing his laughter.
"They took out taxes Jo, welcome to the world," another teen in the car offers helpfully.
Jojo exits the car in frustration, before sulking back and half-listening to the others explaining why so much of his hard-earned money never made it to his wallet. Now, we only technically find out once that the tooth fairy isn't real, but the same sort of crushing realizations happen time and time again as we get acquainted with the Real World.
"You have to pay taxes for everything," concludes Jojo's dad, before rattling off a list of all different types of taxes Jojo will be paying for the rest of his life. Let's wait a while before telling him about interest rates, shall we? The poor kid deserves a break.