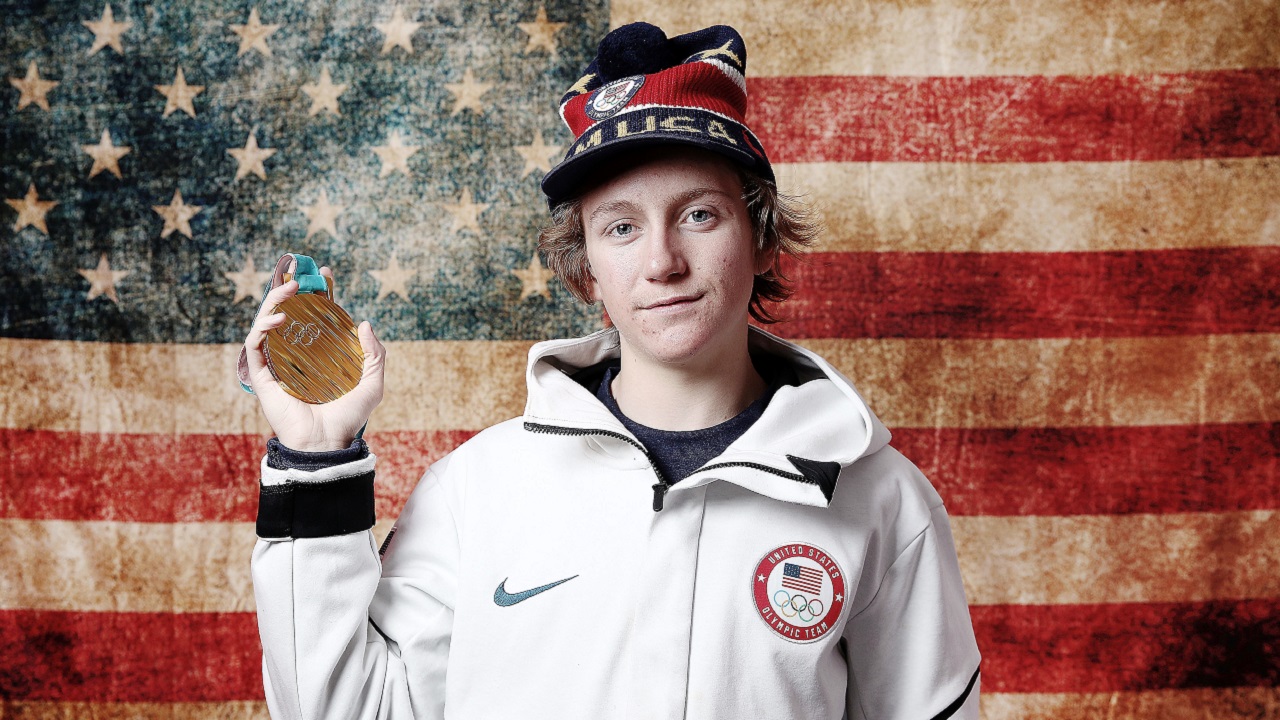 Credit: Marianna Massey/Getty Images
He was binge-watching Andy Samberg because of course he was.
Lost in all the hullabaloo (rightly) surrounding 17-year-old snowboarding phenom Chloe Kim's dominance and elder statesmen Shaun White's redemption tour is the story of another snowboarding champion who deserves recognition. For his exploits both on and off the course.
His name is Red Gerard and based on the circumstances surrounding his performance earlier this week, he's got to be the most relatable Olympian in years.
Gerard is a 17-year-old Coloradan who made the trip to Pyongyang to compete in the slopestyle snowboarding event and almost wound up missing it completely.
It seems the teen spent the night before his race binge-watching episodes of Brooklyn 99 with one of his teammates, and apparently, he got a little bit too absorbed in Andy Samberg's precinct hi-jinks, because the next morning, he slept through his alarm! When he did finally got out of bed, he scrambled for a quick egg sandwich and raced to the course – with his friend's jacket, because he couldn't find his own.
Despite his panic, Gerard managed to compose himself, absolutely crushing his final run and landing an 87.16 (out of 100) to take home the gold. Based on his, shall we say, exuberant reaction to seeing his score, the magnitude of the moment finally seemed to sink in for the 17-year-old, who became the youngest male to win Olympic gold since 1928.
So, @NBCOlympics aired snowboarding on delay and still couldn't delete the "holy f*ck" after Red Gerard won. #NBCdelayed #NBColympics #olympics pic.twitter.com/Z8sct2t8Qo

— 😷 bobby cherry (@GoBobbo) February 11, 2018
It seems the win also caught NBC's censors off-guard!
Based on what Gerard told reporters his family was up to before watching his event, he wasn't the only one who might have had a little trouble getting to the mountain.
Red Gerard said he got a Snapchat this morning around 8:30 a.m. from his group of 17 people that is in Pyeongchang, South Korea to support him for the Games: "They were all shotgunning beers on the way to the mountains." pic.twitter.com/JORk5m3pH5

— USA TODAY Sports (@usatodaysports) February 11, 2018
The 17-year-old admitted after the fact that he may have slightly underestimated the global appeal of the Olympic games.
"I just didn't really think I knew what the Olympics is," Gerard told Yahoo. "I kind of grew up just watching Dew Tour and X Games. I'd never really realized how big it is."
Judging by the fact that he nearly missed his event, I'd say he was telling the truth. It's safe to say that he knows all about them now.