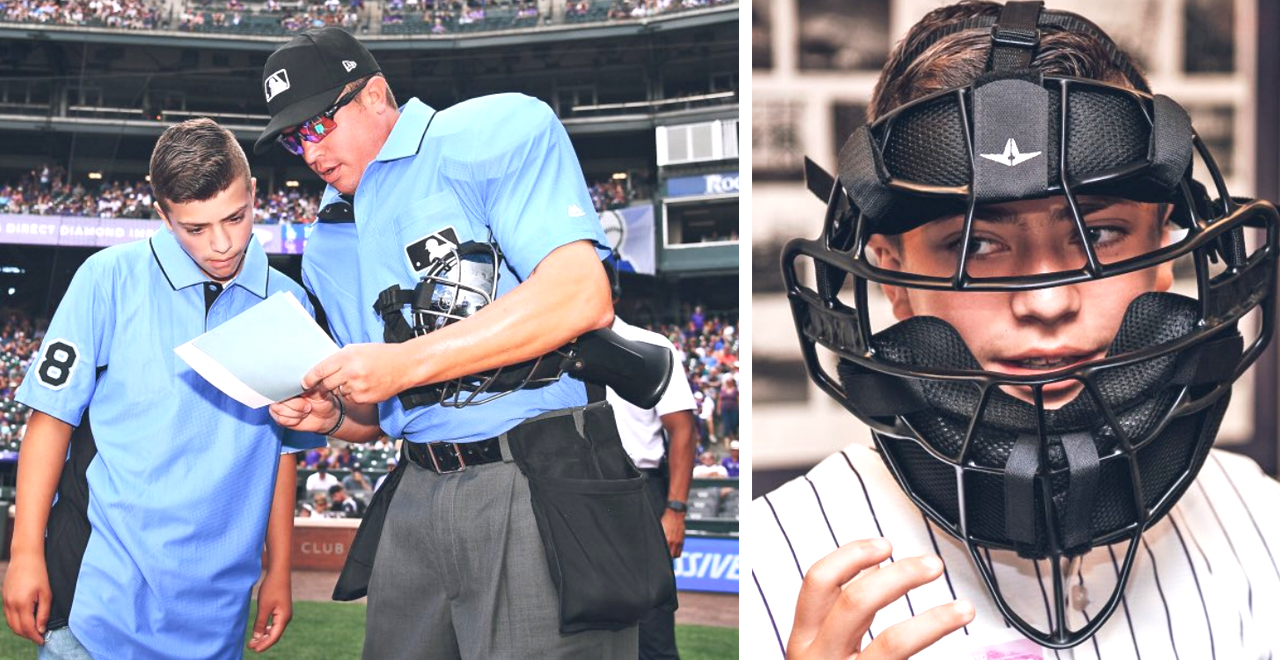 Credit: Twitter/Rockies
Being an umpire is a thankless job, at any level. If you're good, you go unnoticed. If you're not good, you get heckled. And if you blow a key play, you might find yourself being confronted after the game.
None of these things change if you're just a teenaged kid, working local little league games, even ones that feature little kids. Parents can be competitive, even from the stands, and sometimes things can get so heated that they get ugly. For a teenager tasked with being the on-field authority, that can be a scary spot to be in.
But that's exactly where Josh Cordova found himself on June 15th, when the game he was umping, between teams of 7-year-olds, took an ugly turn. But ultimately has a happy ending.
Josh, who is all of 13 years old, was umping the game at Westlake Elementary School outside of Denver when he warned one of the parents in the stand against using profanity. That didn't go over so well, and eventually, things exploded into a full-on brawl.
Unsure how to handle things, and at a loss as to how a 13-year-old could control the behavior of actual grown adults, Josh called parents to come help. "It was just scary; not just for me — it had to be scary for the 7-year-olds who were out there playing," Josh told Colorado's CPR News. "And I didn't want them to think that that was what baseball is. I want them to grow up loving the game just like I do."
To help ensure that Josh continues to love the game, he was invited to Coors Field by Chris Guccione, a major league umpire from the area who saw himself in Josh.
Led by Colorado native Chris Guccione, the @MLBUA hosted Josh Cordova for a special day at Coors Field.

Cordova, 13, was the umpire who was recently caught in the middle of a brawl at a youth baseball game: https://t.co/fDKfkyWlvt pic.twitter.com/LBWe1p1YHg

— Colorado Rockies (@Rockies) July 2, 2019
"My heart is here; I played and umped on the side, just like Josh is doing," Guccione said before the Sunday's game. "When I heard, I was shocked and saddened and I just wanted to reach out to him. I just happened to switch assignments, but it was a perfect opportunity; when I realized I'd be here, I had to meet him and tell him how proud I am of him."
So Josh found himself at the Rockies' game, hanging with the professional umpires, and getting pointers on how to call a game. He even got to go on the field with the umps as the two team managers exchanged lineup cards.
Before he left, the teenage ump got a collection of swag, including an official umpires' shirt he plans to wear at his next game.
Here's hoping it goes more smoothly than the last one.