Teenager Builds Nuclear Reactor in His Bedroom [WATCH]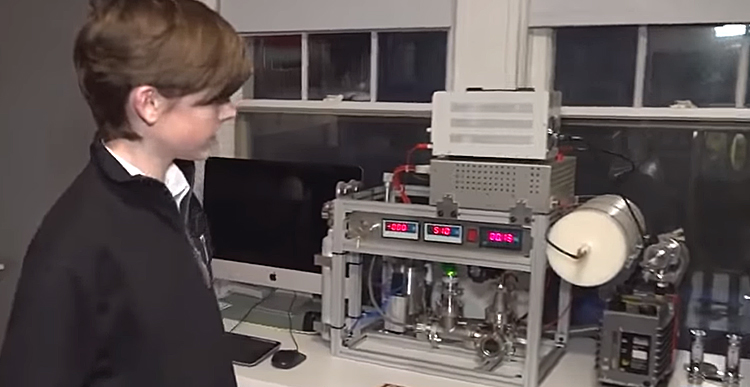 When I was a kid, if I shut my door and spend hours alone in my room, my parents would assume I was up to no good. And they'd probably be right, if by "no good" they meant reading Stephen King novels while listening to Guns N' Roses.
Most teenagers don't exactly use their downtime productively, but most teenagers aren't Jackson Oswalt, a 14-year-old kid from Memphis, Tennessee who decided he wanted to spend his free time doing something constructive.
So instead of goofing around on Instagram or playing Fortnite or daydreaming about his crush, he set about building something. A nuclear reactor, to be exact.
That's right. This kid built a nuclear fusion reactor. In his bedroom. And it's been verified by experts. He really did it.
The kid's bedroom door even has a "Warning: X-Ray Radiation" sticker on the door, which you'd think would be a euphemism for some disgusting dirty laundry. But no! His sticker literally means "radiation!"
FoxNews ran a segment on the young boy, who apparently toiled for a year and a half before achieving fusion, which, frankly, seems a little slow.
His parents seem more proud than frightened of the boy who created the basis for some of the world's most terrifying weapons.
"Being a parent of somebody that was as driven as he was was really impressive," said his dad Chris.
Jackson isn't stopping and is hoping to use his newfound fame and obvious ingenuity to create a foundation to help fund projects by other creative kids who might not have the financial means to create a makeshift laboratory in their own bedroom.
"I'm working on creating an organization to fund the projects of kids who aren't fortunate enough to have financial support," the young inventor says.
It's nice to see a boy genius using his gifts for good, because "I built a nuclear reactor in my bedroom" sounds a little like something a super-villain might do.