The Rise of Teleworking Is Causing the Sale of Pants to Drop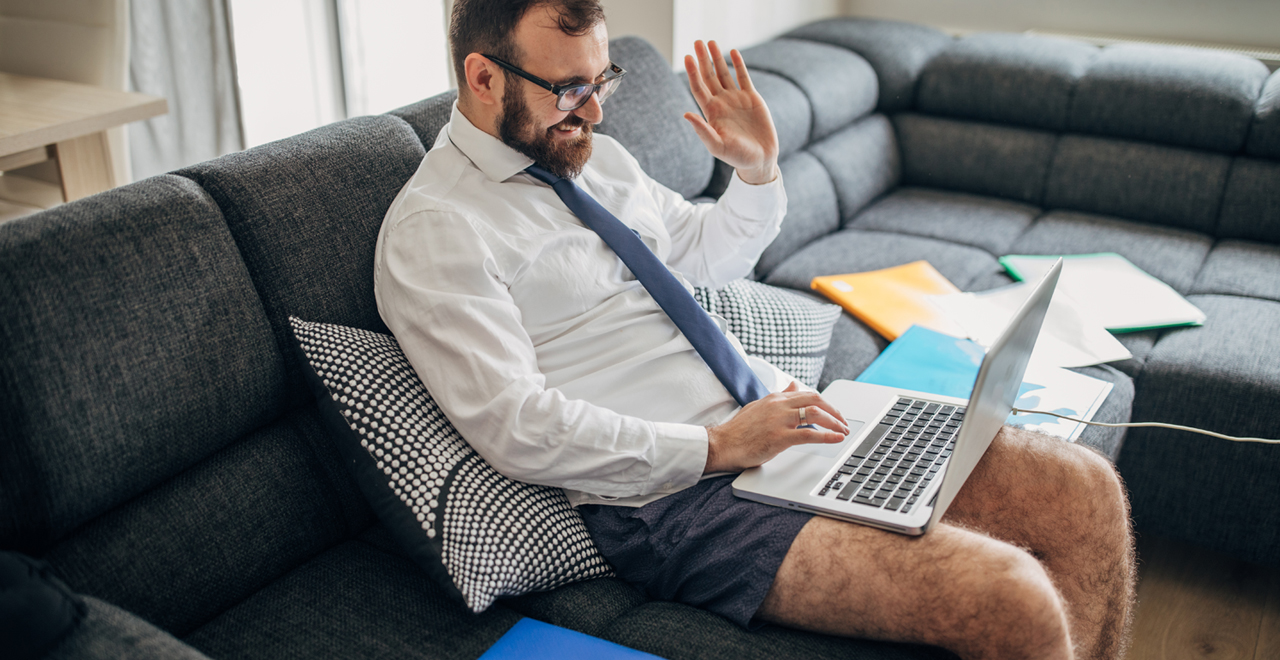 The American worker is quickly adapting to the brave, new world out there. With travel limited only to the most essential for us, offices across the world are moving online. And with the rise of telework and video conferencing comes other new adjustments to the economy. Namely, the sale of pants is plummeting.
In a world where your co-workers and meeting participants can only see your top half (even then, mostly just a face and part of your shirt), people are dropping their pants. Sure, you can throw on a nice shirt, but you better believe there are sweatpants on under that sharp blazer. Yeah, your co-worker is dressed in a lovely sweater, but if you could tilt the video down, you'd see he's wearing it with lacrosse shorts. Never before in American history have so many people been working in yoga pants.
"We're seeing increased sales in tops, but not bottoms. People who are concerned, obviously, from the waist up," Walmart's VP told Yahoo. "These behaviors are going to continue to change and evolve as people get accustomed to this new lifestyle."
Other retailers and clothing stores are reporting similar results. Shirts, definitely up. And their pants are down. Especially when it comes to dress pants. They're seeing an increase in loungewear, such as sweatpants, leggings, etc.
Save the pants for the essential workers out there, they still need to be in public. The rest of us can chill through quarantine, taking our meetings in our favorite raggedy pair of college sweatpants. Once reserved for lazy Sundays, sweatpants are getting the call up from the bullpen and added to the starting rotation. It is their time to shine. I can even envision a future where sweatpants are divided into categories, such as your everyday sweatpants and your "nice" sweatpants.
It's also important to embrace all the offshoots of the sweatpant, including track pants, athletic shorts, and every other kind of bottom you can't get away with wearing when you talk to your boss at the office.