American Hero Terry Crews Helps Woman Get His Face On Her Debit Card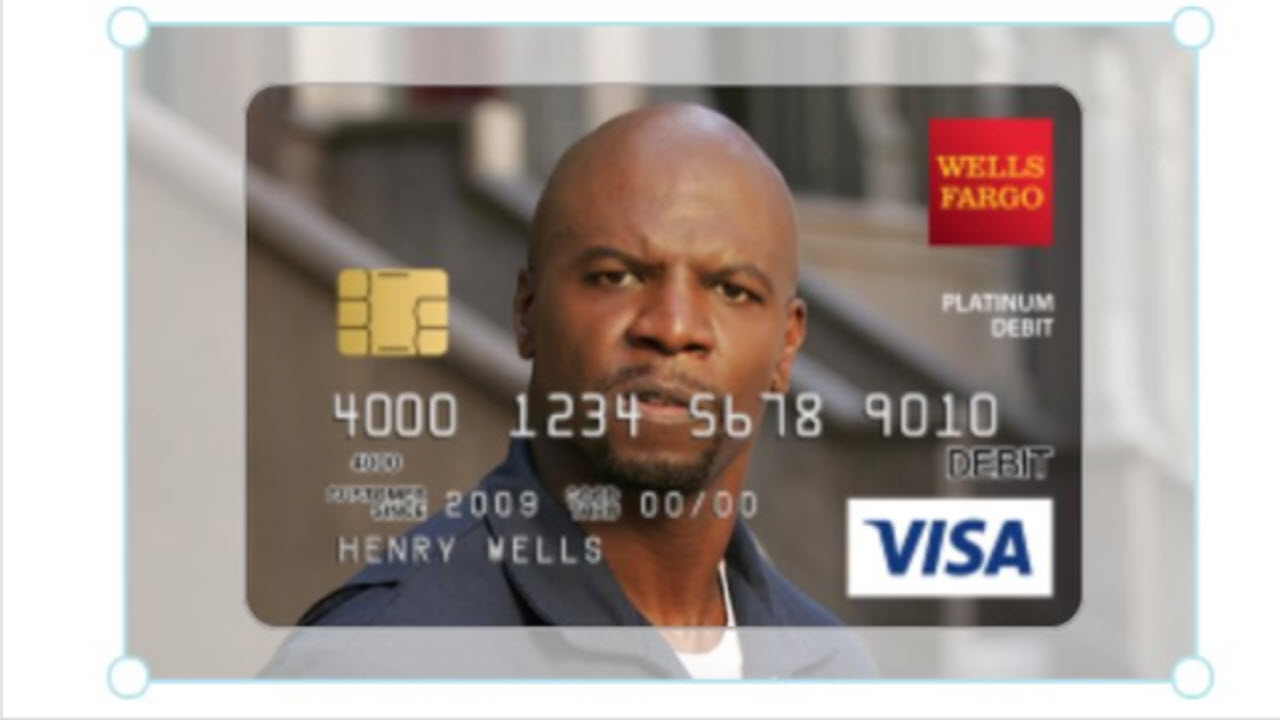 The Brooklyn 99 actor continues to be a hero
Social media is a cesspool. Technology has a lot of pitfalls. But both things can also be helpful and amazing. Just ask the woman who was thwarted by her bank, only to have enormous human, hilarious actor, and all-around good guy Terry Crews take up her cause after she tweeted about her experience.
Twitter user Darrel Kennedy took advantage of technology to customize her debit card with a picture of Terry Crews and waited patiently for her inspired choice of plastic to return in the mail, allowing her to triumphantly wield the actor's face every time she bought something.
ordering a new debit card… pic.twitter.com/3P5kcibkiH

— ???????????????????????? ????. (@DarrelKennedy) October 31, 2017
Unfortunately, her bank rejected her request. Her bank happens to be Wells Fargo, you know, the outfit that was recently/still is/always will be embroiled in scandal thanks to some shady practices. You'd think they'd relish the opportunity to perform a small act of kindness and approve Darrel's harmless, hilarious request.
But no. They didn't see it that way, and they rejected her.
[tweet 926161995728003072 hide_thread='true']
We should have known better than to expect a bank to do the right thing. Thankfully, there are heroes out there, and as Terry Crews proved with his response to the Harvey Weinstein scandal when he stepped up and shamelessly shared his own story of being sexually harrassed by a Hollywood big wig, he is one of them.
Yet again, he demonstrated his heroic bona fides with one simple tweet:
[tweet 926175627295694849 hide_thread='true']
Far be it from Wells Fargo to deny a real American hero, and after the actor's magnanimous tweet, Darrel seized the opportunity.
[tweet 926205411518119936 hide_thread='true']
And it seems the bank caved under the pressure of Crews' big heart and also enormous, like terrifyingly large, arms.
[tweet 926211857873907712 hide_thread='true']
Twitter erupted in glee. And disbelief.
[tweet 926214128703885312 hide_thread='true']
The ramifications of Crews' generosity and open-heartedness are yet to be seen – will Wells Fargo be inundated with similar requests? Which celebrity do I need on my card (Friday Night Lights' Coach Taylor, obviously!)? How long before @realDonaldTrump denies someone's request because his hands look too small on their card? – but one Twitter user sees an even bigger benefit.
Fiscal responsibility:
[tweet 926176247658328064 hide_thread='true']