Text Your 'Number Neighbor' at Your Own Risk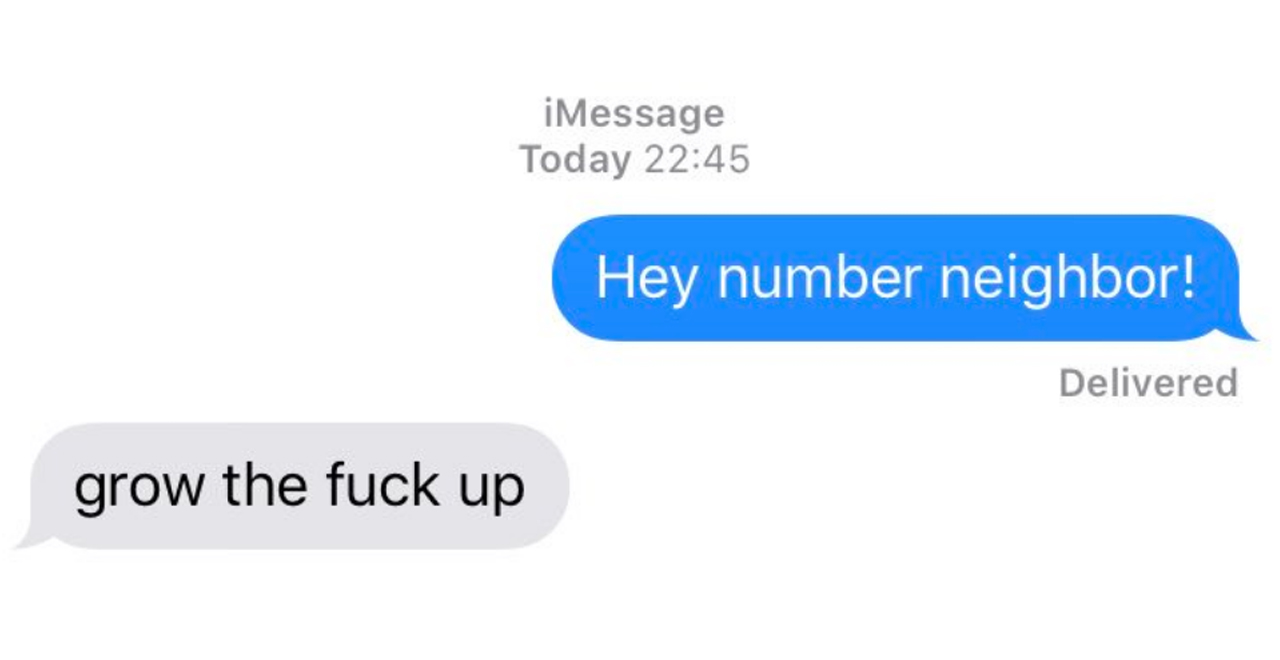 They say technology has made the world flat. (No, not literally flat, sit down, Kyrie!) The increasing access to digital technology has allowed people from all over the world to communicate in an instant, offering access to places and perspectives that previously required long delays and/or serious travel.
As a result, we have a better understanding of our fellow human, and empathy and compassion are at an all-time high! Just kidding, we mostly just use it to yell at each other. But sometimes we do use our newfound ability to seamlessly communicate, without barriers, for good. Of course, it doesn't always go that way. But at least we try!
A few weeks ago, Twitter launched a fun little trend in which people were text messaging strangers whose mobile phone numbers were but one digit off from theirs. The trick to the game, which is to say, the element that made it fun and unpredictable, is that participants sent their messages without any real context, in essence ambushing their "number neighbors" with a quick hello and awaiting the results.
The results were a mix of fun, friendly, and frightening.
Some neighbors were quick with the hospitality:
my number neighbor was pretty cool and gave me a potato casserole ???? pic.twitter.com/gdjpH4C83r

— flanesito (@frantaasticx_) August 2, 2019
Others overcame racial barriers:
My number neighbor and I ending racism ???????????????? pic.twitter.com/qXVopPN85T

— Mikey McDermott (@MikeyMcD50) August 2, 2019
One number neighbor offered a motivational boost:
My number neighbour believes in me more than I believe in myself pic.twitter.com/1xSEHyWuAJ

— Go Diego Go (@TwitchDiego) August 2, 2019
Some new friends shared things in common:
everyone's number neighbor is uncomfortable or rude & mine is genuinely a homie ???? pic.twitter.com/5Tnruhr2pn

— sasch (@saschamoira) August 2, 2019
These neighbors embraced the inherent silliness of it all:
my number neighbor a dick head too pic.twitter.com/BcwlJbWPgB

— car fox ㅤㅤㅤㅤㅤㅤㅤㅤㅤㅤㅤㅤ (@ror925) August 2, 2019
Best number neighbor ever pic.twitter.com/dIu0ESffue

— Joe Wenning (@joe_winning) August 2, 2019
Of course, not everyone had a good time with it:
MY NUMBER NEIGHBOR THREATENED ME SHDNNDNA pic.twitter.com/GUlaSSu9qw

— ???????????????? (@naturecores) August 19, 2019
I think it went really well. We're meeting for lunch next week! #numberneighbor pic.twitter.com/kCsYBqMqBs

— Tyler Regan (@tyjregan17) August 11, 2019
Different strokes for different folks, I guess. At least this guy gets it:
My phone number neighbor & I are friends now pic.twitter.com/i21zBSaV46

— Gabby Hartzel (@gabbyhartzel) August 2, 2019