The #BenSoloChallenge Has Twitter Doing Their Best Star Wars Shrug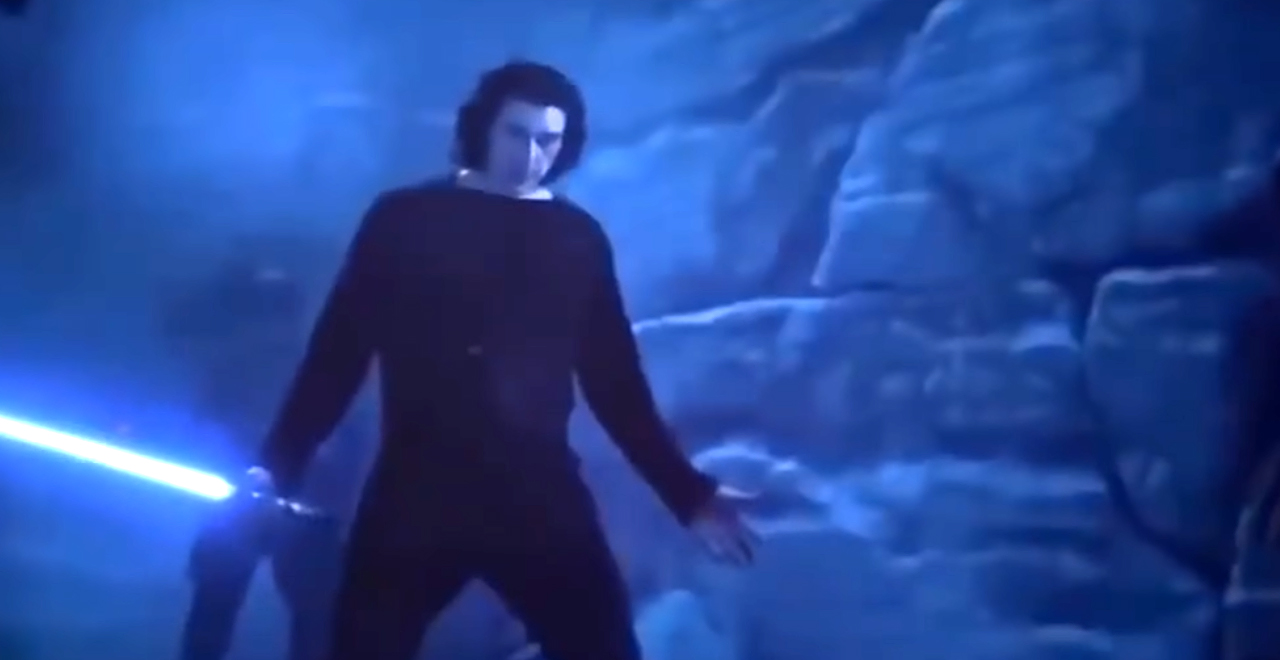 If you're anything like everyone else, you've probably already seen Star Wars: Rise of Skywalker, the latest, and allegedly last entry in the Skywalker saga (If you haven't – there are minor spoilers ahead!) The movie has been riding high at the box office for the past few weeks as fans rushed to see the new trilogy, and the entire nine-movie cycle, would wrap up, and opinions are, shall we say, mixed.
But if there's one thing we can all agree on, it's that bringing the Emperor back was genius seeing [redacted] again was great and not at all cheap Babu Frik is delightful and not the latest Jar Jar the shrug Adam Driver' tossed off before decimating the Knights of Ren was totally badass.
Whether you loved or hated The Rise of Skywalker, I think we can all agree that Ben Solo hitting that Han Solo shrug before he took down the Knights of Ren was pretty epic. #TheRiseOfSkywalker pic.twitter.com/l3GvHYtfXf

— Andrew Reveles (@AndyReveles) December 29, 2019
So badass, in fact, that it's become the latest social media sensation, thanks to Twitter user @testtube27's initial attempt.
I now present the #BenSoloChallenge #StarWars pic.twitter.com/QpPUIdejr8

— Mike loves the shrug (@testtube27) January 6, 2020
Now Star Wars fans everywhere are sharing videos of themselves attempting the "Ben Solo Challenge" of nonchalantly letting loose with a shrug before unleashing a lightsaber with which to vanquish their enemies.
Most of the videos showcase honest, if foolhardy, attempts at emulating Adam Driver's effortless cool:
I tried lol #BenSoloChallenge pic.twitter.com/ulep9lB9Wc

— 𝓜𝓪𝓻𝓲 ✨𝐵𝑒𝓃 𝒮𝑜𝓁𝑜 𝐿𝒾𝓋𝑒𝓈 (@reylomyhalo) January 6, 2020
So I just saw this #BenSoloChallenge trending, and what I saw was godlike impressions of Adam Driver's acting of a shrug. I started to do the same but it made me more like a moron. Hope you enjoy this short vid…😂😂#TheRiseOfSkywalker #starwars pic.twitter.com/VQBs8zhAhq

— Prince of August VIII-I (@PrinceAugustVII) January 6, 2020
And some feature some impressive saberplay:
#bensolochallenge This is so much fun! I want to see as many of these from as many people as possible! (Credit to @testtube27 for starting this whole thing) pic.twitter.com/GLdmCafpR6

— Jundland Jake (@JakeFromYavin) January 6, 2020
Some are just plain cute:
The #BenSoloChallenge from a tiny sick Ben Solo who wanted to join in. pic.twitter.com/9kISmcVdBR

— Ella (@ObiwanxKannoli) January 6, 2020
I showed Oldest some clips of the #BenSoloChallenge and he wanted in on it. pic.twitter.com/X9zffgjUAW

— sarah, from nowhere (@weddersins) January 6, 2020
Of course, not everyone has a lightsaber handy:
Clearly I couldn't wait until I got home from work for this. #BenSoloChallenge@testtube27 pic.twitter.com/X8EqA30y0l

— Krazie Unkie: Just a Sith Chimp named Brad (@KrazieUnkie) January 6, 2020
I HAD to do the #BenSoloChallenge! Shout out to @testtube27 for starting it! 😂 pic.twitter.com/524vc3gMFT

— Lorie Ren ✨ (@LegendofLorie) January 6, 2020
Shout out to the people who turned the #BenSoloChallenge into something useful:
#BenSoloChallenge from Russia with ❤️ pic.twitter.com/iWrkwPZd57

— LindaNoul (@LindaNoul) January 6, 2020
#bensolochallenge pic.twitter.com/q3N3vIbjQo

— Ryan Rebalkin (@RyanRebalkin) January 6, 2020
And the winner is…
The daddest #bensolochallenge pic.twitter.com/yFFPvlTPTk

— The Dad (@thedad) January 8, 2020