The Best Tackle This Week Was by a Dad During Baseball Playoffs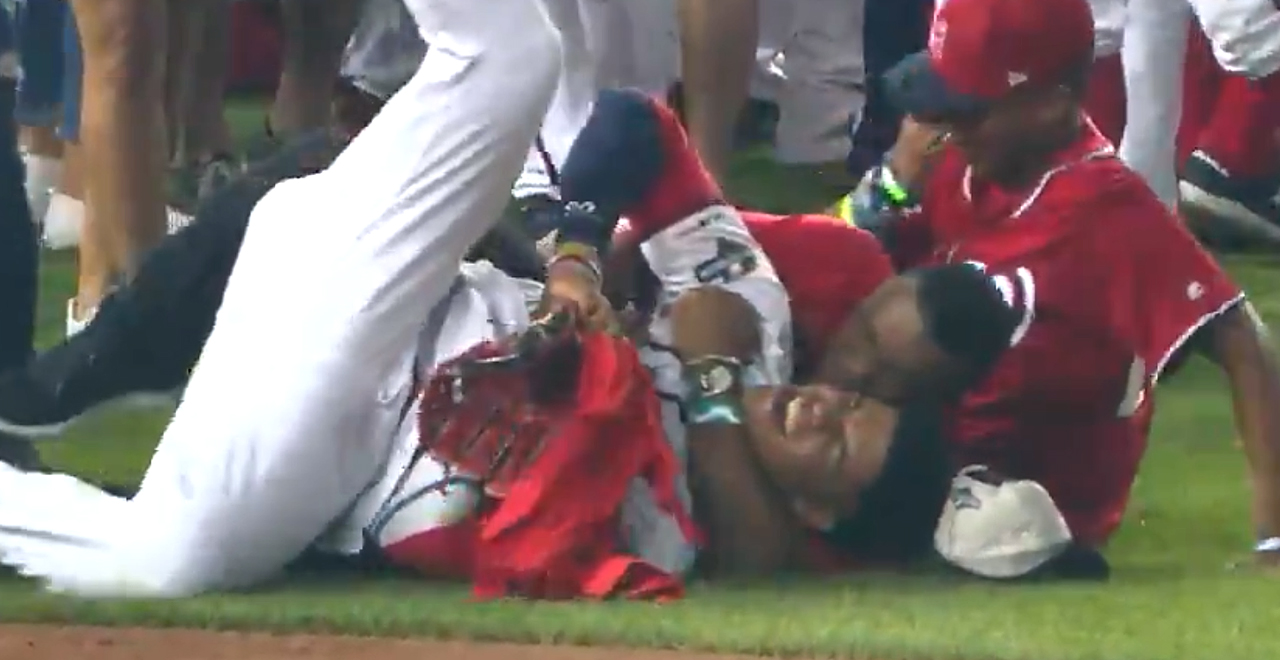 The NFL is a great league to follow. Fantasy football has made looking at box scores fun, which is amazing. Gambling has made football interesting to sports fans across the spectrum, even to those in cities that only have amateur football (looking at you, Cincinnati). There's just one problem with the current state of the NFL…it's just not a lot of fun to watch.
While the future health of the sport lies in concussions, CTE, declining youth numbers, etc. etc., the current NFL has a game flow issue, which falls a lot on the officiating. The pass interference review was a novel idea, but no one understands what a pass interference really is, and even the most obvious evidence on tape isn't enough to change an official's mind.
And then you have plays like the one from Thursday's game between the Rams and the Seahawks, when Clay Matthews got hit with a hard-to-swallow roughing the passer flag for leading with his helmet. Only…he didn't.
Clay Matthews using his shoulder to hit Russell Wilson's shoulder is a penalty apparently. pic.twitter.com/EvVGrDT19G

— Jordan Dajani (@JordanDajani) October 4, 2019
It's certainly important to protect quarterbacks, I get that. But, at the same time, the NFL needs more consistency with their officiating, and the answer can't just be "treat every linebacker like he's Vontaze Burfict."
The Bucs had a big win last week, and gave the game ball to their GM, Jason Licht. Only Jason wasn't at the game, as he was with family after the death of his father the day before. So the team Facetimed him after the emotional win to let him know. It's a cool moment!
Game ball goes to GM Jason Licht, whose father suddenly passed away last night.

A huge Nebraska fan, it's no coincidence that all three Nebraska connections: Suh, David and Barrett (Omaha native), all made huge defensive plays.

This ones for you, Jason. pic.twitter.com/TsHsabUTJy

— Tampa Bay Buccaneers (@Buccaneers) September 30, 2019
The other big sports dad moment this week happened in baseball, as the Washington Nationals won their wildcard game thanks to Juan Soto's game-winning hit. And his dad stole the postgame celebration, reacting in the way that just about any dad anywhere would react if his son helped win a playoff game. –
Juan Soto getting celebratory tackled by his dad is so amazing. pic.twitter.com/8atUzu4Ck2

— Cut4 (@Cut4) October 2, 2019
Juan Soto celebrating with his dad is amazing. #JugamosDuro pic.twitter.com/Q80VO0Z09V

— MLB (@MLB) October 2, 2019
In bad dad news, legendary magazine Sports Illustrated is officially falling apart. While it's not shutting down yet, it was sold again, and then saw its staff get ruthlessly cut in half by a media company no one has ever heard of. The magazine featured the very best when it came to sports writing and chronicling the world of sports, and it's a sad day to see the icon fully hit a decline. I think everyone's dad was legally obligated to subscribe to Sports Illustrated, even if some were only in it for the Swimsuit issues.
The craziest highlight of the week, a week that features the return of the NHL, the prime part of football season, and playoff baseball, comes from girls basketball, naturally. I have attempted this shot in pickup games many times, and I have never been remotely close to this result.
I wish all my rash decisions turned out this well 😩

(via @MaxPreps @countryboy7477) pic.twitter.com/rxHTR1jXRP

— WSLAM (@wslam) October 2, 2019