The Bill That Could Change College Sports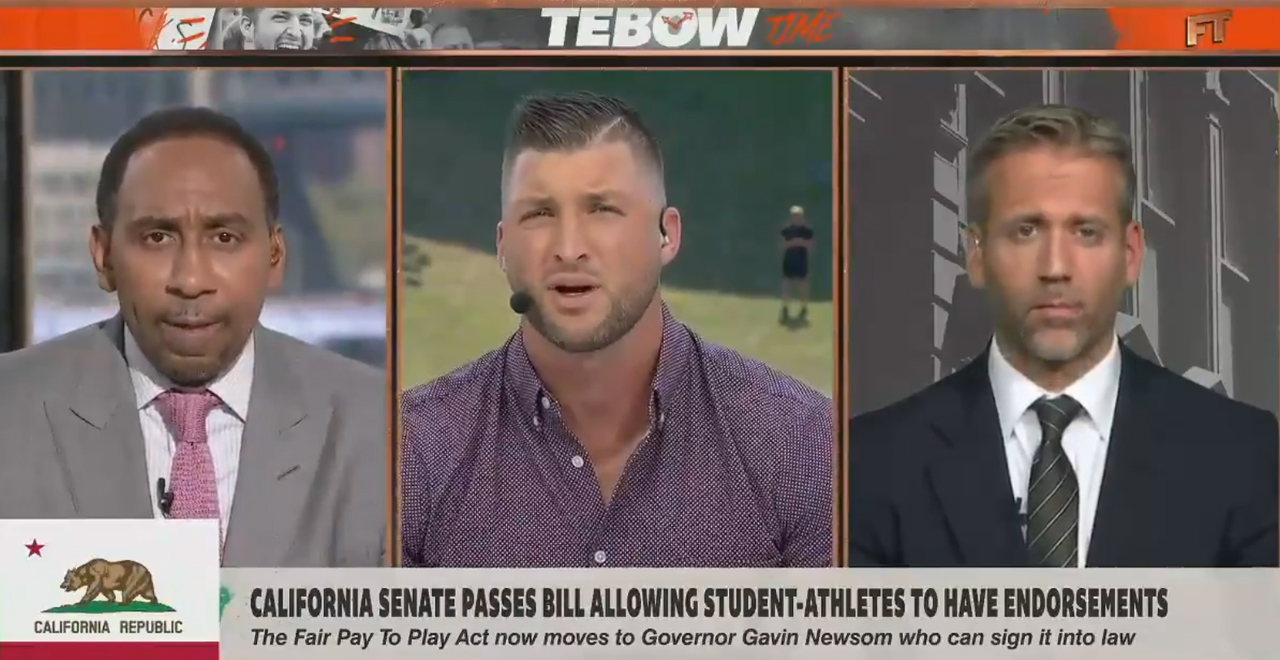 The biggest story in college sports this week was the bill that passed the California Senate, allowing collegiate athletes to earn endorsement money. The governor of California has 30 days to sign the bill, which would go into effect in 2023. The bill could radically change the landscape of college sports.
A story of this magnitude draws plenty of takes, but Tim Tebow had one of the worst ones. He tries to make this about the purity of the amateur sporting experience and about school pride and some other nonsense. It's an antiquated idea that exists mainly in fiction crafted by 65-year-old sportswriters. These days, it's tough to argue college sports isn't big business when the highest-paid employee at every major school is the football coach, usually followed in pecking order by a few other football coaches (and usually the head basketball coach, for good measure).
.@TimTebow passionately expresses his thoughts on the California Senate passing a bill allowing student-athletes to have endorsements. pic.twitter.com/W5uBW7ePNm

— First Take (@FirstTake) September 13, 2019
Most athletes are on the other side of the argument, including one of the biggest stars of all time.
Or….because of this bill, you can work with everyone to create a national policy that is fair to the athletes. https://t.co/Ey3lBzeB3v

— LeBron James (@KingJames) September 11, 2019
Cam Newton is killing it this season. Sure, not on the football field where he's had a rough start for fantasy owners, including a Thursday night loss to the Bucs. But he is killing it in the fashion department, where he has no parallel.
"Early reports list Cam Newton as DOUBTFUL next week in Arizona for catching the vapors." pic.twitter.com/S8bYH5Zyou

— Sal Vulcano (@SalVulcano) September 13, 2019
It's certainly more interesting than some of the moves Tom Brady has pulled in the past.
How you look when you try to give yourself a nickname. pic.twitter.com/B5ehB1akad

— Mark Chalifoux (@markchalifoux) August 23, 2019
Rob Gronkowski gave an interview this week where he revealed he's had more than 20 concussions in his career. He also said brain damage was reversible, which is probably something you'd say as the result of getting 20 concussions.
It is fixable. I fixed mine. There are plenty of methods in this world that allow the brain to recover from severe damage. That is also why I would allow my kid to play football. https://t.co/9aI1olAdqP

— Rob Gronkowski (@RobGronkowski) September 13, 2019
Kobe ruthlessly dragged a child in an Instagram post. Coach Kobe was giving out accolades to his team when he mentioned one girl wasn't in the team photo because she was at a dance recital, so you can 'see where her focus was'. Coach Kobe, what a guy!
DeAndre Hopkins had one of the best highlights of the young NFL season. The Texans receiver is unquestionably the best at his position, but he showed another level of his game in week 1 when he body-slammed a cornerback.
Marcus Williams picks off Deshaun Watson. Deandre Hopkins comes in with a body slam tackle. Went full WWE.

(Hopkins was called for unnecessary roughness.)pic.twitter.com/8TogjpSJwR

— NFL Update (@MySportsUpdate) September 10, 2019
And in the lowlight of the week, the Panthers-Bucs game endured the dreaded weather delay. And fans handled it about as typically as you'd expect an NFL fan base to respond, with a massive brawl!
Rain delays in Carolina = Fight Club @roughnrowdy pic.twitter.com/SLD6wpGDOD

— Barstool Sports (@barstoolsports) September 13, 2019