The Cheerleader Who Caught a Long Pass With Her Nose is a Good Sport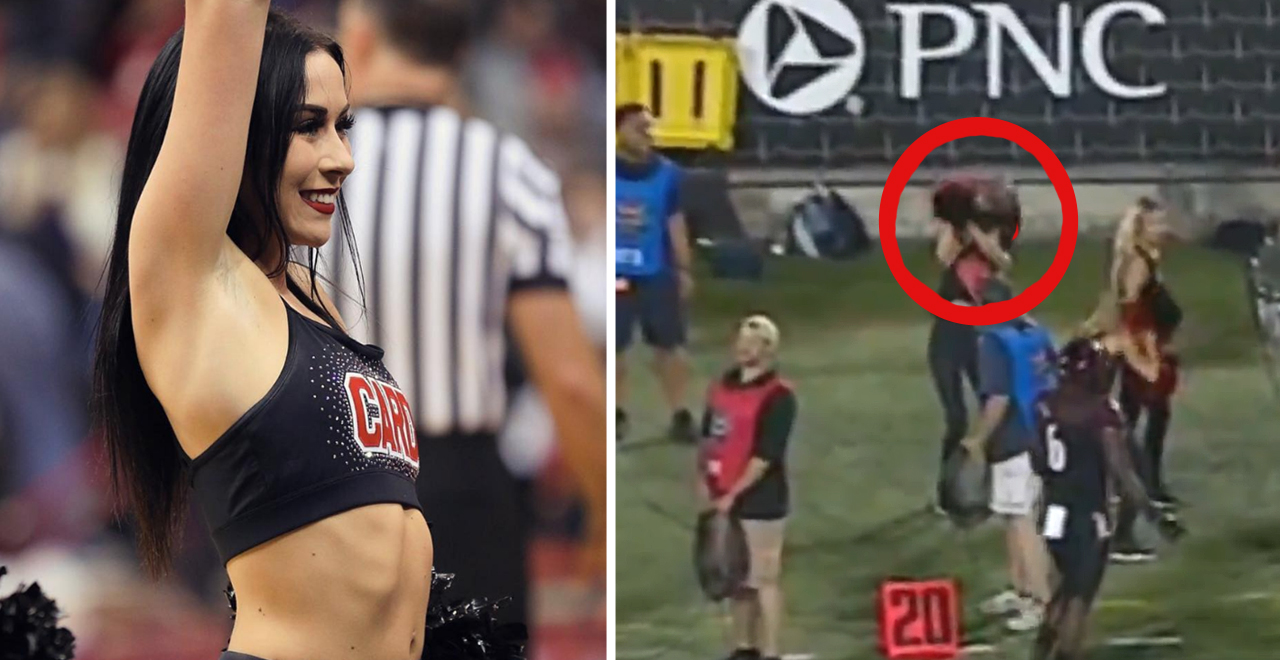 Football is back! Weekends feel more complete with a full slate of college and NFL action like all is right with the world. The return of football has been more painful for some (hi Antonio Brown fantasy owners) than others (hi Ezekiel Elliott fantasy owners) but a cheerleader from Louisville probably had the roughest return to action during the Cardinals opening game against Notre Dame.
Fighting Irish quarterback Ian Book was evading pressure when he launched the ball out of bounds to avoid a sack. And he threw it far enough that an unsuspecting cheerleader caught the ball with her nose.
LOOK OUT!!!!!!!!! pic.twitter.com/RsApzgZIVR

— Timothy Burke (@bubbaprog) September 3, 2019
The Louisville cheerleader took her broken nose in stride, thanking the ND QB for his errant throw and making note of her moment in the spotlight.
My broken nose is twitter trending huh

— Liz (@Elizabethsc0tt) September 3, 2019
View this post on Instagram
Me throwing my poms down and walking away after I got hit tonight pic.twitter.com/ViwnQaj5AU

— Liz (@Elizabethsc0tt) September 3, 2019
The Notre Dame quarterback apologized to her through Instagram, but she said she doesn't blame him and that 'anything can happen' on the sidelines. She also took to social media to post a new pic of her now slightly more crooked nose.
#NewProfilePic ???????? pic.twitter.com/wnEL9AgSsR

— Liz (@Elizabethsc0tt) February 8, 2018
Elsewhere in sports this week, Antonio Brown added a new chapter to his quickly deteriorating mental state. In the preseason, he sat out because of his weird helmet situation. Now, Brown is furious with a fine his new team hit him with, and he had to be physically restrained during a heated confrontation with the GM. The team is reportedly planning to suspend him, and who knows what we'll see on the field this season from the star wideout.
In one of the better feel-good stories of the week, a rookie long shot defensive tackle made the Detroit Lions final roster. He had been playing in honor of his dad, who is currently undergoing cancer treatments, so the family definitely has something to celebrate now.
LeBron wants Taco Tuesday. The NBA great has quickly drawn a following for his Taco Tuesday posts on social media. And now…he wants to trademark the term. Can nothing be pure, LeBron???
JUST IN: LeBron James leaves no potential business opportunity on the table. Over time, he has sought to own "Taco Tuesday." He has now filed to trademark the phrase for social media posts and a show of that name. First discovered by @JoshGerben pic.twitter.com/IXNduvilzR

— Darren Rovell (@darrenrovell) August 31, 2019
If the Pittsburgh Pirates play the Miami Marlins and no one is there, did it really happen?
I don't run the Pirates. If I did, this look a couple minutes before first pitch would scare the hell out of me: pic.twitter.com/eA85K7RHaP

— Jason Mackey (@JMackeyPG) September 4, 2019
And the best display of sportsmanship this week belonged on the court after prodigy Coco Gauff fell to the top player in the world.
Empowered women empower women ???? pic.twitter.com/mKTlXO4Jn4

— espnW (@espnW) September 1, 2019