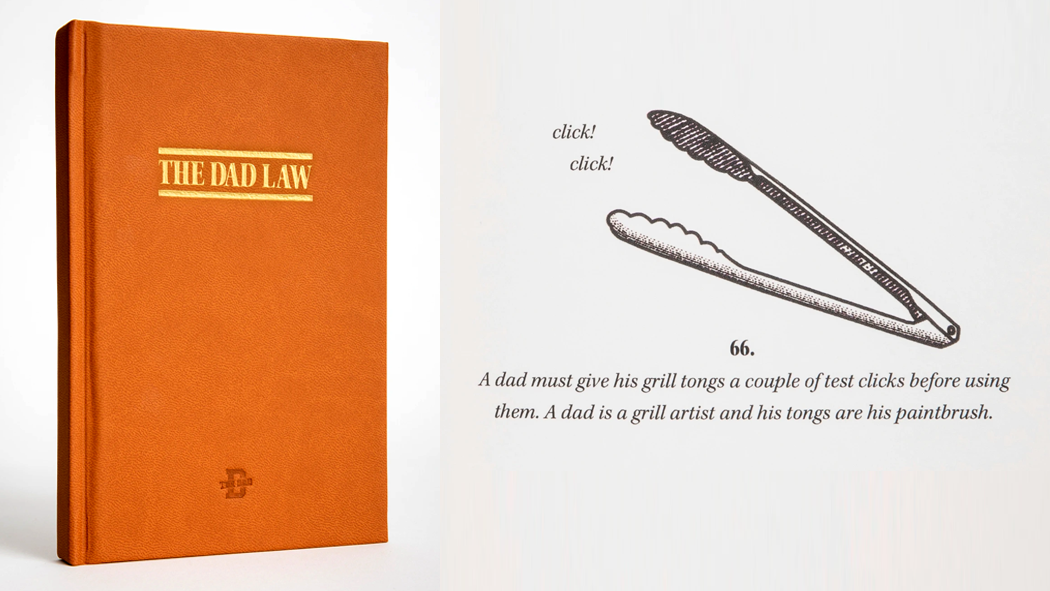 Credit: The Dad
Fatherhood comes with it a plethora of guidelines. If your kid hands you a toy phone, you answer that toy phone. If your kid is thirsty, you are Friday. For thousands of years, these rules have been unwritten. Until now.
Introducing: THE DAD LAW.
From road trip etiquette to pun regulations, this gorgeous leather-bound book is the most thorough briefing on every do, don't, and duh pertaining to fatherhood. Is it okay to let your kid win in Mario Kart? When to use cool your jets vs hold your horses? It's all in this bad boy.
Here are a few choice excerpts:
It's the authority on language…
Dad law requires dads to say one of the following when ready to leave:

-Let's rock n roll
-Let's skeedadle
-Saddle up, partners
-Let's get the heck outta dodge
-Time to hit the road
-Let's blow this popsicle stand
-Let's hightail it outta here
-Let's get this show on the road

— The Dad (@thedad) May 13, 2020
healthy road rage…
Dad Law: A dad will say "people don't know how to drive in this town" no matter what town he's in

— The Dad (@thedad) May 6, 2020
less healthy eating habits…
Dad Law: A dad is entitled to collect a fast food "dad tax" of:

a. One chicken nugget from the kid's meal
b. A few fries from the kid's meal
c. All of the extra fries that fell into the bag (also known as "bonus fries")

— The Dad (@thedad) May 7, 2020
workplace motivation…
Dad Law: A dad will keep a photo of his family in his workspace as a reminder of why he does all this work in the first place.

— The Dad (@thedad) May 27, 2020
light goofing…
Dad Law: If someone returns to get something they forgot, a dad will tease:
a. "Back already?"
b. "Well that was fast."
c. "How was it?"

— The Dad (@thedad) June 3, 2020
and facilitating a sense of community.
Dad Law: If a cashier asks a dad if he would like his milk in a bag, a dad must respond, "No, you can just leave it in the carton."

If the cashier laughs, the dad will go to that cashier's lane every time, henceforth.

— The Dad (@thedad) June 19, 2020
There are also plenty of cool illustrations within, including tong diagrams…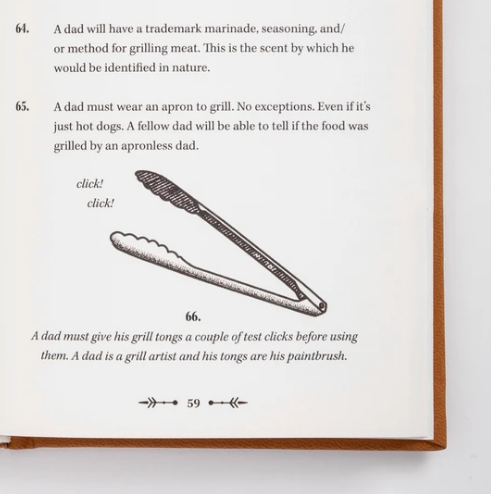 and visual aids for embarrassing puns.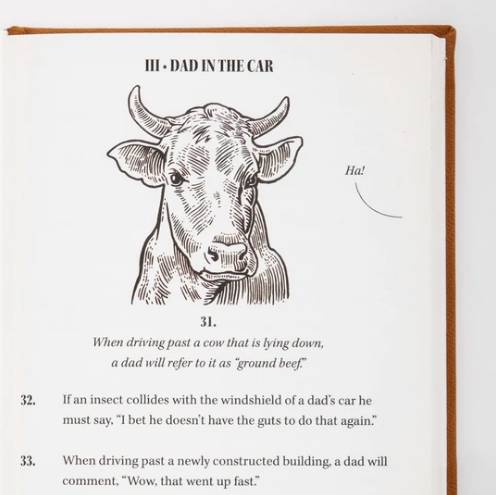 Click right here to snag a copy for a measly $22 (because we know "money doesn't grow on trees", "you're not made of money," etc) and explore 202 whole pages of these silly, sweet, and painful universal truths about fatherhood with your very own copy of THE DAD LAW!