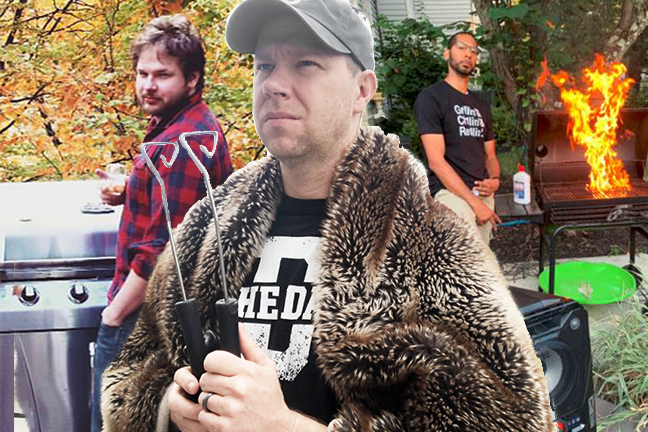 For dads, grilling is an essential skill, a beloved pastime, and a favorite way to impress the family. Not to mention it's the best way to one-up Carl from down the street, always showing off his sous vide machine and refinished deck. Nobody cares, Carl! But what is it about grilling that makes it so appealing?
We sat down with dads from New York, Philadelphia, Cincinnati, LA, and Toronto for some frank talk about the art of cooking franks (and burgers and everything else). We found that some elements of grilling are universal, but all dads bring something unique to the table. Join us for an honest talk about buns, beers, and everything in between.
Okay, right out the gate: Gas or Charcoal?
Cincinnati: Ah, the great debate of our times.
NYC: This is anonymous, right?
Toronto: I've heard from a science standpoint that gas is actually better. Although I've also heard you have more options with charcoal, like smoking and such. But I still like the convenience of turning a knob, especially in the era of fatherhood. It's all about saving time.
Philadelphia: Gas. I don't like washing my hands.
Cincinnati: Team Charcoal! Gas grills are just inconvenient outdoor gas stoves. CHANGE MY MIND.
LA: Yeah, if you're grilling with gas you might as well just haul your oven outside. I don't see the point.
NYC: I like charcoal because I like to make the little brick pyramids. It makes me feel connected to the ancient ways.
What is your main grilling inspiration?
LA: …What?
NYC: Like, what is more important to you? The perfect party or the perfect burger? I, for one, don't enjoy hosting a bunch of people, but grilling up the perfect steak is how I relax during a busy work week.
Cincinnati: Grills, to me, are experiential and communal. Grilling is either time for me to chill on the deck alone, or time to have people over and cook up a ton of food and hang out.
NYC: Yes, those were the options, haha.
LA: Party first, food second. A good burger is nothing without a beer in your hand and your friends hanging out.
Toronto: Okay, dad admission: I've often manned the grill to avoid chatting with my family.
NYC: Oh, you gotta switch to charcoal then. Way more time behind the grill.
Cincinnati: Or get into smokin' meats. Gotta watch that for days.
Toronto: Hmmm. Yes, I'm beginning to see the genius in this.
Do you have any grilling wins you're particularly proud of? Or, #fails you still shake your head over?
Toronto: Just yesterday I was grilling with the kids behind me shooting each other with water guns. Nice moment.
Philadelphia: Grill Win: Taught my children the importance of the toasted hot dog bun.
NYC: Sometimes the simplest lessons are the best ones.
Cincinnati: That's great. I've taught both of my kids to grill. We were jokin' earlier about using it as a way to avoid family, but it's a good bonding experience too for sure. Although last week I volunteered at my kid's swim meet and had to man the grill. It was 90+ degrees and I grilled up 100+ burgers and hot dogs. It was a nightmare.
NYC: Is that a win or a fail?
Cincinnati: I am not a grill master but I wore my Grill Master University shirt IRONICALLY. I was standing there dying from heat exhaustion, trying to keep up, overcooking everything. A lot of disappointed swimmers that day.
NYC: Well a crispy hot dog is better, in my opinion.
Cincinnati: Truth.
LA: STRONG DISAGREE. Boiled all the way, baby.
NYC: WHAT?! Are you, a pigeon living on the streets?
Speaking of toasted buns. What is the ideal bun for burgers and dogs?
NYC: Toasted, obviously. And I like whole wheat. A lot of burgers you see these days use brioche bread for the buns. I'm not a fan. It's too sweet, and they don't hold anything together.
Philadelphia: I'm not too picky, but the bread needs to be fresh. Oh, and with cheese melted on top. Well, I mean on the inside. Not on top of the – you get what I'm saying.
LA: Thing I do with buns sometimes: spread a light layer of ranch on both sides of the bun and broil in oven for five minutes.
Toronto: Ranch buns? Whoa.
Philadelphia: Seeds or no seeds on a bun?
NYC: Seeds all the way. The more texture the better. I really like Everything Rolls.
Philadelphia: This is the maximum number of seeds I'll accept on a bun:
NYC: That is the scariest thing I've ever seen.
Cincinnati: Get out of here man. Seeded bread is highly underrated.
LA: Did your kid make that out of Play-Doh?
Do you have any signature recipes or something you're known for behind the grill?
Cincinnati: Keeping things simple is key. Burgers for me are lean ground beef, garlic, Worcester, soy sauce, and an egg. That's it. For fun, sometimes I'll let my kids pick a special ingredient to throw in, like putting cheese in the patties for example.
NYC: Juicy Lucy! That's pretty good, but I like to throw some bread crumbs and different seasoning rubs in to play around a bit.
Cincinnati: Yeah, those are clutch. I like Texas rubs the most.
NYC: I added a Kansas City rub to a hot dog, and like, I did it as a joke, but it was the best hot dog I ever had. And if I'd boiled it, all that seasoning would have washed off, so, boiling hot dogs is a sucker's game.
LA: Alright, alright.
Toronto: I've started chopping up raw bacon slices and sprinkling them into my burger blend. Things have been going pretty well.
Philadelphia: Here's a dad hack. I grill frozen pizzas. My kids think I'm a pizza chef. I do nothing.
Cincinnati: You're a cheater, but I respect it.
So what is it about grilling that makes it, you know, "grilling?" If it's not the heat source, or even the food itself, then what is the secret sauce of grilling?
LA: Grill lines make food taste better. That's science.
Toronto: Channel your inner caveman, playing with fire. But also, sometimes you gotta be really impressive with like a crazy good made-from-scratch meal.
Cincinnati: Yep yep. Like I mentioned, the experience of it. Taking time. Food I grill just tastes better to me, but maybe it's actually not any better? Maybe because I went through the process of building the fire and cooking it that way, maybe that made it taste better to me.
NYC: I think it's the sizzling sound, honestly. It does something to the brain. The sound of meat hitting the grill is my self-care.
Cincinnati: Plenty of good veggie or non-meat options for the grill, too.
Speaking of vegetables, let's talk sides. What are the most important things at a grill besides meat?
NYC: Can't go wrong with mushrooms. They're good on burgers and steaks and on their own. And asparagus. I keep ordering asparagus at restaurants, thinking I like it, but it's only good homemade. Steakhouses make them too bland, they need to be oily.
Cincinnati: There is only one way to cook asparagus, and that's to cook a pound of bacon, and then cook the asparagus in a little bit of the leftover bacon grease.
LA: Texas Toast.
NYC: Yes, bread. America's favorite vegetable.
Philadelphia: I mean, the most important things include beer and good tunes.
Quick, name your *must-play* cookout song.
NYC: *whispers* Don't say Carly Rae Jepsen. Don't say Carly Rae Jepsen. Don't Say Carly Rae Jepsen.
Cincinnati: Haha. Reminds me of this tweet:
When Natasha Bedingfield's "Unwritten" comes on, do you belt out the words with all you've got or are you dead on the inside?

— The Dad (@thedad) January 7, 2014
Philidelphia: "Got to Give it up" by Marvin Gay.
LA: The best grilling song is "Feel My Heat" from Boogie Nights.
Toronto: "Summer in the City," The Lovin Spoonful.
NYC: Okay I still say if CRJ can get Tom Hanks in a video, then she's Dad Approved, but in the interest of not getting yelled at on the internet, my official grilling anthem is "Street Fighting Man" by the Rolling Stones.
LA: Wide range between those.
NYC: I am a man of many levels.
Beer cans, or bottles?
NYC: Cans are better. Keeps light out so the beer isn't screwed up. And it stays colder longer. But there is something that just looks better about a bottle, and it's more satisfying to take a swig from them.
Philadelphia: Frosted mug.
Cincinnati: Ooo, satisfying as heck.
LA: I love a frosted mug, but it gets too warm too fast by the grill. And then if you don't have backups, then the first beer is perfect but the next 35 are disappointing.
If you could only teach your kid ONE thing about grilling…what would be the lesson?
Cincinnati: Every dad already knows this instinctively, but when you're holding the tongs, it's SO IMPORTANT to give 'em a few test-clicks every once in a while, to make sure they're still working.
Philadelphia: True foundational skill. Once that's set, the rest comes easy.
This conversation was sponsored by Kroger's Private Selection, who provided us with all the perfect ingredients for delicious Summer BBQing in any time zone. Kroger believes that summertime should be simple, and from gourmet ingredients to inspired shortcuts, every Private Selection product is designed to elevate everything about your favorite meals. While The Dad was paid to feature Private Selection, our opinions were not solicited, and we stand by them. Seriously, the brisket dogs are good as heck.