The Shove Heard Round the World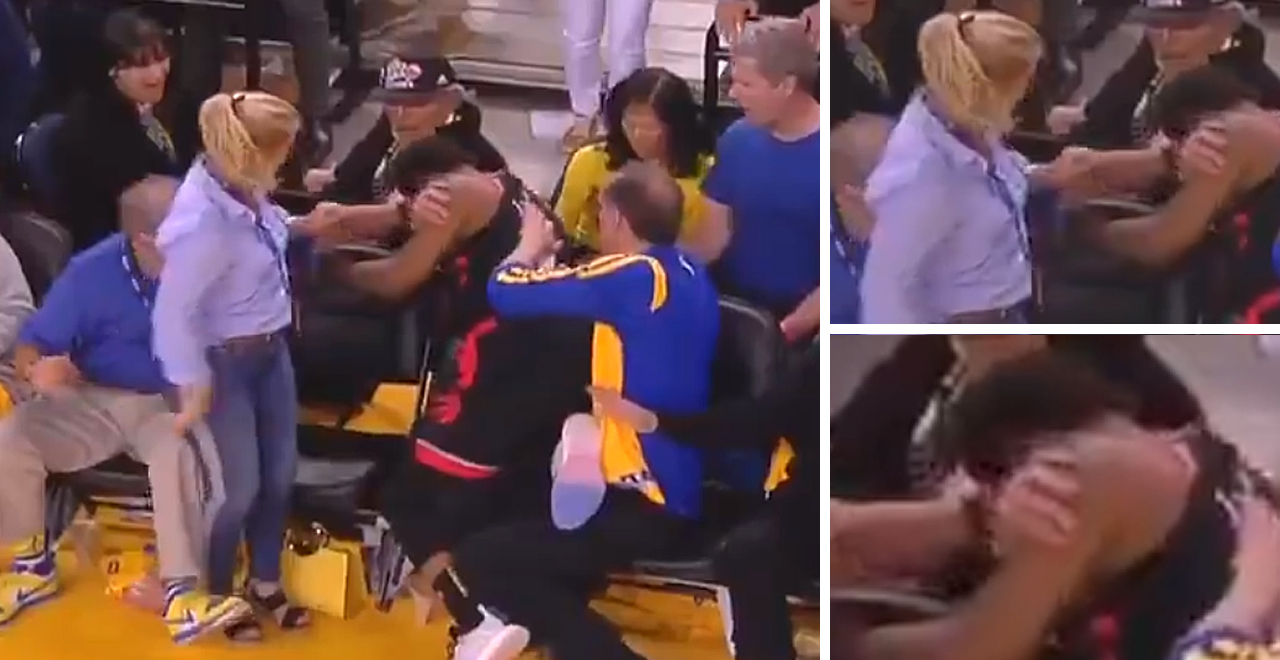 We are four games into the NBA finals and I'm pretty sure we've already seen the moment that will be talked about the most from this series. The infamous "Shove Heard Round The World" when a Golden State minority-owner sitting courtside shoved a falling-out-of-bounds Kyle Lowry.
Another angle of the fan pushing Kyle Lowry @NBATV pic.twitter.com/NG6odI0kCp

— Board Man Gets Paid (@cjzero) June 6, 2019
"He reached over and put his hands on me for no reason then he said a couple vulgar words to me … hopefully they ban him from all NBA games ever."

—Kyle Lowry to @notthefakeSVP on a fan who pushed him after he fell into the crowd pic.twitter.com/2BdmdUahF8

— SportsCenter (@SportsCenter) June 6, 2019

It's partly because this series is hurting for plotlines, as it seemed like the Warriors were a lock before half the team got hurt and Kevin Durant got sad, and now it's completely the opposite (I'm ok with that as I'm still riding that Raptors bandwagon! It's only fair that a Canadian team wins the NBA finals since their beloved Stanley Cup has spent the past few decades in the U.S.). But I'm still surprised at how overblown this story became.
I will concede that this could've been a much worse story if Kyle Lowry wasn't able to keep his composure as well as he did, but it still seems like the way this played out is the rare time in sports where everyone did what they were supposed to.
Should the guy have shoved Lowry? Absolutely not, total garbage move, everyone agrees. The league denounced the fan, Warriors players and head coach Steve Kerr apologized on his behalf and also denounced his actions, the shover released a lame apology written by a publicist, the NBA banned him from games for a year and fined him half a million dollars, and he's reportedly going to be forced to sell his shares of the team. Everything that should have happened in the aftermath happened almost perfectly.
I suppose it's part of the sports ecosystem to have something fuel the hot take machine for a few days, but this seems like an issue everyone agrees on but still everyone is also mad about, which is bizarre.
LeBron James weighed in, much like everyone else, to say the same things everyone else was saying. He demanded action, I demand more videos of LeBron pulling classic summer dad moves like "too big for the pool float."
LeBron's too big for the float pic.twitter.com/yjNt1CKZ5W

— NBA on ESPN (@ESPNNBA) June 7, 2019

Raptors guard Fred VanVleet regrets giving his newborn son credit for his hot streak. VanFleet is having an outstanding postseason, especially in this first six games after his son was born in late May. At the time, he credited his newborn, and now wishes he hadn't.
"I wish I could go back in time and not tell anyone that I had a kid," VanVleet said. "So that I could get all the glory for turning around my performance.
Don't deny that Dad power! Especially when your name sounds like a player from a Dr. Seuss book about basketball.
The Raptors success has cost McDonald's millions in free fries. As part of a promotion, McDonald's locations in eastern Canada give away a free medium order of fries every time the Raptors hit 12 three-pointers in a game. After game 1 of the NBA Finals, McDonald's gave away nearly 80,000 orders of fries (there's a KaFry Leonard dad joke here somewhere, but it's just not worth it). Ultimately, that promotion has cost more than 5.4 million dollars, just from the regular season. It sounds impressive, but in American dollars, that's actually around $72.50.
The St. Louis Blues are close to clinching the Staley Cup, but the Bruins aren't going down without a fight. Well, at least their fans aren't.
This was sent to me from the stands – this fight escalates … all between Bruins fans. pic.twitter.com/XPHEwdEBVF

— Benjamin Hochman (@hochman) June 7, 2019
I know this causes many sportswriters to clutch their pearls, but Boston is gonna Boston, there's not much we can do about it. Personally, it's a great consolation to know that no non-Boston fans were injured in the filming of this terrific video. There's a lot to enjoy here, especially guys trying to randomly work in some jiu-jitsu while laying on beer-soaked stadium floors. This also gives us something fun to talk about besides the atrocious officiating throughout the postseason (although it benefitted the Blues last game, and I'm still riding that underdog Blues bandwagon!).
The FIFA Women's World Cup is underway, if soccer is more your thing, and the U.S. team kicks off action Tuesday against Thailand. With mostly morning and early afternoon games, it makes for a fun gambling diversion. If you're looking for a fun read, as a soccer parent, I enjoyed this deep dive on star midfielder Rose Lavelle and hearing what her parents, trainers and youth coaches had to say about her rise.