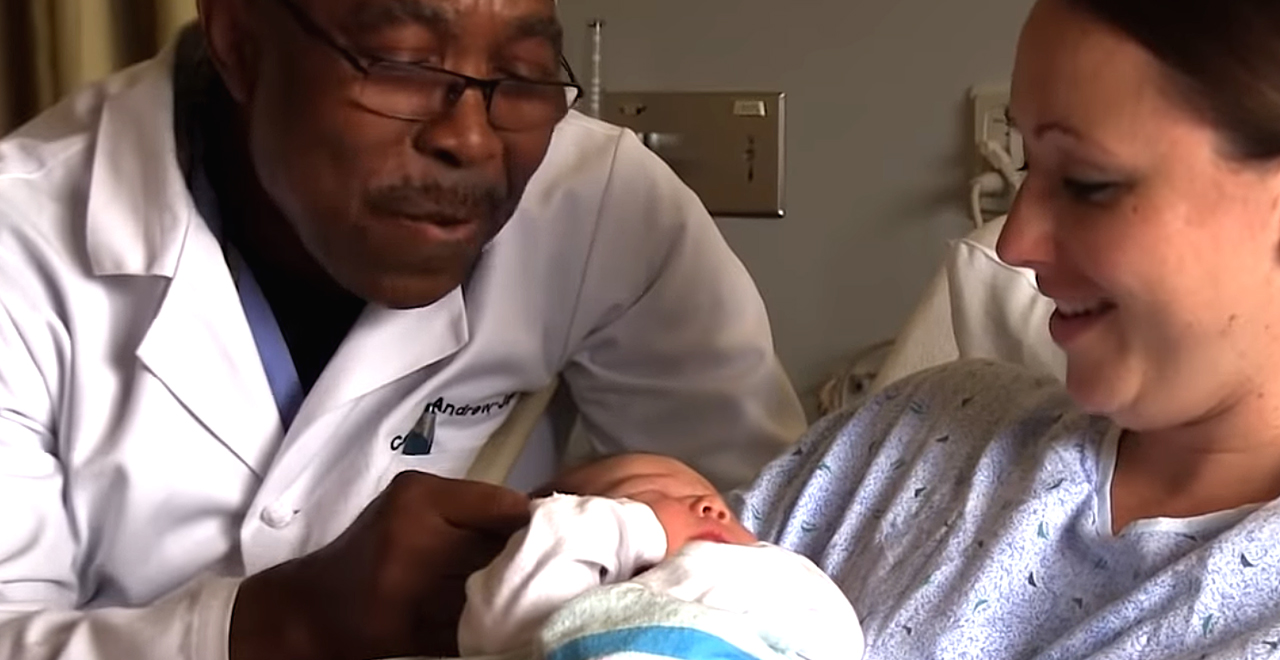 Credit: YouTube/UPMC
Dr. Carey Andrew-Jaja, the "singing doctor" of UPMC Magee-Women's Hospital in Pittsburgh, by all accounts, seems like a great doctor. He seems kind, compassionate, skilled. But it's not the "doctor" part of "singing doctor" that brought him a small measure of fame. That would be his habit of singing to every single baby he delivers. That's thousands of lullabies over the last four decades.
His go-to move is an obvious one, singing "Happy Birthday" enthusiastically to the newborns. His other signature move, in a quiet moment, after everything has calmed a touch, is to sing the Louis Armstrong classic "What A Wonderful World."
The singing doc picked up the habit from a mentor when he was just a resident, and dutifully carried on the tradition with every baby he came across in the hospital, even those he didn't deliver. The moments after childbirth are special for parents, as they get to finally meet their precious (for now) baby face-to-face. And when you think it couldn't be any more special, an older gentleman starts quietly singing "What a Wonderful World."
He explained why he does it in a video the hospital released several years ago. "To me, it's a wonderful thing in my hand, the miracle of life," he said. "And the rest of is that it's a beautiful world we live in. We forget about all the crisis going on everywhere for a moment when you see that miracle of life in front of you."
While Dr. Andrew-Jaja recently retired and sang his last lullaby, it isn't clear if he passed on the tradition in the same way he inherited it. I'm not sure if the rules are the same for "Singing Doctors" as they are for Marvel Superheroes, but I imagine, and hope, the mantle must fall to someone else now.