The Sports Dads Who Won the Week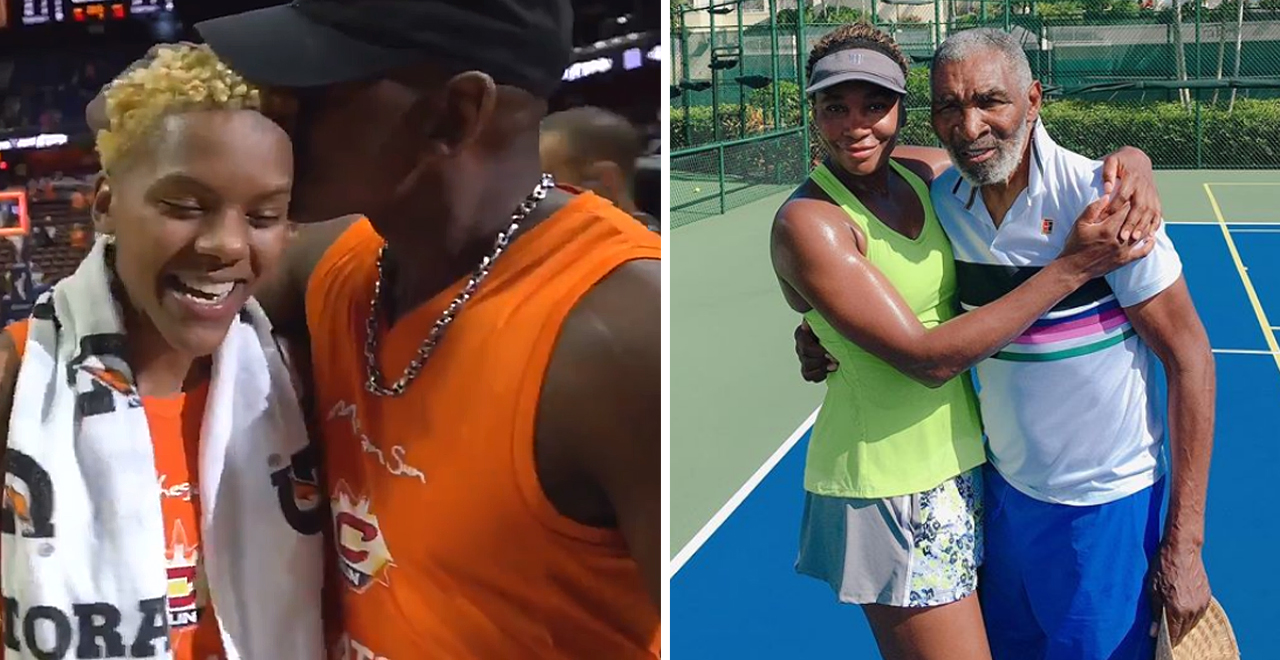 The sports week was full of terrible news (more on that later), but it also featured three professional sports dads that made waves in different ways. One NFL dad, one WNBA dad, and one tennis dad, all standing out in their own way.
It starts with icon Gardner Minshew, who has made a splash in the NFL in relief of injured Jaguars QB1 Blake Bortles. First, it was for his fashion, which, admittedly, is pretty iconic.
Jaguars by a million pic.twitter.com/f35J8wA8bn

— Will Brinson (@WillBrinson) September 14, 2019
Then it was for his play, as he threw a pair of touchdowns in the Thursday night win and has looked more than capable through his first few games. And then it was for his dad, His reaction shot caught by the NFL Network during the game was quickly given the meme treatment.
Gardner Minshew's Dad looks like he exclusively supersets heavy rack pulls with skull crushers for 40 minutes then cools down with upright rows. pic.twitter.com/5F2p1mXcue

— Luke Hetrick (@LHSportsTV) September 20, 2019
Gardner Minshew's dad is a HS bully in an 80s movie pic.twitter.com/YRYDGBnVyb

— The Fake ESPN (@TheFakeESPN) September 20, 2019
Gardner Minshew's MVP odds should improve drastically because of course his Dad looks like this

📷: @ringer pic.twitter.com/6kuBoGyNyp

— BetAmerica (@BetAmerica) September 20, 2019
He wasn't the only pro sports dad people took note of. In the WNBA playoffs, Connecticut Sun standout Courtney Williams has had some great games, and there was no bigger cheerleader out there than her dad.
"Courtney do you. It's your world." 🔥 @CourtMWilliams with her dad after her 25-PT, 6-REB, 6-AST game 🙌 pic.twitter.com/EC3x0Yohok

— WNBA (@WNBA) September 20, 2019
The REAL numbers. ☠️😂 pic.twitter.com/RO09Sb9KC3

— Rachel Galligan (@RachGall) September 20, 2019
And her dad came through with the dynamite quote, too, when he was asked how it felt to watch his daughter playing in the WNBA playoffs.
"It's a feeling that if I could put it in a bottle and give it to people, I'd be a multi-millionaire…Every man that has a daughter wants what's best for his daughter," he said. "He wants to see his daughter succeed. Especially on this level. A daddy to a girl to see her succeed? Ah, I can't describe it."
And when the haters came for her dad (it's the internet, everything fun has haters), Courtney stuck up for him.
Honestly, it was what I needed https://t.co/QtobwqaCag

— Courtney Williams (@CourtMWilliams) September 19, 2019
And tennis legend Venus Williams had a sweet tribute to her dad, tennis coach Richard Williams, as she prepares for another tournament.
"My last practice before China. Dad, the OG came out, he always comes out," Venus captioned the post on Instagram. "I know you all don't get to see him on tour as much anymore, but he never misses a home practice."
And of course, there were some pretty gross stories. Antonio Brown's free fall from grace did not happen slowly. Earlier this week, news broke that he was being sued by a doctor after Brown farted in his face repeatedly (oh, and also didn't pay any of his doctor bills) during the exam. This was seemingly verified in clips Brown himself shared to social media weeks ago. And this bizarre story is among the best of the news for Antonio Brown's terrible, horrible, no good, very bad week.
When it comes to flatulence, Brown said the doctor thought the story was funny, and he has the receipts to prove it, What he does not have, however, are any texts from the doctor about the unpaid bill, totaling over $10,000 (which, honestly, seems a little outrageous). But the thing about texting is, those receipts work both ways. And Brown is facing far bigger accusations at the moment, as he's been accused of sexual misconduct on several occasions.
This is the second time the star wideout has been released in the last few weeks, which makes it likelier that we've seen the last of Brown on the field. His erratic behavior, coupled with his mounting off-field legal problems, make him completely undesirable. Brown's four catches and one touchdown during his brief stint with the Patriots will most likely be the final output we see from the fantasy favorite.
And if you're a fan of meaningless college football, which can actually be a ton of fun to watch, you're not going to do much better than Tulane's epic comeback win over Houston. Down big, Tulane fought back to take to the game to overtime. Or, at least that's what everyone thought was going to happen.
This is the best college football play of the season. Tulane with the fake kneel. Absolute brilliance! And they won on the next play! #Tulane pic.twitter.com/0RlG9ja1xF

— Dylan Burd (@Sports_Burd) September 20, 2019
And then they pulled off an equally ridiculous deep touchdown pass to finish off the comeback.
Comeback complete. ✅

Tulane overcomes 21-point deficit to defeat Houston on a 53-yard touchdown pass with seconds remaining. pic.twitter.com/30emTLvT28

— Sporting News (@sportingnews) September 20, 2019