The Truth Behind Steve Carell's Second Season Glow-Up on The Office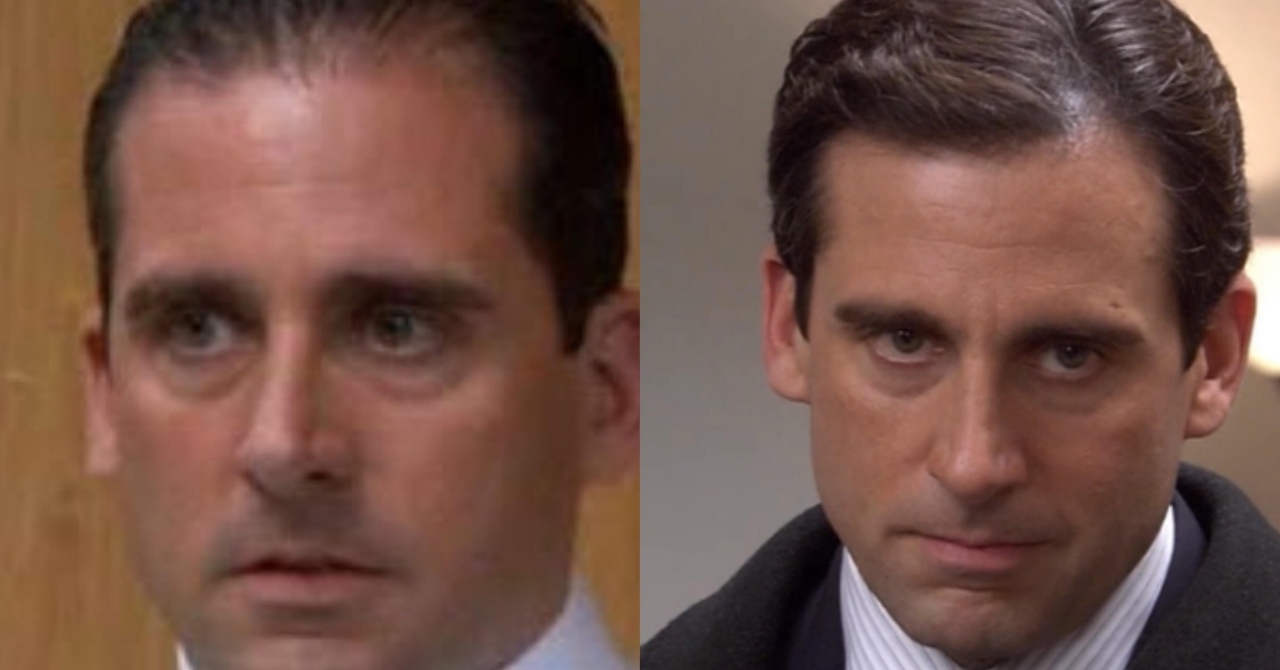 When the American version of The Office premiered, the odds that it would go on to become one of the most beloved sitcoms in recent history seemed low. Not only was the first episode a carbon copy of the original British series (David Brent FTW!), the show's star, Steve Carell, was hardly a household name.
He had yet to appear in The 40-Year-Old Virgin and was primarily known for his brief bits as Anchorman's low-IQ weatherman Brick Tamland, the victim of Jim Carrey's modern-day God in Bruce Almighty, and for his regular role as a correspondent on the Daily Show. It didn't help that in The Office pilot, my man is not looking his best. Nowadays he's a regular Daddy, but he didn't start out that way. His real-life look has undergone a transformation not dissimilar from the one Ryan Gosling gives him in Crazy Stupid Love.
In fact, throughout that entire first season of The Office, when the show was still finding its legs, Carell looked quite a bit different than he would for the rest of the show's run. It always made me wonder what happened. Well, I don't have to wonder anymore!
His office castmates Jenna Fischer and Angela Kinsey discussed their co-star's make-over on their Office-centric podcast, Office Ladies. Turns out it was the old Hollywood glow-up.
"The summer that he was going to film The 40-Year-Old Virgin, he got in crazy amazing shape…and then he's maintained that," The Office star Angela Kinsey said. "He's very fit now, he sort of, like, made that part of his life. They just made gave him a whole new look too, they zhuzhed him up."
Yeah, they did. And he's never let up. He seems to be one of those guys who keeps getting better looking as he ages, like George Clooney, or me. Good for us.
For that first season, with Ricky Gervais' painfully awkward and arrogant David Brent as the model, pains were made to make Carell look bad, and they succeeded. But when season two came back, he'd gone in the other direction.
"Originally his character was based on the British show and the boss there, so they really mirrored his look after David Brent. And when Steve came back so much thinner and just looking amazing, they used it as an excuse…he looked great," Fischer added on the podcast. The makeover included ditching the hair gel they'd used to make him look more like Brent, and the change in look dovetailed perfectly with the show's increasing confidence as something separate from the BBC original.
"They could really base it more on what Steve was going to bring to the character," Fischer said.